The Archos Arnova Child Pad is a child-friendly tablet with a striking color. The tablet features Android 4.0 Ice Cream Sandwich with a special children's optimized interface. In addition, you get the special Kids App Store and various filters to restrict Internet use.
After having launched many budget tablets, Archos comes now with a budget tablet designed specifically for children, the Child Pad. The Archos Child Pad is a 7-inch tablet with a design that resembles the previously launched tablets of this brand. The only thing that differs is of course the cute blue / white color combination. Apart from the colour, Archos have not much changed a design of a kid friendly tablet, which in itself is quite remarkable.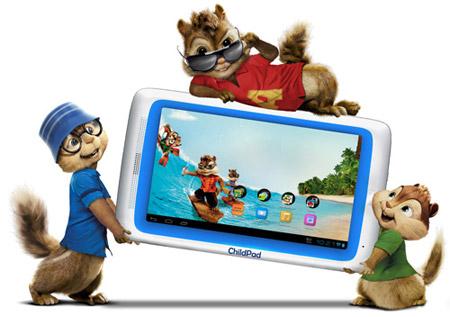 When it comes to software, you get the Android 4.0 Ice Cream Sandwich operating system covered with Archos user interface for children. It contains more colours, clear menus and special icons. It gives you access to a special Kids App Store based on the Archos AppsLib library. The kids section includes 14 categories with a total of 10,000 apps. By default, there are 28 applications for children included; kids have direct access to games, learning and entertainment apps, puzzles, etc. In the app store you can choose from hundreds of games, entertainment, communications, multimedia, books, comics, sports apps and more.
There is also special software installed, named 'Mobile Parental Filter' that makes it possible for parents to restrict the use of the internet to a minimum. So you can use a filter to block web browsing.
Furthermore, the Child Pad includes a capacitive display with a resolution of 800 by 480 pixels, a 1GHz processor, 1GB of RAM, a microSD card reader, WiFi, Bluetooth and a USB connection.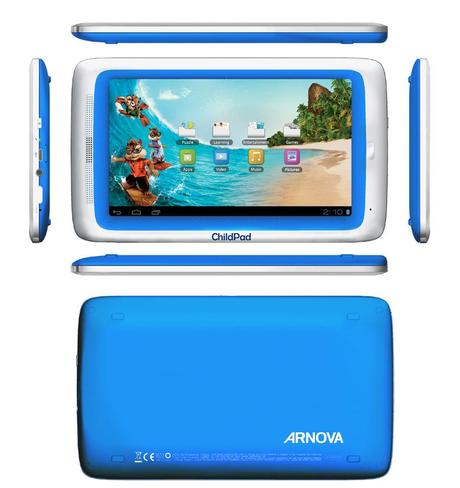 QUICK OVERVIEW
Android 4.0
7″ capacitive screen
4 GB storage capacity
1 GHz processor
1 GB RAM
Bluetooth 2.1 + EDR
MicroSD card reader
USB port