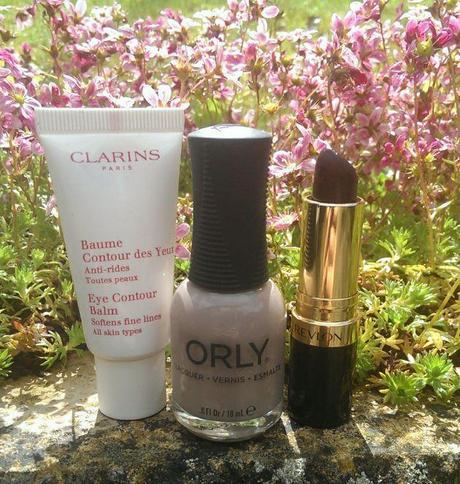 Hey there,
Of course it's a new month, so my monthly favourites is due, (Just a little overdue). April was a month where I rekindled my love for Clarins skincare and the classic nude nail. I finally picked up a dark cherry lipstick, (I had being lusting over for so long), and discovered the most amazing budget beauty buy… A Mascara which does everything for less than £5.00, (And I'm not telling tales here).
Last month my fabulous mother picked me up Clarins Eye Contour Balm, after hearing me moan about wrinkles and never having any money. The product is just gorgeous and leaves your eyes feeling refreshed and nourished.
My new favorite lipstick is Black Cherry by Revlon, it is such a dark, and daring color. I just need to get some encouragement to wear it more often.
Going for a bold lip in April, I have found myself loving a more subtle nail colour, the classic nude! But let's face it you can't go wrong with such a color. This one in particular is ORLYs Countryclub khaki.
Finally, (You may of heard me banging on about this one on twitter), but I had to put my new found favorite budget beauty buy, (What a mouthful), in my April favourites. This is Collections 5in1 Mascara retailing at £4.99, which literally does what it says, and for that price, it now has a fixed place in my make up bag.
The Mascara didn't make it into the picture, as somehow over night I have lost my mascara *sad face*
What were you loving in April?
Lots of love,
KBxx
Twitter : Beautybykaris - Instagram : Kkbrelsford
Facebook : Beautybykaris - Bloglovin : Beautybykaris