Hurrah! It's time for yet another Birchbox Man unboxing and review! I have said it a million times, but it remains true: I absolutely love that my hubby has his very own subscription service JUST for dudes. It brings tailored shipments of grooming and lifestyle products just for men. No longer just for ladies, back in 2012, Birchbox opened up a whole new world for men, like Michael, looking to up their grooming and lifestyle game.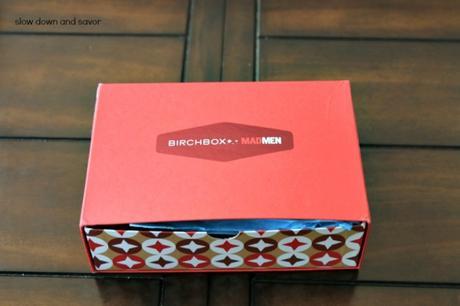 What is it? Birchbox Man is a $20/month subscription, and every month, subscribers receive a curated box of five, grooming, and/or lifestyle samples. From there, decisions can be made if the products are worth the money, and can purchase the full-sized items from their online shop. Like other subscription services, you can earn points that can also be redeemed in the shop. Pretty sweet. You may notice right away that the Birchbox Man box is $10/month more than the women's version, but from what our experience has been over the past 3 months, the men's boxes are more lifestyle geared, and include more clothing, gadgets and doo-dads here and there.
April 2015 marks Michael's 4th Birchbox Man box, and this time, he was actually able to participate in something that they do each month, but each month thus far, he was just too late to weigh in. What am I talking about? Basically, around mid-month, Birchbox Man sends out an email allowing the guys who subscribe to actually CHOOSE an item for their box. This month, he was able to decide between about 4 different products that he'd like to see, and his decision? Socks. I tell you what, that man loves his socks… Anyway, when the box arrived 2 days before April's first day, we were super excited to see what all was inside, besides of course, the socks. I'm pretty sure he took a peek ahead of time on their website, but it's still fun to dig right in when it arrives.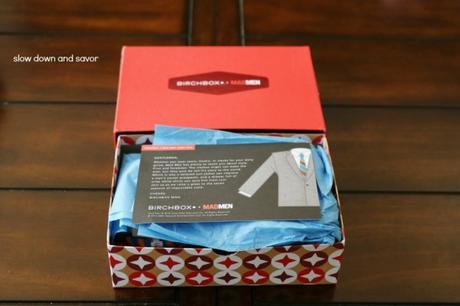 This month's box theme was Mad Men, where subscribers are encouraged to Celebrate the art of workplace style with classic scents, bar-ware and a host of dapper accessories. Fun!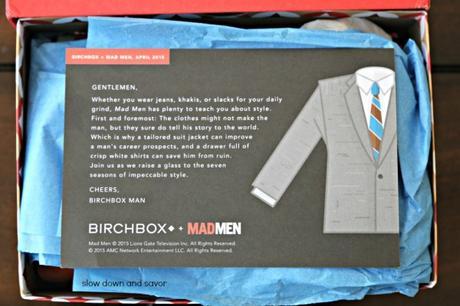 The box contained 4 items, one being the socks that Michael was able to select ahead of time. Let's dive right in, shall we?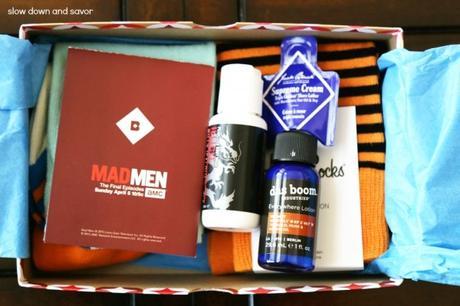 Product #1: Jack Black Supreme Cream Triple Cushion® Shave Lather Sample / Full Size – $24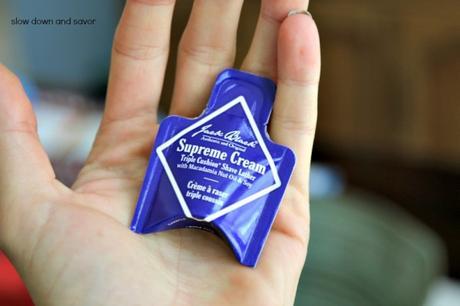 Birchbox Breakdown: Anyone who grew up with Schoolhouse Rock knows that three is a magic number— and this shave cream is no exception: It features a trifecta of protection—macadamia nut oil, glycerin, and soybean oil. The formula, which is free of parabens, fragrances, and petrochemicals, lifts whiskers to give you a close shave while moisturizing and shielding so you end up with smooth, nick-free skin. We're not the only ones who think it's great: Men's Health named the lather Best Shave Cream in 2008.
Our Thoughts: This sample size is ridiculously small. Like, crazy-teeny-tiny small. But I do have to say, it smelled good, and Jack Black facial products have a wonderful reputation that precedes it. My husband never uses shave cream though, since he uses an electric razor, so sadly, this product won't be going to use on his face any time soon.
Product #2: Billy Jealousy Illicit Pearlized Body Wash Sample / Full Size – $20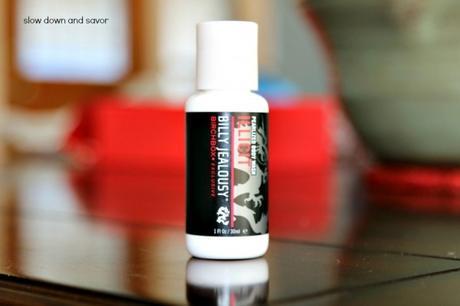 Birchbox Breakdown: Let's face it—you've literally got skin in the grooming game. Be kind to it with this luxurious foaming cleanser. Its aromatic formula contains natural oils that soften, soothe, and moisturize skin long after you dry off. And with an ingredient list that's both paraben and cruelty-free, this gentle giant has a conscience too.
Our Thoughts: Billy Jealousy is another one of those brands with an excellent reputation that immediately makes me think of a high-quality product full of good things. It's also a brand we have seen before in a Birchbox Man box. With a nice, pleasant clean yet still manly smell that isn't at all overbearing, this body wash was a win for us. It isn't super lathery, and has more of a lotion-type texture, but it leaves the skin feeling ultra nourished and incredibly moisturized.
Product #3: 2 pairs of Happy Socks Men's Socks Full Sized, $12/each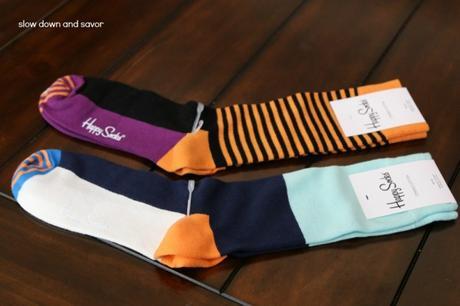 Birchbox Breakdown: A blend of frivolity and function: That's what earns Happy Socks a permanent spot in our sock drawer. Designed in Sweden and manufactured in Turkey, these combed-cotton wonders feel seamless on foot, and offer a variety of punchy patterns that will keep you on your toes—so to speak.
Our Thoughts: Hurrah! Two pairs of fun socks! They're both really great, and were a hit for Michael. He loves socks, you guys. He just loves fun and unique patterns and colors, and while he knew he was getting some socks, he didn't know he'd be receiving TWO pairs. He also didn't know the styles ahead of time. He lucked out with some great patterns. I also think he lucked out with the quality. The fabric feels really soft and comfortable, and he has confirmed that they are indeed very comfortable and fit very well. Two thumbs way up from us on these.
Product #4: das boom industries Everywhere Lotion Detroit Sample / Full Size – $24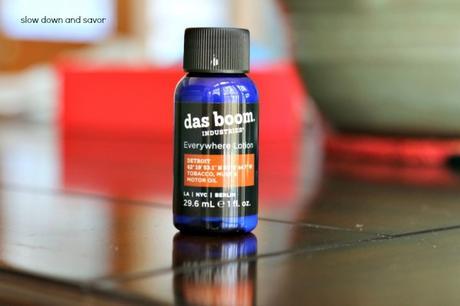 Birchbox Breakdown: Some products are innately versatile; others are far more specialized. We'd normally be wary of both in one bottle, but the head-to-toe hydration of this lotion is enough to make anyone believe. Argan oil, rosemary extract, and Vitamin E combine to nourish and hydrate every inch of skin. Then there's its distinctive scent: a trio of tobacco, musk, and motor oil that invokes the Motor City.
Our Thoughts: Holy tobacco, Batman! This lotion is intensely aromatic, and in a good yet not good way. I don't know about it. I mean, I really like it. I like it a lot. It smells like pipe tobacco, or cigars, and it's interesting to say the least. Yes, I can also smell the motor oil it promises. Seriously? Who comes up with this stuff? It reminds me of those Demeter perfumes/fragrances that come in a variety of bizarre yet amazing smells, like Earl Grey, Dirt & New Baby. I can see them coming up with something like tobacco & motor oil. But that being said, it's strong. Like really strong, and there's no way that Michael nor I would ever be able to stomach wearing it as a face lotion as the packaging suggests trying, however, the lotion works really nicely as a hand and body lotion. At the end of the day, we dig it. Two thumbs up.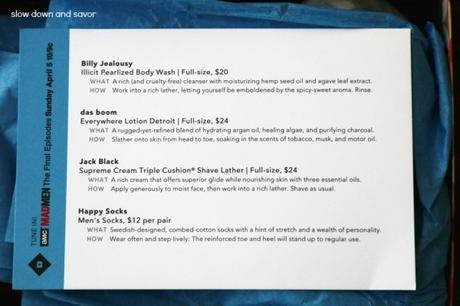 Overall, this April's ode to Mad Men was a win for Michael and for me.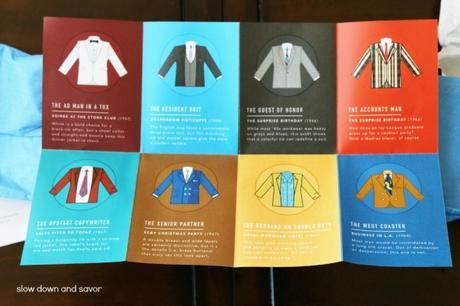 While one of the products will never be used, and the other two grooming products were simply just good, the socks took it above and beyond and made this a great month's box.
What did YOU think of this month's Birchbox Man? Are you interested in grabbing a subscription for yourself or for your significant other? Great! Click here!
Check out previous month's Birchbox unboxings here!