Our new home has blessed us with a couple apple trees.  It apparently is a good apple year, as there is a lot of fruit on these trees.  This weekend, my mom came over to help pick apples and make some applesauce.  She reminded me of a recipe she had for apple sauce muffins which I figured would be a great recipe to create.   I really liked the results and will definitely be making these more often.  They were great for breakfast or to take along as a snack.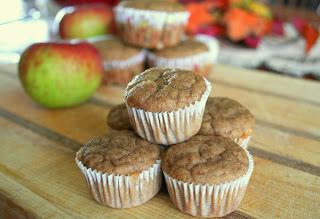 Ingredients
(12-15 regular size muffins or 24-30 mini muffins)
2/3 cup rice flour

1/3 cup chickpea flour

1/2 cup tapioca or arrowroot starch

1 1/2 teaspoons cinnamon

1/2 teaspoon sea salt

1/2 teaspoon baking soda

1 tablespoon psyllium husk

1 cup applesauce

1/2 cup maple syrup or honey

1 teaspoon gluten free vanilla

1/3 cup grapeseed oil

1 egg

Directions

Preheat oven to 350 F and prepare muffin pans.

In a large bowl combine rice flour, chickpea flour, tapioca starch, cinnamon, salt, baking soda and psyllium husk.

In a small bowl blend together the applesauce, maple syrup, vanilla, oil and egg.

Add applesauce mixture to flour bowl and stir gently just until combined.

Pour mixture into muffin pans and cook for 15-17 minutes for mini muffins and 22-25 minutes for regular size muffins.