Apple Milkshake/Apple Mash Recipe, How to make Apple Milkshake/Apple Mash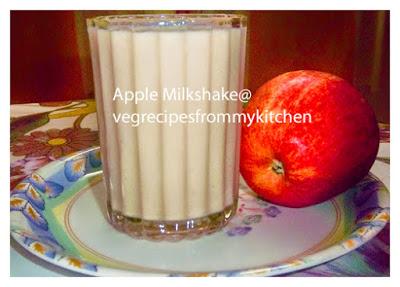 Apple Milkshake/Apple Mash
Main Ingredients: Apple and milk
Total time: 5 minutes
Cuisine; Fusion
Course: beverages
Level of cooking: easy
Serves: 1
Ingredients:
1 cups cold milk

1 medium apple, peeled, cored and chopped

1 tablespoons sugar, or to taste

Crushed ice (optional)
Method:
Put the apple and sugar in the blender with about 1/2 cup of milk. Blend until creamy and smooth.

Add the remaining milk and blend just until well mixed and foamy. Add ice to the blender if you like you like your shake well-chilled.

Pour into glasses and serve.