Apple Crisp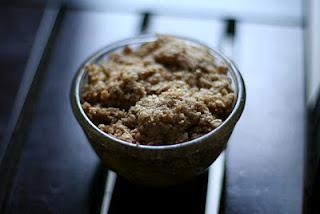 Crumble or cobbler or crisp - call it by which ever name is super delicious,highly irresistible especially when its coming to you straight from the oven! The top crumble/crisp part (usually made of butter flour sugar and oats) is at its crispiest best..
The fruit juice bubbling away released during baking is very inviting to say the least!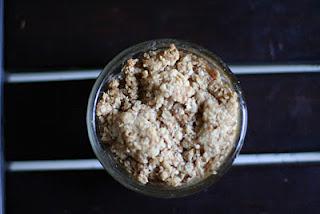 Have tried various versions of apple crumble/crisp but so far the best one I liked is this one ..The top crust is nice and crunchy with lovely spice flavors !
Any berry fruit can also be added as an option though I love walnuts!!
Topping:
65 grams  
flour
50 grams granulated white sugar
55 grams light brown sugar (I prefer dark)
1/2 teaspoon ground cinnamon
1/4 teaspoon fresh or ground nutmeg(optional)
1/8 teaspoon salt
85 grams cold unsalted butter, cut into pieces
 30 grams  oats
40 grams chopped walnuts 
Filling:
1Kg Apples which are firm(peeled, cored, and cut into 1 inch chunks)
Juice of 1/2 lemon
1 teaspoon lemon zest
40 grams white  sugar
60-70 gms 
Walnuts-optional
Preheat oven at 180 degrees C.Butter a 9 inch pie dish or an 8 inch baking dish.
I use small 8-9 glass bowls .You may use 
also 
ramekins.
Topping:  Place all the topping ingredients (flour, sugars, spices, butter, oats and nuts) in a food processor and process until the mixture is crumbly (looks like coarse meal) and there are no large pieces of butter visible.Set aside.
Filling: Place the apple chunks in a large bowl, along with the berries 
or walnuts 
 (if using)  and lemon zest. Toss with the lemon juice and sugar. Transfer to your prepared baking dish  Spread the topping evenly over the apples.
The fruit should be covered well with the topping.
Bake for approximately 30-40 minutes (20- 25 minutes for individual ramekins) or until bubbly and the topping is golden brown.
Ideally it should be cooled for 30 mins or so but I go straight for this hot steaming dessert!! 
The good part is that the leftovers can be r
efrigerated and  reheat before serving.