By 
Amanda Formaro
Growing up I wasn't one for fruit pies, but once I hit my thirties I had a new found love for warm apple, pear and cherry desserts with a dollop of melting ice cream. The holidays wouldn't be the same without some warm apple desserts, and when you can skip the fuss and whip something out in less than thirty minutes, it's certainly worth trying don't you think? These little pocket sized pies are made with fresh apples, dried cranberries and crescent rolls. Perfect for a quick after dinner treat or great as a sweet appetizer!
Rating: 
5
Prep Time: 
10 minutes
Cook Time: 
12 minutes
Total Time: 
22 minutes
Yield: 
8 pockets
Serving Size: 
1 pocket
Calories per serving: 
173 (without glaze)
Fat per serving: 
8.9g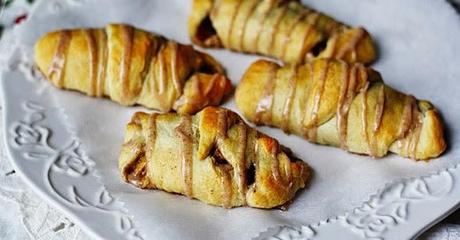 CAKES AND BUN RECIPES
Ingredients
1/4 cup packed brown sugar
1/2 teaspoon cinnamon
1/4 teaspoon nutmeg
1 small apple, peeled, cored and diced
2 tablespoons unsalted butter, melted, divided
1/4 cup dried cranberries
1 can Pillsbury crescent rolls
Glaze (optional)
1/2 cup gently packed powdered sugar
1/4 teaspoon cinnamon
1 tablespoon milk
Instructions
Preheat oven to 375 F. Line insulated baking sheet with parchment paper and set aside.
Mix together brown sugar, cinnamon and nutmeg.
Toss diced apple with ONE tablespoon of the melted butter. Set remaining butter aside.
Combine the buttered apples, brown sugar mixture and the dried cranberries and toss until apples and cranberries are coated well.
Working on the baking sheet, separate crescents into triangles. Place one heaping tablespoon of apple mixture at the wide end of each triangle. Starting at the wide end, roll the crescent up. Tuck in any filling that may have fallen out and seal the edges at both ends. Brush each pocket with remaining butter.
Bake for 10-12 minutes or until pockets are golden brown.
Combine glaze ingredients until smooth. Remove pockets from oven and cool 5 minutes on a wire rack. Drizzle with cinnamon glaze, if desired. Serve warm.
Notes See nutritional analysis for number with and without glaze.