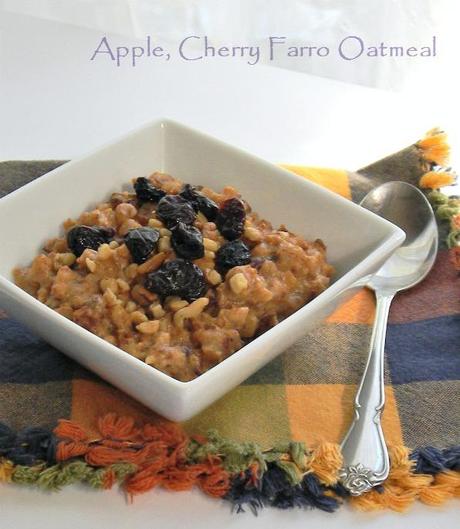 It's safe to say I am enamored with farro. I used to say that about barley but this grain is a whole new animal.
I love that it's extremely diabetic-friendly and tastes great, too.
I already made my first savory dinner and now I can say I made my first breakfast.
If you always wanted to love oatmeal (like me), but just don't like the flavor (me me), you have got to make this.
Make more than you need for one breakfast and experiment with other flavoring ingredients and spices.
I also sprinkled some roasted walnut pieces but almonds would work really well with blueberries and macadamians with pineapple. Bananas and maple syrup, the list is endless.
One thing I found that you could do with this dish you can not do with oatmeal is eat it cold. Just add moisture to loosen the mixture. I used milk but apple juice or yogurt would be fine. 
Apple Cherry Breakfast Farro
Serves 1-2
* 1/2 cup farro
* 1 3/4 cups water
* 1/4 cup chopped apples
* 1/8 teaspoon apple pie spice
* 1/4 cup milk
* 1/4 cup dried tart cherries
1. Soak farro in water to cover for 20 minutes. Drain and replace with 1 3/4 cups fresh water. Add a pinch of salt and bring to a boil.
2. Once water comes to a lower to simmer, cover and simmer for 20 minutes or until almost all the water is absorbed. Stir in the apples and the milk. Sprinkle the cherries on top.
I made this in replacement for the disastrous banana pancakes (Meal Plan, Week Two-Sunday), which need lots more work before posting.