Apple and Pomegranate Smoothie-How to make Apple and Pomegranate-Apple and Pomegranate Smoothie Recipe-Easy Smoothie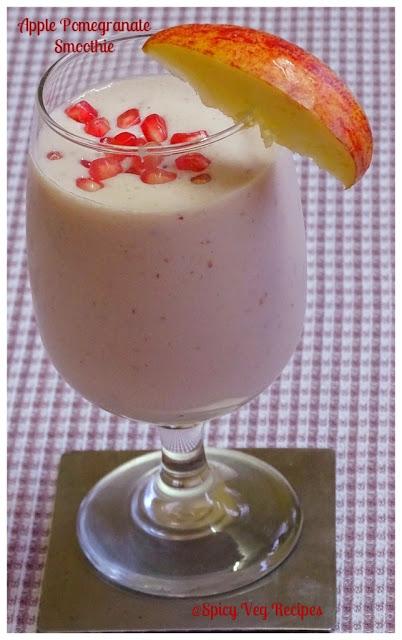 Apple and Pomegranate Smoothie Recipe
Apple and Pomegranate smoothie is a 
quick and easy to make
 creamy and 
refreshing,
smoothie
which offers a quick boost of energy &
 nutrients
Health Benefits:
Pomegranates are a great source of vitamin c, B5, potassium, fiber and antioxidants 

regular consumption of pomegranates or its juice may reduce the risk of heart disease, reduce high blood pressure and inhibit viral infections.

Apple is rich in dietary fiber, which helps prevent absorption of bad cholesterol in the gut. 

Apples are rich in antioxidant phytonutrients flavonoids and polyphenolics.

Apple fruit contains good quantities of vitamin-C, beta-carotene, and B-complex vitamins. 

Apples also carry a small amount of minerals like potassium, phosphorus, and calcium. 

Apple also to helps controlling heart rate and blood pressure and counters the bad influences of sodium.
More recipes from this :
Chocolate Banana Smoothie
Chia Seed Smoothie with Mango and Melon
Mango Lemonade
Mango Pineapple Juice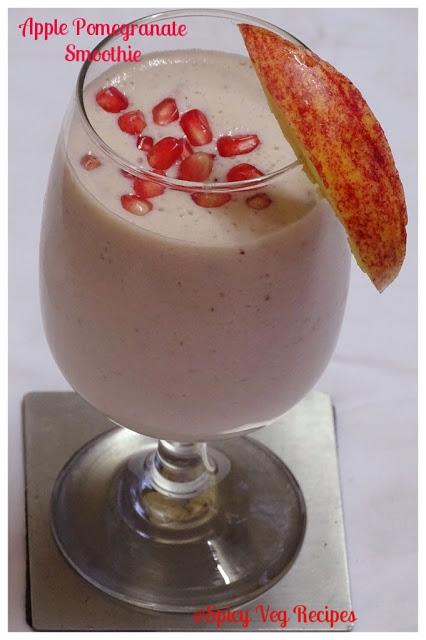 Apple and Pomegranate Smoothie Recipe
Apple and Pomegranate Smoothie Recipe
---
Prep Time: 2 min     Total Time: 5 min     Serves:2
---
Main Ingredients:
Pomegranate, yogurt and Apple
Cuisine:
Fusion
Recipe Type:
Beverages
Level of Cooking:
Easy
Ingredients:
1 cup plain yoghurt/yogurt/dahi

1/4 cup milk

1 apple

1 cup pomegranate seeds

Sugar or honey to taste

ice cubes, optional
Preparation
Wash and Peel the apple and dice into pieces.
Method:
Place apple, milk, sugar, ice cream and pomegranate into a blender and blend until smooth.

Pour into the glass.

Serve immediately.
Note:
If needed, stop the blender and stir mixture away from the sides and near the blade.
 If you liked this, please share. Thanks!