2013 is the year of the black snake.People born in this year are thoughtful and wise and approach problems rationally and logically. Their business is always going well and they are a men or women of few words. They are also insightful and intuitive. But most of all, snakes come in varieties of colors and patterns. They love to appreciate beauty thus, their love for fashion.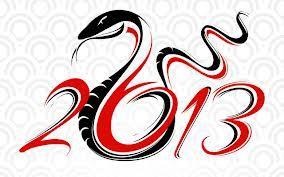 People with this Chinese Zodiac are very stylish, fashionable and have exceptional taste. This year is for the Water snake people who are lucky with finances. They also have adventurous spirits and are risk takers. Very intelligent and a wellspring of creative ideas, water snakes love style, want to socialize and meet new friends. Moreover, they are achievers, considerate and sincere. With this fortune thoughts, Chic Flick recently introduces its new line of necklaces which are snake inspired. Anything snake is vogue this year. Just look at the poster below: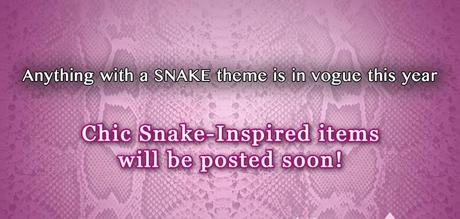 Now, that poster will soon be over because I have the chance to wear one of Leine de Jesus' brass-plates snake-inspired necklace which can be bended  into different designs. Now, you can look fabulous in all multiple looks that you can create with just ONE accessory.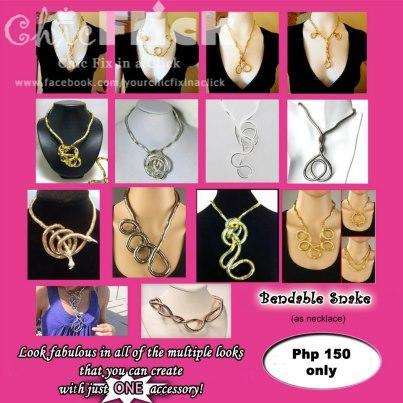 Imagine, you can look, create, and even design your own necklace with this super fabulous accessory! And, you only need ONE Piece. No need to rummage through your vanity box looking for additional accessories. Just wear this one.  Look at the photo beside, you can twist, bend, fold, turn around, and just simply design it whatever you want. You can even make it like a pendant a choker, or a diamond like necklace. You can create with this piece almost anything. It is not just any snake, it is a work of art and an artifact of fashion, one you can not just leave without or not add to your closet. This necklace is something every woman should have. Just like a twister, this necklace does not stand on your way, irritate your neck and even bury your fashion sense. It can be worn as it is because honestly, it is a piece of artwork that will get anyone's attention. Surely, your friends will notice then eventually ask you, where did you buy that, or get that? You just simply have to answer, "From Chic Flick." Now, every chic wants to have this. And, only Chic Flick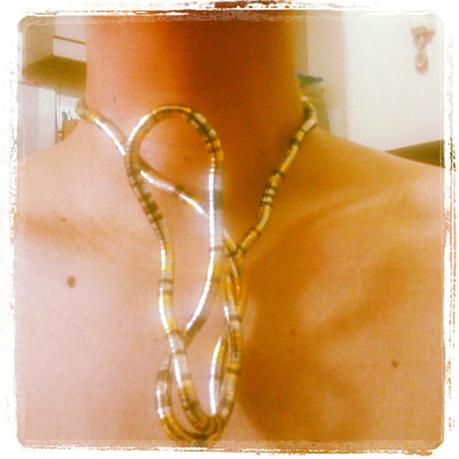 Check out how I styled the snake inspired necklace on my neck. Styling tip: You can wear it with a sheer sleeveless or spaghetti strap dress. The best color to match this would be gold, silver, black or turquoise for it to stand out. But, do not pair this with any neon colored outfit or you end up looking like a rainbow instead of portraying your own personal style and glam. What better way to place this would be on your hair too (if you are going for a Cleopatra) costume or look. In that way, you can look effortlessly chic and very authentic at the same time.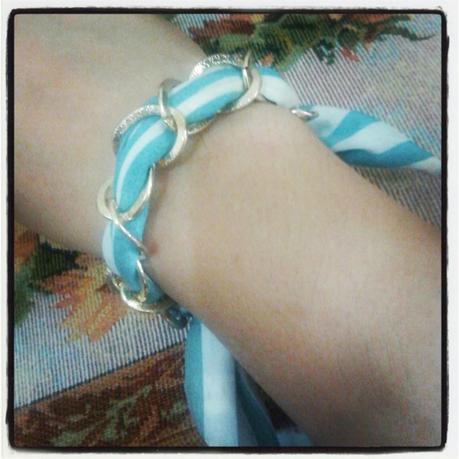 When you don't to wear a snake, you can have a cute, teeny wrap -around brass-cloth bracelet around your precious wrist instead. This style is indeed very fresh yet defies the traditional round beaded or spike bracelet. If you wear this, you can truly make a new fashion statement integrating both metal and cloth into one. Partner this with any striped cyan or turquoise top, dress or bohemian skirt and you are good to go. Style has never been easy! SEE, you can set your own style with the necklace or this wrap around bracelet. But, wait, this bracelet can also be worn on your hair as a ponytail. Use it around your hair and tie it at whatever style you want. You will be the cutest girly-girl or the gorgeous teen next door that every boy loves. Who does not want that?
Should you want to order these useful DIY (design it yourself) accessories, contact Ms. Leine de Jesus of Chic Flick. Contact her at 0917-857-8968. Like Chic Flick on Facebook.