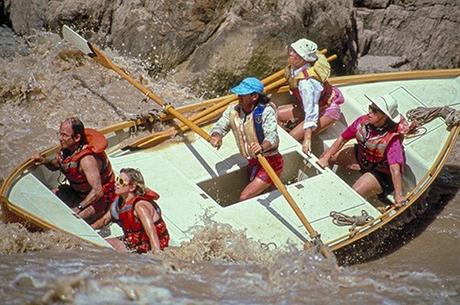 Anxiety is one of the emotional changes that afflicts women in menopause and perimenopause. (Been there, done that.) Even if you have never been anxious in the past, free-floating anxiety can have you worrying about anything and everything. Add in the legitimate crisis of the coronavirus pandemic and we can peg the needle in the red zone of the nervousness meter.
So what to do? Put 'anxiety' in the Search box here on the blog site to read all posts about anxiety and ways to deal with it. If those methods don't work in these terrifying times, Theresa-Venus and I may have inadvertently stumbled on a solution.
Some years ago, she and I were on a whitewater river trip through the Grand Canyon. Along with our river gear, we had cute little pillboxes separated into day and night sections. Daytime pill compartments held prescription meds and supplements. At night, we took a mild sleeping aid to get to sleep and Advil to ensure that our aching muscles didn't wake us.
One of the biggest whitewater days happened halfway through the trip. We'd been down the Colorado River several times before, but this stretch always made us nervous. On one memorable trip, our boat had flipped in a rapid named "Hermit" on that very stretch of river. So it was understandable that we'd be anxious about running it.
That day, we made it through without a hitch. When we got to camp, we shared with one another that we'd not been anxious at all. In fact, we'd been mellow and relaxed all day. Turned out that both of us had accidentally taken our "night" pills instead of our "day" pills that morning. We filed that experience away under "Funny Stories" as well as "Might Come in Handy Sometime."
So if anxiety gets to be overwhelming, diphenhydramine just might be an option. (Brand name: Benadryl. It's also the active ingredient in Sominex and other non-habit forming over-the-counter sleep aids.)
I tested it just the other day when I had binged on way too much coronavirus news. I popped a 25 mg tablet and cruised through the day like a 50's housewife on Valium. It worked like a charm and broke the cycle. I haven't taken any since but it comforts me knowing that those little pink pills are sitting in my medicine cabinet. Just sayin'!