I am really really really trying to be friends with Old Man Winter.  The fact is though, I like him when he first shows up - am practically head over heels in love with him he is so beautiful and exciting at first!  -  and then in almost no time I want to kick him out very soon after he arrives!
I knew snow was coming yesterday so in the morning I decided to postpone my usual Tuesday swim for a run instead and move the swim to Thursday.  I met up with my sister and some good friends before sunrise and logged in a little over 10 happy miles.  I was planning on 8 initially but figured I will be running on the treadmill a bunch later this week so I took two miles off of the run for Thursday so that I could do more outside than in.  I was so happy I did that.  Making my treadmill runs shorter is always a good thing when I have the chance and I have no problem moving things around in order to accommodate that preference!
The snow yesterday was beautiful from my kitchen window.  I loved cozying up with my kids and watching it fall over our wooded backyard.  This morning though the roads and trails were icy and the temperature was in the single digits.  I just don't even think about running outside when winter is like that!
I woke up at 5:30 this morning and put my running clothes on.  School was canceled and I wasn't in a rush to get the miles in.  So I literally climbed back into bed with my running clothes on and fell back asleep.  It seemed like a genius idea at the time.  I figured I would wake up in an hour and start running.
That's funny.
Life did not happen that way.
I wasn't even stepping on the treadmill until after 11am.  I hopped on and started running and was planning on 10 miles with 5 of them in the 6:15-6:30 pace range.  Wednesday is usually my track day but that obviously wasn't happening so I figured I would pick up my speed in some way on the treadmill today.  I warmed up with around 3 miles before Gus needed something.  He has a yucky cold and just isn't himself, poor guy.  Once he was settled I hopped back on and ran a bit, but then Abby came in from the cold and needed help with her snow gear and wanted some hot cider and a snack.  So I paused the treadmill again.  I kept getting on and then off, on and then off for one reason or another.  One reason or another that was very clearly to me more important than my run and I never hesitated to take care of it, but it was at times making me think I was ridiculous for trying to fit 10 miles in on a day like this.  I was starting to get grumpy.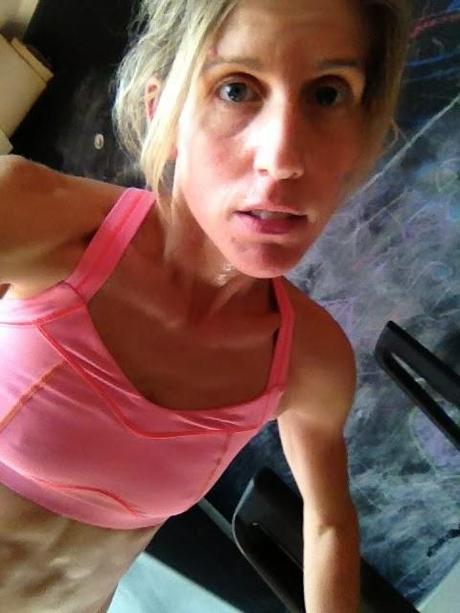 getting grumpy
I started in with my faster miles though and found some focus, and began to think about how lucky I am to even get to run AT ALL - especially on a day like this with three kids at home and the weather being what it was.  Trying to fit in the time to run - to make the time - at this stage in my life (or really at any stage!) is hard every day in a way, but I am in a routine now and have found and created a rhythm with it.  This kind of winter weather has tripped me up!  I'm glad I didn't decide to throw the towel in or call it quits when I was thinking about it.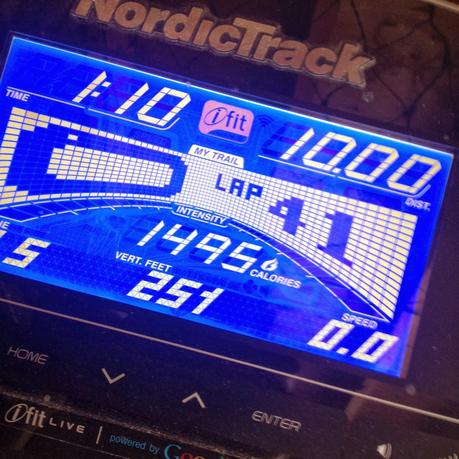 boom!  did it!
When I was finished, my kids cheered for me and we were all so pumped!  I quickly showered and dried my hair and then all four of us bundled up to head out into the snow.  We lasted maybe 15 minutes tops, it was so cold.  But we had a blast ... and I'm sure I was in a much better mood than I would have been if I had skipped my run or cut it short.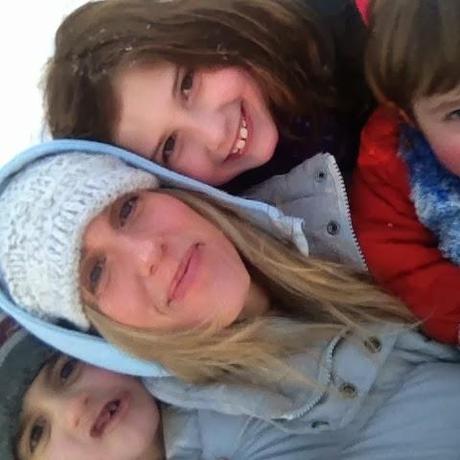 i have no idea what happened with this picture i think my fingers were frozen!
So, Old Man Winter -- give me whatever you've got.  I'm going to get through the worst of you and embrace the best of you, no matter what.  And I'm going to keep running.
Are you a running mom?  How do you survive on winter days when school is closed and the weather is brutal?  Do you love or hate winter running?  Treadmill running?