Home > Stock Market > Another peak signal in the FTSE-100?
Another peak signal in the FTSE-100?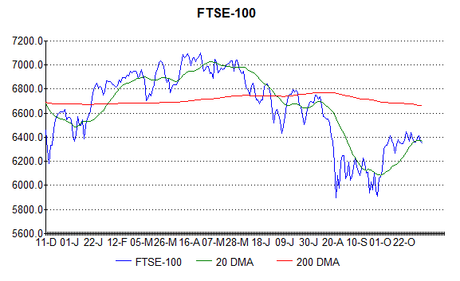 The FTSE is forming another of my peak signal patterns, so I wouldn't be surprised to see a modest fall back to just above 6,000 soon. Should the index move back above 6,400 next week, I would be tempted to put a bit of money into a short ETF such as
Societe Generale's 5UKS
. Looking at the
technical chart of the Dow
, we see that it is looking overbought (RSI above 80) and so due a dip. The FTSE has lost ground against the Dow in recent weeks and so hasn't reached its 200 day moving average (unlike the Dow) so my thought that that might be the turning point for the next dip looks like it was wrong. On the other hand though, the FTSE may not fall as much as the Dow on the way down. This would be consistent with the fact that the peak signal is on a relatively modest bounce at the bottom of a sizeable dip and so not suggestive of a large fall to come, as in the 1990 example of the pattern.