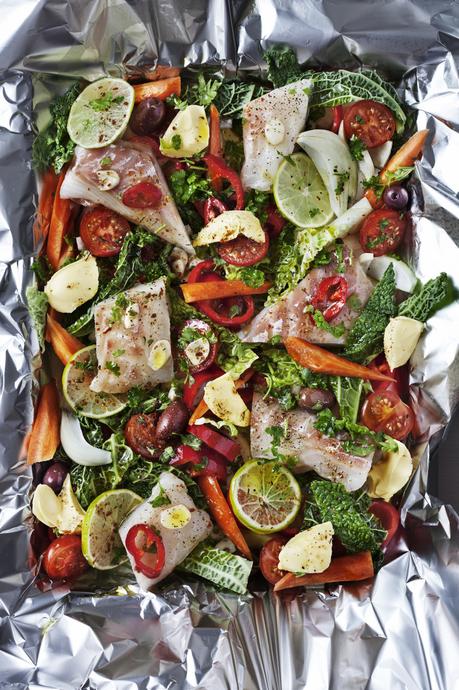 We'll continue to share some fantastic LCHF recipes from Swedish chef Anne Aobadia ( check them all out here).
Here's a great recipe for oven-baked fish with vegetables:
Fish with Vegetables Baked in Foil
All-in-one dishes are great. This foil package allows nutrients and taste to be preserved and the juice is very good. You can basically use any type of fish and vegetables.

Ingredients

2½ pounds (1,2 kg) white fish fillet
1 leek
1 large yellow onion
2-3 cloves of garlic
2 pointed peppers
12 cherry tomatoes
1 fennel or savoy cabbage/pointed cabbage
1 carrot (optional)
½ cup (1 dl) pitted kalamata olives
thyme, parsley
1 sliced lime
salt, pepper
½ cup (1 dl) white wine
2-3 tablespoons olive oil
3 ounces (75 g) butter

Instructions

1. Line a roasting pan with foil or parchment paper, make sure there's enough material for folding and sealing the top of it. Cut the fish into serving pieces and place in roasting pan. Slice and chop the vegetables and place them evenly with the fish. Add spices.

2. Drizzle with wine and oil and add little pats of butter. Fold the foil, cover with a piece of foil and fold at the joints. Bake in the oven at 400°F (200°C) for 40 minutes.

3. Serve with aioli, pesto mayonnaise or any other rich dip.

TIP! Peeled shrimp or shell-on shrimp can be added. They should not be added from the start (unless they are raw), but may be added at the end, though. However, it can be difficult to open and reseal the foil package without causing leakage. One option is to add peeled cooked shrimp before serving.

Extra! Use frozen thawed or fresh fish - cod, hake or haddock. It also works well with plaice fillets that you roll up.
Previous recipes by Anne Aobadia
More
More
Diet Doctor's LCHF
Healthy Tasty Green Chips!
Picnic at Diet Doctor's House Dinner at Diet Doctor's