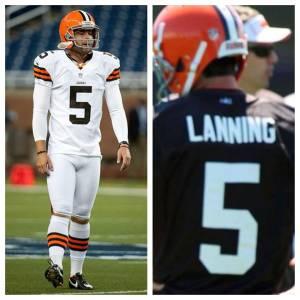 Spencer Lanning, Cleveland Browns
As I wrote about last year, three Lannings have played Major League Baseball (the last retired in 1947), and I've had a fun time over the years tracking down artifacts and history of those long-lost ballplayers and linking them to my family tree. In fact, not too long ago I finally found a photo of Lester "Red" Lanning from his college days as a baseball star at Wesleyan University in Connecticut, before his short-lived career in the majors. However, there's never been a Lanning in the NFL (or NBA, or NHL)…until now.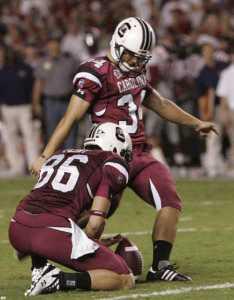 Spencer did duty as both a placekicker and a punter for the South Carolina Gamecocks during his college days.
After spending the past two years in NFL training camps and with minor league teams, Spencer Lanning won the Cleveland Browns punter job this summer and made his NFL regular season debut last weekend in the Browns' season opener. The Browns are off to an 0-2 start and it might be a long year in Cleveland, but Spencer has acquitted himself pretty well in his first two games, averaging 43.2 yards per punt on 13 punts (and those 13 punts attempted in just two games gives you an idea of the Browns' offensive struggles so far).
Although he played his college ball at South Carolina, Spencer comes from the North Carolina Lannings, the same branch of Lannings that produced baseball-playing brothers Tom and Johnny Lanning a century ago. After doing the research I found he's a distant (8x, once removed) cousin of mine, but a Lanning is a Lanning.
Welcome to the NFL Spencer, and welcome to my family tree too!