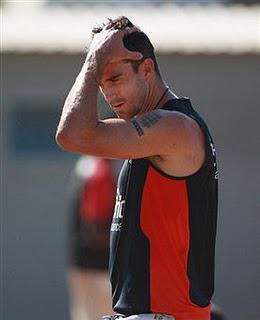 KP: Out of World cup and IPL due to soreness after bowling 8 overs during SA vs England
After a series of injuries, a tie against India, a loss to Ireland, a close win against South Africa, England have added another shock in their 2011 book. The team is now threatening Pakistan's long held most unpredictable side title as it keeps us all on toes. The media and experts inform me a lot of times of "The darkest day in English cricket", which was the innings defeat to West Indies in '09 (England were all out for 51), the ICC World Twenty20 '09 loss to Netherlands, the recent loss to Ireland and many others. I've not been too bad at taking these losses, I am more distraught when England loses from winning position or doesn't win because of rain/duckworth-lewis. So yeah, victory gives me a lot more pleasure than the dullness loses give. I can't be disappointed when they don't try (6-1 losses to Australia, one day, after Ashes '09 and '10) or when they are never in command.
Coming back to the current scenario, as opposed to what a lot of people are criticizing - the pitch at Chennai (England vs South Africa), I'd like to say that we need variety, all 300+ games will bore us. Not only that, low scoring games can be a lot more competitive because it's no longer mainly a matter of runs, it's about both runs and wickets.
England's matches have been some of the most enjoyable ones this World Cup. It's because of England that Group B is wide open. And now that KP, who opened for the first time for England at the start of this tournament, England have applied to play Eoin Morgan. They are also in search of a new opener, once again. Knowing them, I can say anyone may open. Ravi Bopara has already failed as an opener so I hope at least it's not him. I was disappointed to see England without Paul Collingwood. Strauss has shown an unbelievable faith in Yardy. Months ago England lost 2 early wickets in a game against Australia and Yardy was sent. Strauss has given him a chance to take wickets in batting powerplay and he also bowls a lot of overs. But, all in vain. Even Sussex doesn't give him so many opportunities. England must do away with him. For one moment I thought Strauss has given away the game by preferring Kevin Pietersen and Michael Yardy over James Anderson and Stuart Broad when South Africa had only 3 wickets remaining. Anderson and Broad have been superb throughout the tournament. Anderson has given away some, but he has mostly bowled well, at times fortune was against him.
Will England lose to Bangladesh and defeat West Indies by 200 runs or 10 wickets? To find out, watch the drama unfold: England vs Bangladesh, Chittagong, March 11, 08:30 GMT and England vs West Indies, Chennai, March 17, 09:00 GMT. Today, due to the stretched World Cup schedule for a reason which only BCCI could understand, only Canada vs Kenya is in progress. Kenya 181/8 (45.1 overs).