What could be Angelina Jolie's Bridal dress? This common question floods the internet and the papers today because there is really no clue on who will make the dress and what it would look like. There have been so many designers having their own rendition of an Angelina Jolie's wedding dress and so many guesses on who would get the honor of dressing the most popular woman in the movies today. This time we will see what wedding dresses we can get if we compared it to Angie's body type, character, favorite and popular choice.
Utterly glamorous and everything sexy Angelina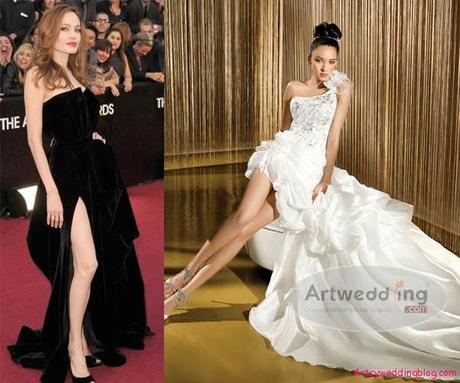 Angelina Jolie Wedding Dress According to Her Figure
Considering that this is her wedding day and that she is turning 37, she can maximize the glam and refresh out of the slit. Why show one leg when can show both? According the style and the allure proportions that Angelina is used to, this Hi-Lo chapel train wedding dress is a great pick. Aside from the fact that hi-lo is the way to go these days, it will surely be a big hit for the wedding dress watchers. The wedding is outdoors, so no one can stop the woman from maximizing the both-legs-showing trudge.
Angelina: The poised and the elegant woman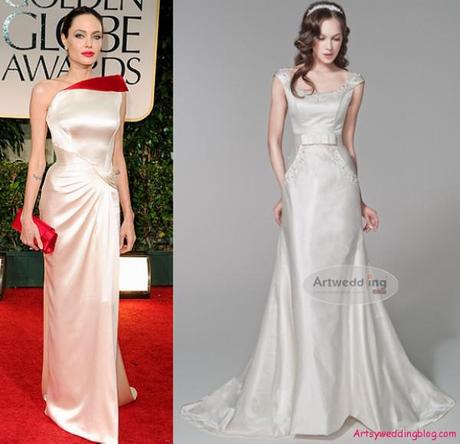 Angelina Jolie Wedding Dress According to Her Character
Knowing that Angie is fond of wearing a column stunner, because of her body shape this princess is advantageously tailored for the women with grace like hers. Capped on the shoulders with shimmering beads in a low neck, the bosom will be embossed by this column bridal gown. The short waist is elongated by the bilateral vertical cut on the midline, as the sash then will define it. The outgoing curve appearing like side pockets will amplify the narrow hips, as the lucid flowing satin will appraise her towering statuesque.
The love for figure flattering dresses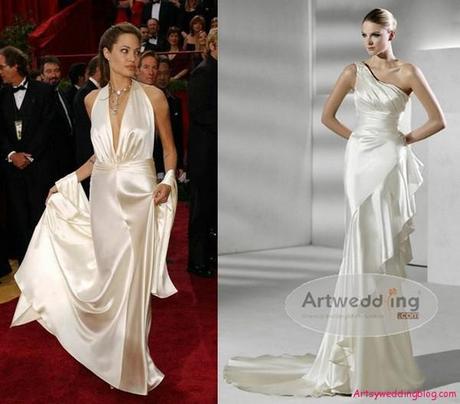 Angelina Jolie Wedding Dress According to Her Likes
Angelina is a big fan of chiffon, charmeuse and silky satin that hugs her form. This one shouler bridal dress maybe simple in a silk like satin fabric, but if worn by the icon Angelina Jolie, her body's shortcomings will be subdued in the best possible ways. The curvy asymmetrical neckline will bring Brad Pitt in high spirits because the bosoms were perfectly presented. The ruched waist emulating an obi belt is the tactic on how this cut will get the required shape on the hips. The slating ruffles then will finish the job by creating a distinct pelvis and elongated legs what exactly our girl Angie has.
Simple but gorgeous Angelina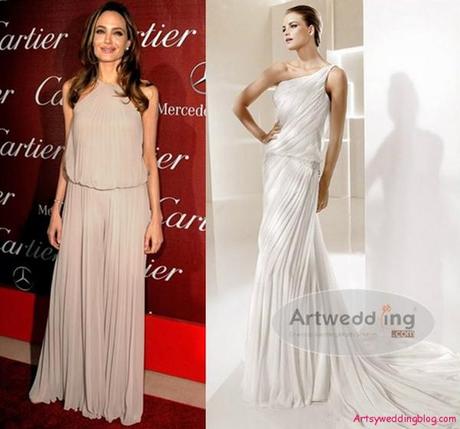 Angelina Jolie Wedding Dress According to Trends
A soft swaying fabric can be simple, but if worn by our girl Angie, it turns into a fabulous ensemble. It reflects her character of being an awe-inspiring woman, which this dropped waist wedding dress in a goddess inspired cut where the waist is dropped mimicking Venus dMilo's wardrobe.
Whatever cut and design of wedding dress would the lovely Angelina chooses, it is certain that she will look stunning on it and that this wedding will be monumental. Being Mrs. Brad Pitt is every girl's dream and she lives that dream, dresses does not matter anymore.