On Monday, Chad, my Mom and I went to Ancient Cedars Café for lunch. This was our second visit as we had taken Ma there for Mother's Day. I'm so glad to support a place in my small hometown that has so many vegan items on their menu.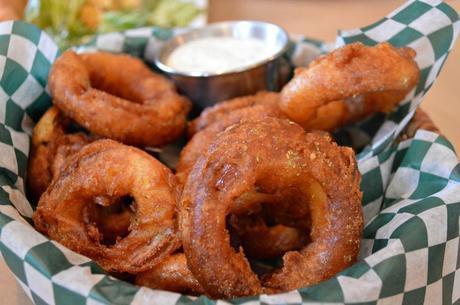 We got a basket of Onion Rings for the table, which comes with creamy garlic dill dip that is VEGAN! So friggin good. I almost couldn't believe it was vegan but we made it pretty clear everything had to be vegan and double checked everything to the point of annoyance. Good thing I went to school with our server.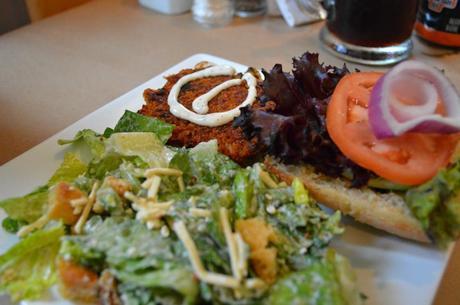 Chad decided to try the Veggie Burger, since it's handmade right there at Ancient Cedars. No frozen Yves burger there! He really enjoyed it. I had a bite (barely) and it was yummy. It has sweet potato in it.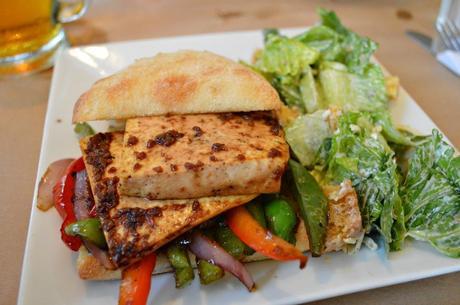 I was torn between getting the BBQ Seitan sandwich again, trying the Sweet Potato-Black Bean Burrito Chad and Ma raved about (and which she got again) and the Bulgogi Sandwich. I went with the Bulgogi, which was tasty, but could have had a bit more heat. I also got the vegan Caesar salad as my side and I swear it is probably the best vegan Caesar I've ever had. Next time, I might get it as my main.
So again, I totally recommend people head up to Tobermory (for camping, hiking, SCUBA diving, cottaging etc.) and stop into Ancient Cedars Café for a meal. You can also now get their take-away sandwiches, salads and smoothies at Mermaid's Secret closer to downtown Tobermory.
~Laura