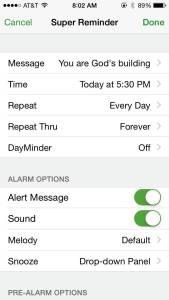 So I've been utilizing my latest tip for about a year now and I feel like a brat for keeping it all to myself and not sharing it with my awesome readers.
It's pretty simple actually and it's really not anything mind blowing. But the few people I mentioned it to responded with, "Wow, that's a REALLY good tip!"
Color me surprised, I finally thought of something worthwhile to share! So here it is:
I set several alarms on my phone via an app called "Alarmed." It's free to download and it works pretty easily. You just set an alarm to go off either daily, weekly, monthly or even yearly. You could use it for Birthdays, Anniversaries, Pay your Bills, Write for the blog, Make that doctor appointment, etc.
I used to use it for these things until one day I decided to start setting reminders about my diet. This was at a point when I felt like I had lost control over my cravings and had to take steps to at least TRY to combat them.
So I set this app to alarm me at several times throughout the day when I would be most likely to binge or cheat with phrases like:
"Don't cheat on your diet tonight." – Reminded me that my cravings could be controlled.
"You're making great progress, keep going." – Reminded me that I wanted to be consistent in order to see results.
"Remember how fortunate you are that have food to eat…" – Reminded me how blessed I am and how plenty of people don't have enough to eat.
"Be an example to your clients and your fitness family." – Reminded me that my fitness family includes my readers, my blog readers, my social media followers, etc not JUST my clients.
Some are faith based and could be my own personal mantra/prayer or sometimes it's a scripture passage but regardless of anyone's beliefs, I think we can all agree that we only get ONE body in this life right? :) So, with that being stated, I have used some of these "alarms" as well:
"Your body is a temple, don't destroy it with junk." – And not just junk food but junk tv shows, junk music, junk movies, junk social media, etc.
"God, not food, is who is in control of me." – For my non-believer readers, you can adjust this to say something like "Food does not control me, I am in control."
"Pursue holiness in all you do." – Self explanatory but could also be interpreted as "Pursue good and avoid evil."
"Untwist in me what is twisted." – I stole this from author Christopher West. Technically you could call it a prayer but when used with a diet mindset, you're asking that all those negative thoughts that are twisted up inside your mind telling you how you're going to fail, that this is too hard, that you'll never lose this weight, you'll never achieve success and untwists those to reveal the truth. Don't believe the lies of the scale, don't believe the lies that the media portrays about beauty and fitness, untwist what is twisted and get yourself set up to succeed.
I hope this little tip was helpful. I use it everyday and most days, it works for me. Some days I admit, I ignore the alarm and I "snooze" through it. But that's okay! I just move on and start fresh before that next alarm goes off.
-Michelle