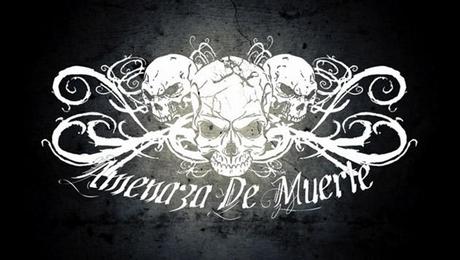 Hello Metalheads! I bring you today a Spanish Extreme Metal band from my own town, Malpica, in Galician Death Coast. These guys are called Amenaza De Muerte and they have recently released a brutal new EP entitled "Deathcoast".
Amenaza De Muerte was formed in 2008, this musical project has been developing its sound along the years from the early days with a initial Hardcore style to a more mature and brutal Death Metal sound full of core details, which defines the current direction of the band.
With several line-up changes along the band's history, these guys have always put their eyes in the horizon and have continued their path developing their own music, playing in many festivals and sharing stage with a lot of bands around Galician and Spanish territory, and they have offered us three releases until date.
Their first recording was entitled "Vive o Muere" and it was released on 2008, it contains three tracks plus two demo songs, in which we can find great brutal classics from the band like "Ouija" or the fantastic "La Soga".
In 2011, Amenaza De Muerte come back with a new release called "Atrapado" with eleven new tracks. This album shows us a more cared and mature sound increasing the brutality and it achieves a more extreme music which not disappoint to all Death Metal lovers. Starting with an intro very cool we can enjoy great tracks like "La Sonrisa de Leti", "Massacre" or "Entre Cartones". The fantastic and brutal "Germen De Mis Entrañas" with good changes of pace or "Cuenta Atrás" with a nice envolving sound are also good tracks in the album.
The band brings us now a new assault in 2014 which is called "Deathcoast", it's an EP with three new songs, we really can say that there are two songs plus one intro with very good orchestal arragements entitled "Redemption", this intro gives way to an awesome song called "Fuck You All", a high recommended track with a brutal sound that you sould not miss. "Decadence", the end song in the EP is my favorite track, I think it's fantastic with very good choruses and great touches which are really powerful. You can enjoy it by clicking the following link.
AMENAZA DE MUERTE – Decadence (VIDEO)
by MetalWind
Ok Metalheads, if you like Extreme Metal sound I absolutely recommend you to pay attention to Amenaza De Muerte, these guys will not disappoint you! I invite you to listen to "Deathcoast" EP from these Galician brutal metallers!
Stay tuned! These guys are working hard at this moment on their second full-lenght album and we will have interesting news soon!
I send greetings to my friend Adam Blanco (drummer) and greetings to Amenaza De Muerte.
Enjoy "Deathcoast" EP and leave your comments!
Follow Amenaza De Muerte:
https://www.facebook.com/amenazademuerte
https://twitter.com/AmenazaDeMuerte
https://soundcloud.com/amenazademuerte
https://www.youtube.com/user/amenazademuerteglz