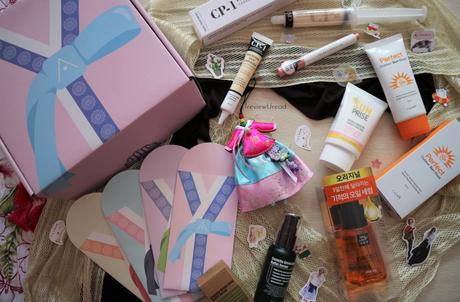 Althea Korea Hauls | Althea Turns 5
If you've been around for awhile, you'll realize I love Althea Korea. I get Korean beauty products from them all the time. However, the past year I seemed to have not mention anything about them. There's a simple explanation to that but that involve a short backstory. Last year, I did 2 Althea hauls. I took the photos and uploaded them into my computer. Some time during that timeline, I switched computer and I never get to upload these photos. In fact, I'll be posting a lot of these older posts in the near future for I've recently retrieved all these photos.
Back to the haul. I'll be posting 2 hauls in this post. The first one is the New Year's haul featuring the Hanbok as their limited edition box design. The second haul is a normal haul with the signature Althea box design.
Additionally, I would like to introduce to you Althea's 5th anniversary event. As per their annually celebration, Althea will be having their exclusive deals and freebies all month long. This year, their theme is rainbow. With exclusive DIY Rainbow card kit and a limited edition rainbow box, this theme is created to help cheer everyone up during these hard times. There's also a shopping spree contest for you to join. You can check out more about Althea Turns 5 here.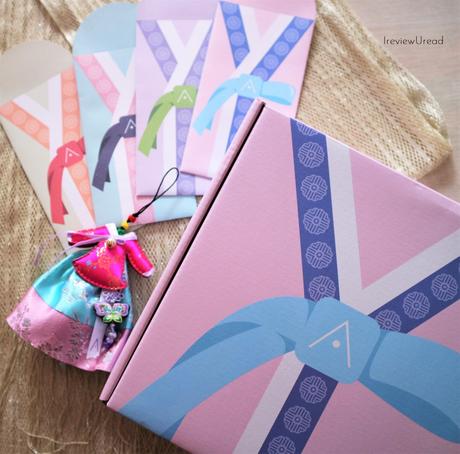 Althea Korea 2019 Lunar New Year Box | Hanbok Beauty Box
This 2019 Lunar New Year limited edition box comes with a Hanbok designed box, 4 Hanbok envelopes and a cute hanbok air freshener. I love the air freshener. It is so well designed and serves as a beautiful decoration even after the scent is gone. You can even replenish or change the scent if you have your own essential oils. Just drip it in on the scent blocks under the dress and it's as good as new.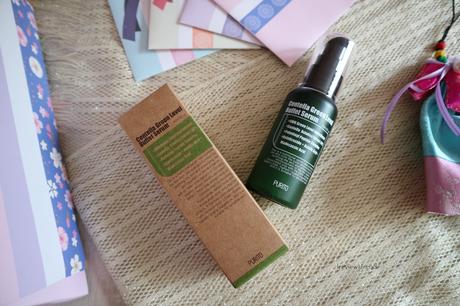 Purito Centella Green Level Buffet Serum
This serum contains 49% Centella extract that promotes collagen synthesis and activates cell tissues to calm trouble scars. It helps the skin with whitening and wrinkle improvement. I like how they even used recycled packaging for the serum.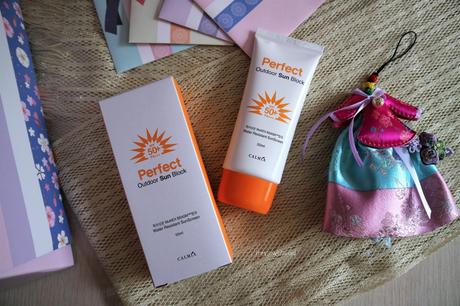 Calmia Perfect Outdoor Sun Block
This is the second time I'm purchasing this sunblock. It have an SPF50+ and it is skin coloured. You can use this on your face for light coverage but I use it for my body instead. What more can I say it is cheap and it does it job so I repurchased it.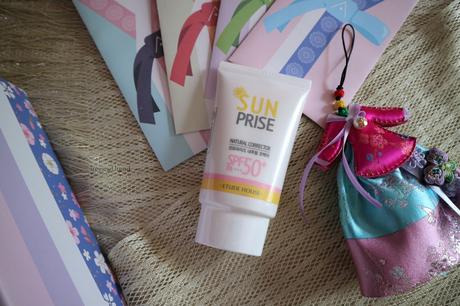 Etude House Sunprise Natural Corrector
This is another sunblock that I purchased. The Etude House Sunprise Natural Corrector have a SPF50+ and I intend to use it for my face. I still have yet to try it.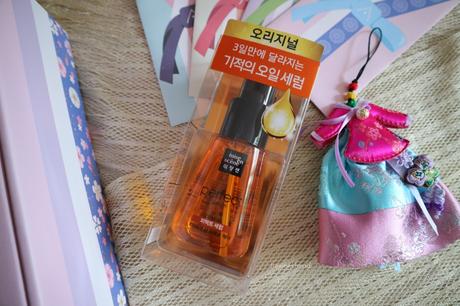 Mise en Scene Perfect Serum
This is a hair oil. It smells wonderful, like a mixture of flowers and sweets. I like how my hair does not feel greasy after usage plus my hair smells wonderful. However, my hair does not feel healthier after usage.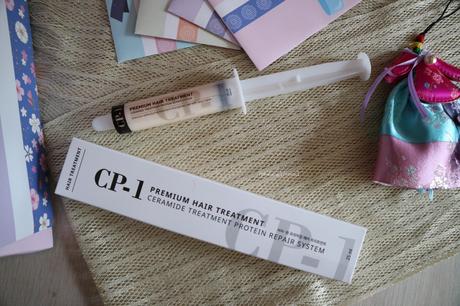 CP-1 Premium Hair Treatment
This is an item that is in my Xmas Wish list. I was attracted to this product because of its syringe packaging. This product works wonder. It made my hair feel soft and smooth after usage. I am just unsure how I can reuse the syringe.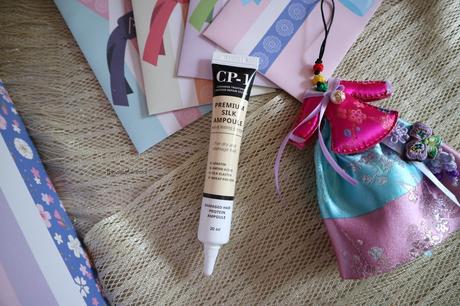 CP-1 Premium Silk Ampoule
The Silk Ampoule is a great after care product. It made my hair feels healthier once again. It's such a shame it comes in such a small package. On the other hand, this characteristics could be seen as 'portable'.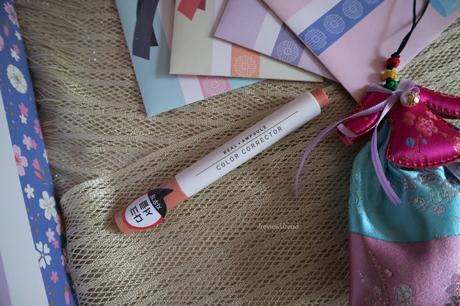 ARITAUM Real Ampoule Color Corrector
Have you heard of this saying where you can use a red lipstick to cover your dark eye circles? I've hear this saying floating for years now and I never intend to try it until colour correctors became a thing in the Kbeauty world. The science behind this phenomenon is red neutralises the blue-green hues under most eyes. It's more suited for lighter colour skin and you have to find the perfect shade of orange-red for your skin tone.
After years of constant probe by the media, I finally give in and get myself an orange-red colour corrector. I was initially skeptical of this product for it have the 'clicker-pen' design that I don't particularly like for my makeup always gets stuck in these pens. There's no way to open the pen to salvage the remaining product so you eventually you're the owner of a useless and expensive piece of brush.
However, I decided to give this a go because curiosity got the best of me. I was in awe. I never expected my dark eye circles to vanish so quickly. Normally I would have to apply a few layers of thick concealer to conceal them but with this color corrector as my base, all that was required was a thin layer of my usual concealer and I'm good to go. This have got to be the best makeup that I've purchased for a long time.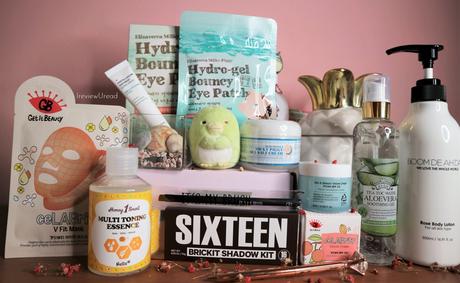 Althea Shopping Spree 2019
We're moving on to the next Althea Korea haul from 2019. Do note that my Sumikko Gurashi penguin is not included in the haul. In this haul, I got an insanely great deal where I got a eye shadow pallet as a freebie.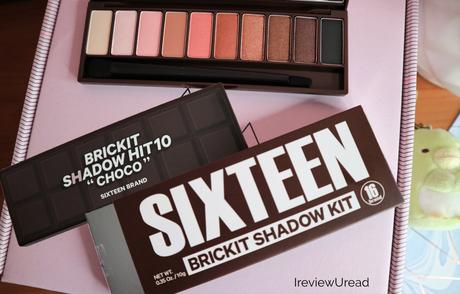 SIXTEEN Brickit Shadow Hit10 "Choco"
Althea Korea is known for its generous sales and freebies during a special occasion. In this occasion, I scored myself a free SIXTEEN Brickit Shadow Hit10 "Choco". A full 16 colour eye shadow palette for free, plus it comes with a makeup brush.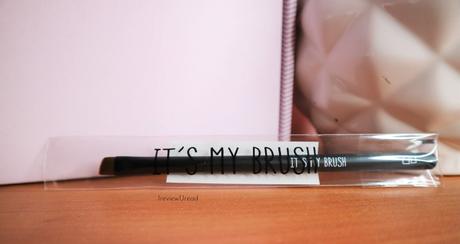 It's My Brush
I'm not particular about brands when it comes to products. As long as they work, I'm up for them. This is an angled brush for eye liners. For awhile, I see these "It's my..." beauty accessories popping up everywhere so I decided to give them a try. I like it for the brush is soft and smooth. It's also quite thin. It did not shed hair after washing it multiple times nor the handle shed its paint. I am still using this brush till date so I'm very content with it.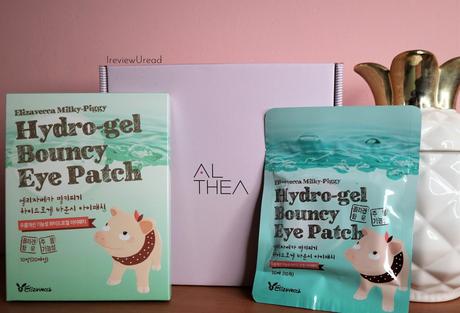 Elizavecca Hydro-gel Bouncy Eye Patch
I've used Elizavecca's masks for years. The brand made an impression on me for one of their first mask I've used is the Milky Piggy Carbonated Clay Mask. It was such a fun mask to use. Thus, when Elizavecca Hydro-gel Bouncy Eye Patch come up with and eye mask, I did not hesitate to try. I was expecting slimy cold jelly-like masks but this mask only had gel on one side. It was not cool but it sticks onto the face without dropping. I'm not sure if it did anything to my under eyes for I only used them twice before abandoning it. I may use them again and give a thorough review but chances are not high.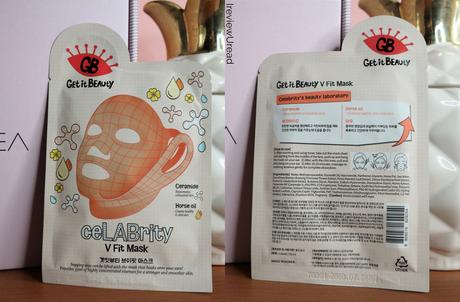 Get it Beauty ceLABrity V Fit Mask
I touched about this Korean TV show and brand, Get it Beauty, multiple times on Ireviewuread and they came out witha V fit mask. This mask is supposed to help you pull your double chin upwards and make it less visible. It is also supposed to help making your chin a V shaped. I have yet to try it.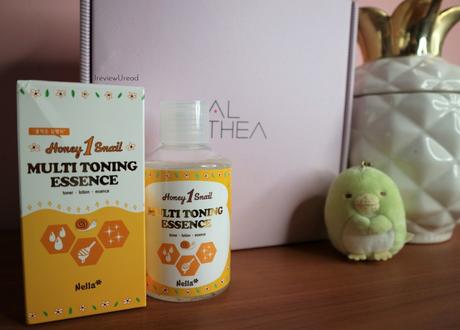 Nella Honey 1 Snail Multi Toning Essence
This is a lazy person dream. It works as a toner, lotion and essence. A 3-in-1, suitable for reducing your skincare steps. It contains honey extract. I gave this to my mother so that she can reduce the number of steps in her skincare routine.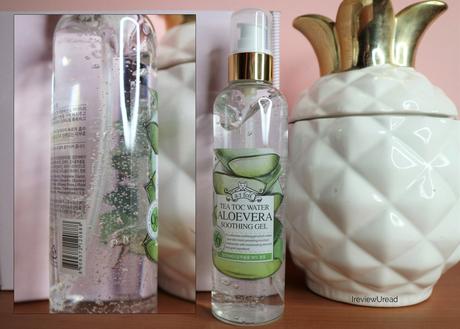 Tea Toc Water Aloe Vera Soothing Gel
This Aloe Vera Gel contains 96% fresh Aloe Vera Extract and 99.9% real gold components for the skin's elasticity. It is suitable for both skin and body. I have yet to try this.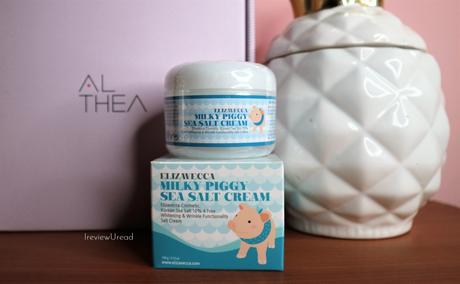 Elizavecca Milky Piggy Sea Salt Cream
This is another Elizavecca 's product. It is made of clean Korean salt, pig shell collagen and it have whitening crease functionality. It have witch hazel extract and allantoin as well. This is a moisturiser and I have yet to try it.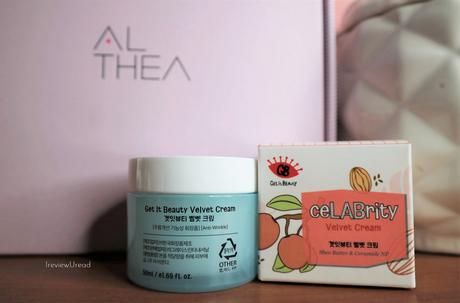 Get It Beauty ceLABrity Velvet Cream
This is another one of Get It Beauty products. It is a moisturiser and it is non-sticky. It is made of ceramide and shea butter. It felt like a mix between a balm and a cream and it indeed is non-sticky. It is suitable as a day moisturiser.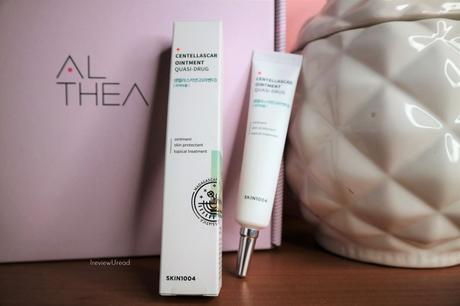 SKIN1004 Centellascar Ointment Quasi-Drug
This ointment is suitable helps heal scars and skin ulcer. It is made of the tittrated extract of Centella Asiatica, fresh from Madagascar. I have yet to try it.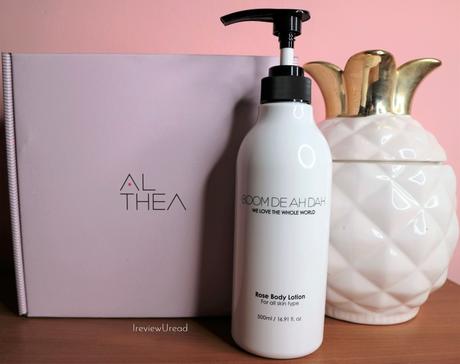 BOOM DE AH DAH Rose Body Lotion
This is a body lotion that helps moisturize the skin. It is rose scented and light. I am currently using this body lotion. It have a velvety finish and helps moisturize the skin adequately. It is lightweighted and easy to spread. It is suitable for all skin types.
That's the end of this double Althea haul. Hope you all like this slightly dated haul!. Check out my other Althea Hauls here:
and more Althea content here