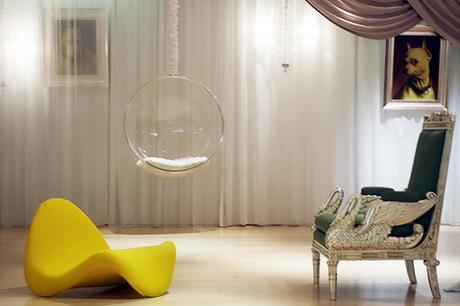 London is the town of pop ups, and with the weather providing us with some semblance of a summer this year, a pop up restaurant with a beautiful terrace for Al Fresco dining is high on my list of recommendations for Londoners and tourists alike.
Chef Allan Pickett has taken over the restaurant at the Sanderson hotel, ahead of his own opening later in the year and an invitation to sample the cuisine was too tempting to resist.
On a sunny July evening, Phoebe and I made our way to the Sanderson as the antidote to a stressful day at the office.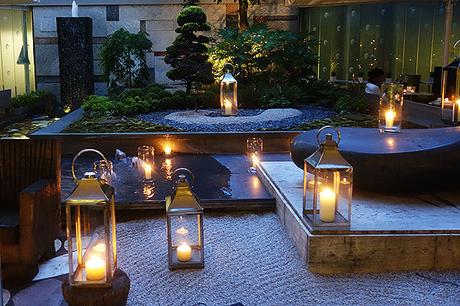 Candle filled lanterns lit our path as we made our way past the iconic Long Bar to the restaurant situated in the hotel's courtyard. The tranquil setting immediately transported us away from the stresses of the working day and the glass of chilled champagne we were greeted with also helped us to switch off and take in the relaxed atmosphere.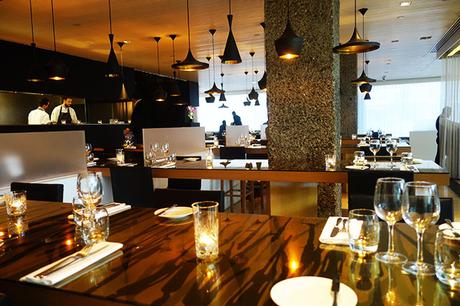 The décor is sleek and modern whilst still offering a warm ambience. Details such as the camouflage menus and reflective tables, add a subtle quirkiness in keeping with the hotels notoriously eccentric surroundings.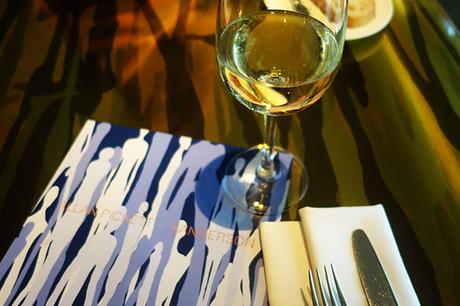 We took our seats at one of the long tables, which despite being communal, offer more than enough privacy for those looking for a more intimate dinner.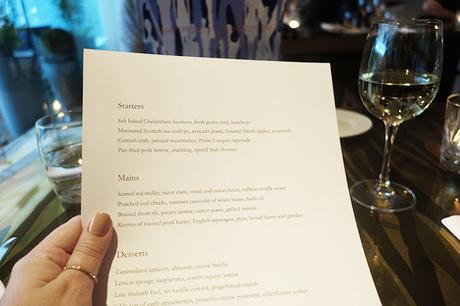 The menu is a blend of classic and contemporary and whilst it isn't extensive, there is certainly enough for even the fussiest eater, and all using seasonal British produce.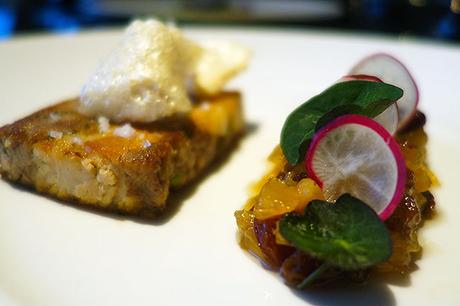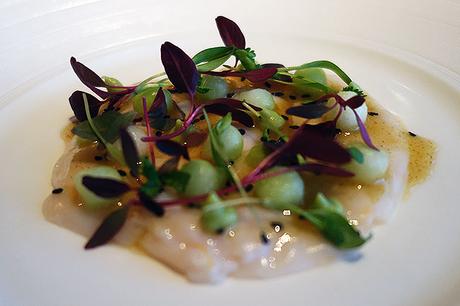 To start we opted for the Pan fried pork terrine with spiced fruit chutney and the Scottish sea scallops with avocado puree and Granny Smith apples. Both were beautifully presented and the perfect blend of flavours, with both offering a hit of sweetness.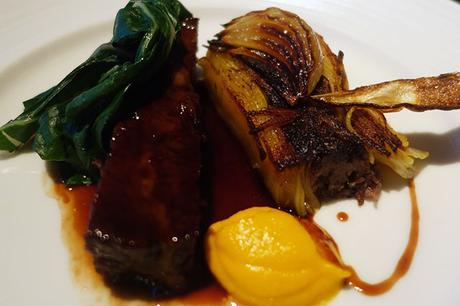 As a main I chose the braised short rib, which was so tender it literally fell apart on contact with my fork and was surrounded by a rich flavoursome jus.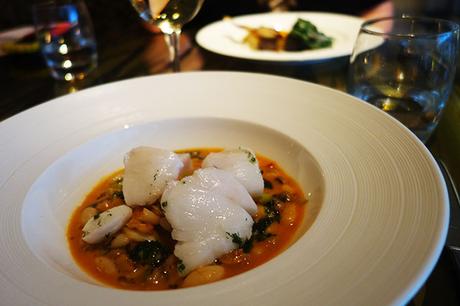 Phoebe ordered the poached cod cheeks with a summer cassoulet of white beans that was succulent and remarkably light.
Neither of the portions were particularly large, but provide the perfect amount if you opt for all three courses.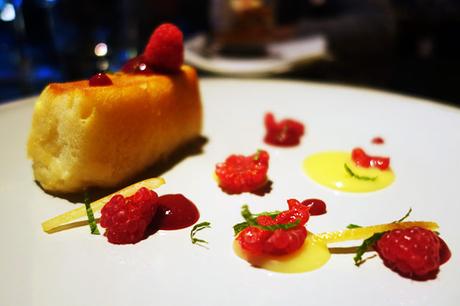 Dessert wise, the seasonality of the menu was showcased in my selection, which looked like summer on a plate. A moist, feather-light lemon sponge was surrounded by plump raspberries and tarte confit lemon which was a faultless combination of flavor and texture. The rhubarb fool with vanilla custard and a gingerbread crumb should also not be missed.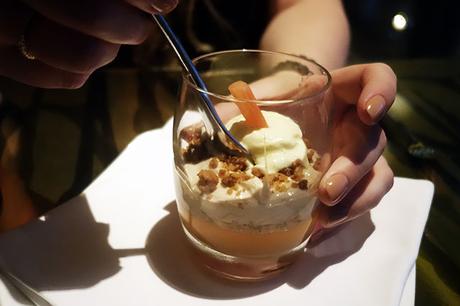 Feeling comfortably full rather than overstuffed, we took to the candlelit terrace for a few post dinner cocktails, which was the perfect way to end a lovely evening.
Find out more on The Sanderson Website >