Hey everyone!
Today I'm reviewing an amazing fragrance box that is delivered to our home for sampling the same -
SCENTBOX™
. 
Price : Rs 165 for 3 vial
Quantity : 2 ml x 3
Buy online from All Good Scents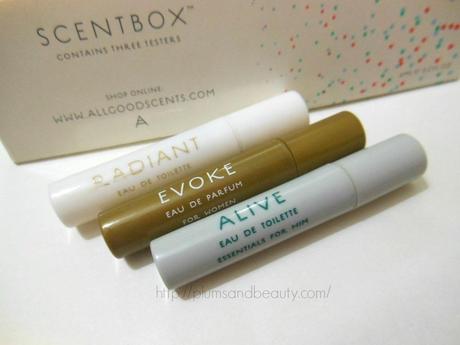 What All Good Scents says about the service -
It allows you to explore & try the very latest fragrance launches from the comfort of your own home or office. For just Rs 55 per tester, each edition comes with 3 fragrance samples for you to test as well as promotional vouchers so you can make some big savings on all the scents featured in the SCENTBOX™.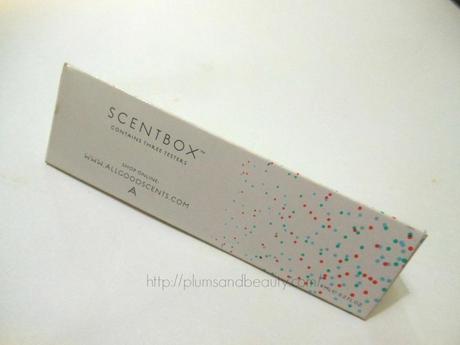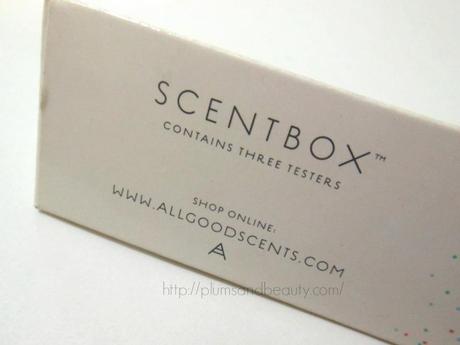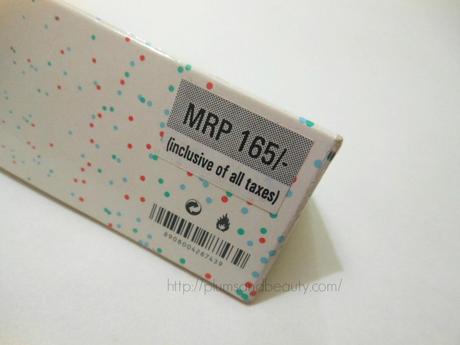 My experience with the product
SCENTBOX™ comes in a long triangular cardboard box that contains 3 fragrance samples. You can customise your very own box and try being at the comfort of your home and finally order a full-size bottle. I usually prefer sticking to a particular fragrance for years, I am not really a person who really likes to experiment with new fragrances but I loved this feature of "SCENTBOX™" by All Good Scents.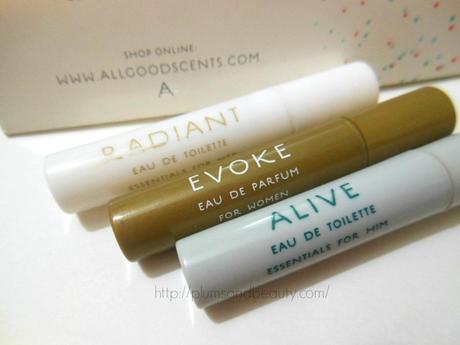 My SCENTBOX™ contains -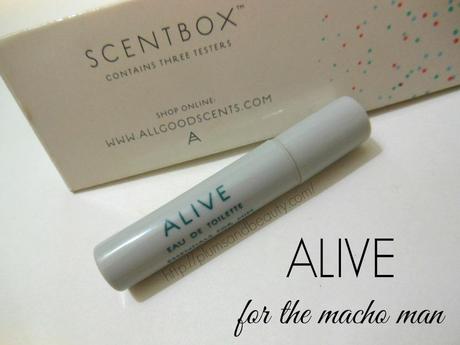 Live the life to the fullest. Be a winner of hearts. The quintessential lavender, vanilla and lemon fragrance. For the man who doesn't have to try too hard; he's just naturally and irresistibly macho.
Top Notes - Lavender, Rosemary, Lemon
Heart Notes - Clary Sage, Cedar, Rosewood
Base Notes - Oak Moss, White Musk, Tonka Beans
Price : Rs 750
for 50 ml
You can visit 
https://allgoodscents.com/alive
to buy this perfume
I gave this one to my dad to try out and he quite liked it! Initially when sprayed this gives a citrusy smell of lemons and after 2-3 minutes the strong fragrance of white musk and cedar soothes your senses. The fragrance is very much similar to a man's perfume - they mostly prefer white musk, cedar and Rosewood. My dad usually sprays thrice to get him throughout the day. Alive is one perfect perfume for everyday men and I would definitely recommend this to every men. I will soon buy a full-size one for my dad.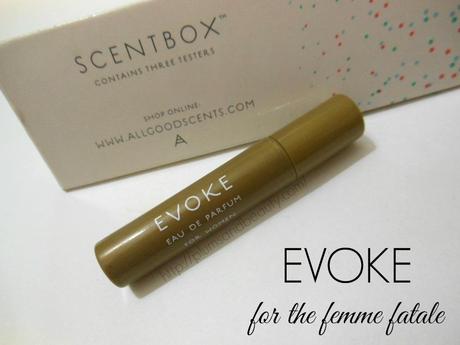 Envelop yourself with this sensual fragrance and spice up your evening. Leave a lingering, passionate scent whenever you move. It's intoxicating yet subtle, powerful yet delicate.
Top Notes - Blackcurrant, Green Notes, Bergamot
Heart Notes - Jasmine, Lily Of The Valley, White Flowers
Base Notes - Vanilla, Sandalwood, Tonka Beans
Price : Rs 1200
for 50 ml
You can visit 
https://allgoodscents.com/evoke
to buy this perfume
It a perfect blend of both fruity and floral notes - very sensual! Initially smells strongly of blackcurrant and hint of vanilla and later on a mix of jasmine and sandalwood takes of the charge to woo you down. The subtle and sensual notes are ideal for both day and night and a must have if you want to gift your bestie.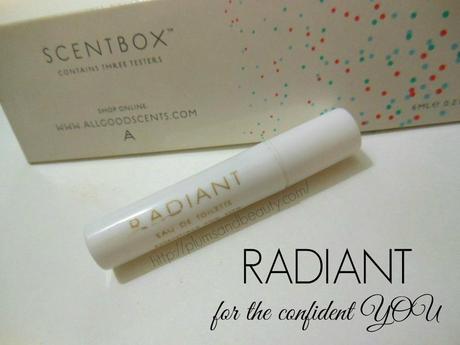 Warmth of vanilla and white musk radiating from your persona, shining and glittering. Let the fragrance blossom you under admiring eyes. For all those times when you feel at the top of the world... cause that's when you look remarkably radiant.
Top Notes - Hawthorn, Powdery, Lipstick
Heart Notes - Violet Blossoms, Jasmine, Rose
Base Notes - Vanilla, Opoponax, White Musk
Price : 750
for 50 ml
You can visit 
https://allgoodscents.com/radiant
to buy this perfume
The fragrance is very strong yet cozy and warm. Its a long lasting perfume. The moment you spray, you'll feel the fragrance all around you. Top notes of hawthorn last for an hour or two, though a mix of Rose, White Musk and Vanilla lasts for a longer time. The lingering base notes can be felt even after 7 hours. If you are going for an event or party, this fragrance will surely make the heads turned towards you, because of this pleasant smelling fragrance. A mix of good powdery floral and fruity smell - that is very mild and subtle. 
Overall, I am loving all the 3 fragrances and would recommend this to everyone! However, if you still want to try out first - do't forget to get yourself a SCENTBOX™ by choosing any 3 samples.
Rating : 5/5