Here's a quick one for you. With the arrival of advanced marine botanics skincare line Algenist comes this bottle of beauty from their Genius range, a line of skincare formulated to nurture maturing skin but gentle enough for younger skin to try. I personally was not given this full size to try, this was just the tester of their Algenist GENIUS Ultimate Anti-aging Bi-phase peel. I wish they'd used a different word as opposed to Anti-aging in the product name, something like "Clearing" or "Brightening" ("Ultimate brightening bi-phase peel" has a nice ring to it). The double hyphen in the product name gives me a mental itch.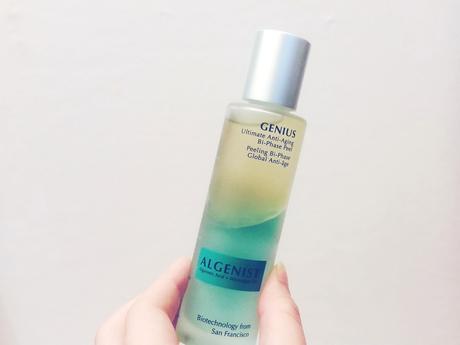 Ultimate Anti-Aging Bi-phase Peel Php4650 (Rustan's) "For the first time ever, this bi-phase formula combines the powerful effects of a peel with the nourishing benefits of Microalgae Oil. Glycolic and salicylic acids work together for gentle, highly effective skin exfoliation and renewal while Microalgae Oil leaves skin feeling soothed, nourished, and deeply conditioned. The two phases combine to offer an unparalleled experience - the effectiveness of a peel, with the luxurious benefits of an oil. " INGREDIENTS: Water, Isohexadecane, Glycolic Acid, Chlorella Protothecoides Oil, Olea Europaea (Olive) Fruit Oil, Sodium Hydroxide, Butylene Glycol, Glycerin, Algae Exopolysaccharides, Shikimic Acid, Menthyl Ethylamido Oxalate, Salicylic Acid, Plukenetia Volubilis Seed Oil, Niacinamide, Pentylene Glycol, Dextrin, Polydextrose, Algae Extract, Sorbitol, Oleyl Alcohol, Propanediol, Crithmum Maritimum Extract, Amylopectin, Phenoxyethanol, Benzyl Alcohol, Disodium EDTA-Copper, Haematococcus Pluvialis Extract, Potassium Sorbate, Zanthoxylum Bungeanum Fruit Extract, Disodium EDTA, Caprylic/Capric Triglyceride, Hydrogenated Vegetable Oil, Passiflora Incarnata Flower Extract, Oenothera Rosea Extract, Sea Water Extract, Tocopherol, Sodium Benzoate, Fragrance.
You shake it and top and bottom ingredients combine, smooth on with a cotton pad (reminds me of an old bi-phase shampoo on the market in the eighties) wait bout a minute or two then get her. Waiting longer with it on top, we were told, does not intensify the treatment. You can wipe it away a couple of minutes after I'm guessing the soothing ingredients float on top of the more active ingredients like oil on water. Again, the formula isn't perfect, and it isn't alchohol or fragrance-free, but there are soothing ingredients to counter that. It contains glycolic as well as other safe acids to gently exfoliate the face. I liked the difference I saw on the back of my left hand in comparison to my right hand when I tested it, sorry there's no photo of that here because the venue was kind of dim and I don't have a full-sized sample of this. I wouldn't say the difference was like night from day but you could spot the difference and feel it. My face was cleared of an ashy overlay which could only have been pollution and dead skin on a date together. Most of that is lifted away and banished by Algenist's bi-phase peel. Using this liquid exfoliating towner by the way, no matter how cool it is is not a substitute for true cleansing. Stay tuned though, this wasn't the Algenist item awarded by Allure's Best in Beauty...there was something else..