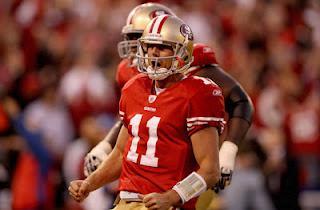 Photo: Getty Images
- Troy Ballard
The San Francisco 49ers are in a complicated position, and are in the middle of playing the Peyton Manning vs. Alex Smith game.
At the conclusion of last season, it seemed a lock that Smith would be re-signed long-term after leading San-Fran to the NFC Championship game. It was a miraculous feeling for 49ers fans, as Smith, a former first round pick, had finally flourished and developed into the talent the team had been waiting for.
Everything was perfect for Smith and the 49ers, and a long-term deal seemed imminent. That was until future first-ballot Hall of Famer, Peyton Manning, became a free agent.
Talk about a monkey wrench.
The 49ers, at first, weren't even considered a serious contender for Manning's services, and Smith seemed to still be in the clear. Then, suddenly, San Francisco was named a finalist out of the blue 
after watching Manning work out
.
But don't be fooled -- there are still other teams pushing very hard for Manning. The other organizations still in contention are the Tennessee Titans and Denver Broncos, and the 49ers have reportedly slipped in as the final third team in his decision making process.
And, there's Smith. Sitting around, waiting for San-Fran to call him for that dreamy long-term contract extension. But, undoubtedly, that call hasn't happened yet.
Want another twist? Smith is now
visiting the Miami Dolphins
. It's like a Dennis Lehane novel.
Before I delve into what this means, I'd like to clear one thing up -- what the 49ers and Smith are doing is totally acceptable. San-Fran is looking to make a major upgrade at quarterback by pursuing Manning, and Smith is simply making sure he leaves his options open. There is absolutely nothing wrong with what these two parties are doing -- the NFL is a business.
Onto Smith with the Dolphins -- he is leaving his options open. However, I don't think he has any serious intentions of signing with Miami. My guess is that this is a move to turn up the heat on the 49ers, and push them into offering him a contract, dropping San-Fran out of the Manning race.
It doesn't hurt to at least see what is out there either, especially if San-Fran lands Manning, Smith has some feelers on the free agency market. It's the exact same for the 49ers, who are looking to upgrade to Manning and push the franchise into Super Bowl 'favorite' talks.
Regardless of what happens with Manning, Smith will have more calls than just the Dolphins. There will be a few teams that will inquire about his services, but in the end, he's going to want to stay with the 49ers. His chemistry with Jim Harbaugh was uncanny, and the team almost made a Super Bowl run with almost no time to prepare last season.
He's a perfect fit for the team.
There's no doubt that Manning is making things complicated for several NFL teams and players -- Smith and 49ers included. Wherever he signs, it will be franchise changing, and that's why interest is as high as it is in San-Fran.
Manning's also a perfect fit for the team.
As long as Smith doesn't sign suddenly with another team and give the 49ers the cold shoulder, which I don't see happening, than San-Fran is in a win-win situation. The team is exploring the option of Manning, but also has the fall-back plan of Smith, who is also a capable starter and would love to sign a long-term deal.
The 49ers as a team are the real winners in this situation.
Be sure to follow Beard and Stache on Twitter @BeardAndStache, and also Troy @TroyBallards, Like our Facebook page HERE!