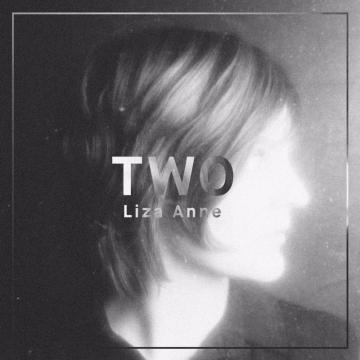 via Bullhorn Publicity
Review by Bailey Garno
Past Feature Friday artist Liza Anne has some exciting news for fans that have fawned over the delicate and thoughtful vocals of this Georgia native. On top of the highly-praised release of her new single "Take it Back," we can officially say that the premiere of her second full-length album, appropriately titled TWO, is set for a May 19th release date.  Recorded in Nashville with Zachary Dyke (COIN) and mixed and mastered by Chad Wahlbrink (the Soil & the Sun), Music Creates Us got a private stream of the independently released sophomore album that is equal parts old and new.
Liza's first follow-up to her debut LP was "Room," a strong track that demonstrates Liza's continued ability to draw natural images with her words that in turn evoke strong and relatable feelings for her listeners.  Lines like "Because I saw, black as a night, ocean's abyss of her in your eyes" are just as ambiguous as they are tangible, lending to an originality in songwriting that is impressive even more so considering the artist's young age.  Indie Trendsetters featured the single, writing that "[Liza's] voice is so strong that as it soars, the outside world fades away and all that's left is you and the music."
The second single to be featured off the upcoming album was "Take it Back," which was made available through all music services on April 7th.  I was struck by the opening chords of this song and at first I couldn't pinpoint why.  Then, I realized how similar the single's sound is to James Bay's "Hear Your Heart," and then I realized how alike Liza Anne and James Bay are as gender counterparts!
"Take it Back" features more pop elements than the first single, with an upbeat tempo and some soft synthetic sounds.  The video for this track premiered via Popular Music on April 27th and has a sort of '80s high school prom look to it, with Liza and her band playing amidst a bed of colorful confetti on a dimmed basketball court.  It hints that the young singer-songwriter has a tamed wild side, demonstrated through brief clips of Liza swinging her short hair back and forth and dancing freely.
The first track on the album is "Lost" which sounds more like The Colder Months (2014) to those familiar with the first album.  Here, the lap steel, banjo, and acoustic that is characteristic of first-round Liza Anne is heard again.  There is a painful beauty about "Lost."  In it, Liza whispers about the heavy conflict of love, singing "I'm my own worst enemy, I'm doing it to myself."  There is a far-off sound to the vocals, playing in the theme of what it means to be lost in love, and once again there isn't a detail overlooked.
Next up on TWO is an upbeat track that has a fun percussion break about two-thirds of the way through.  "Northern Wind" reminds us once again of the maturity of this young artist, with thoughtful lyrical work that doesn't settle for simple, already-heard lines.  Liza Anne is a musical poet, breathing life into her work with her many references to nature that lend directly to the tone of a piece.  I particularly enjoy "Northern Wind" because it's fun and is a bit adventurous for the folk singer.
Next on the track list is the second single, "Take it Back," followed by the fourth track, "Low Tide."  From the start, there is a pulse to this song which very slowly and gradually builds.  The build sets listeners up to anticipate a climactic bridge with a  powerful rupture of sound, but it doesn't ever really break into anything.  By the end of the nearly four minute build, I'm left searching rather disappointingly for something more.  "Low Tide" feels more like an interlude in the album; and perhaps its meant to be, appearing about halfway through the track list.
Following "Low Tide" is "Room," the first single and a track that picks up the pace of the album again.  Next is "Overnight," another favorite for me because of the strong emotional response I had to it.  Gone are the breezy, soft vocals that are so unique to Liza; instead, the dark tone and grovel to every utterance of "overnight" creates the effect of a storm brewing.  A cool electric guitar adds even more grit to this tune.
Wrapping up the album is "Ocean," which couples simple piano chords and Liza's beautiful soprano to create what is arguably the most compelling song off the album.  Settled softly in the background are odd whisperings, like voices in a performance hall or a train station.  It is as if Liza Anne is trying to be heard above the commotion as she sings with absolute earnestness about a distant love.  Liza Anne makes every track feel very intimate, almost like she's doing this for herself more than anyone else; but "Ocean" feels even more so like a call to someone we don't know about.  I like that the album ends with this track because it feels like there is more that needs to be said.
Overall, TWO is another outstanding compilation for the young artist.  Since The Colder Months, Liza Anne has received a lot of recognition, and the latest two singles helped usher her back in the spotlight before this second album is released.  Now, having peeked TWO, I can confidently assure our readers that you will want to have a listen for yourself come May 19th!
Rating: 4/5
Recommended Tracks:
"Lost"
"Ocean"
"Take It Back"
Filed under: Reviews Tagged: album review, liza anne, room, sophomore album, take it back, the colder months, two