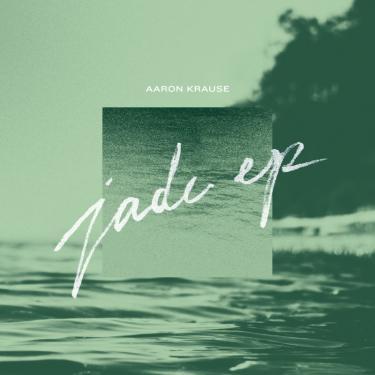 We recently had the pleasure of interviewing Aaron Krause, and now the singer-songwriter is back, with the release of his new EP Jade just on the horizon. Out Friday, September 11, the five-track EP features three new songs, one revamped from his last album, and a remix of the single and title track, "Jade."
"I Will Wait" opens with an energetic, focused mix of instrumentals to draw you in. Krause's soft voices breaks in, capturing your attention. The chorus comes around with a bit of a harsh backdrop of sound, but the lyrics are romantic, Krause's voice sincere. In a way it reminds me of a classic John Hughes anthem.
"Jade" follows, and is much more somber in its opening. It is a beautiful showcase of Krause's musical talents, and the harmony of piano and vocals is perfect. "Jade" is a great track, moving and soulful. It is the obvious choice for a single.
"Honey, Fire" is the older song, but clearly one that Krause is fond of. This version is actually a little different from the original, and I love Krause's slowed down sound. It is the best way to truly listen to his lyrics. "Honey, Fire" has the sweet, homey feel of an indie song, with just enough of that country heartache that draws saps like me in. Vocally, these slower, smoother songs also prove to be a strength for Krause.
"Love Alive" has an amazing guitar opening, easing you in instead of jarring your attention like "I Will Wait." Aaron Krause sounds so familiar and comforting, in the best way possible. As the EP plays on, I would hardly call Krause an electronic-pop artist. It is clear that what Krause described was true, he really did find a new path for his music with Jade.
However, the EP closes with the remix of "Jade." It still captures that haunting feeling, reminiscent of Between the Trees. Yet, as with most remixes, the track does not feel entirely necessary. The talent of mixing is there, but I'm much more impressed with the original.
On the whole, Jade will be a great release, and I think Krause's lyrical talent and soft vocals deserve more recognition. He certainly has the means and the connections in Nashville, and I am excited to hear what's next for Aaron Krause.
Rating: 3.5/5
Filed under: Reviews Tagged: Aaron Krause, album review, jade ep, music creates us, new EP, new music