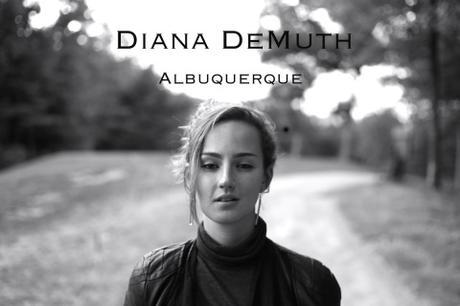 Review by Bailey Garno
Boston-born Diana DeMuth is no stranger to creating music; she began writing and singing at the age of 13, and released her first EP a year later.  But only since March of this year has she had a full length album on her record, produced with the help of the critically-acclaimed Alain Mallet.  Albuquerque, the folk/rock album that premiered on March 17th, features ten clean and thoughtful tracks, issued from the heart of none other than the 21-year old DeMuth, and we at Music Creates Us have a review for you.
First on the track list is the song from which the album gets its title from.  "Albuquerque" is a gentle introduction, with a carefully written narrative and emotionally-charged chorus.  In it, DeMuth sings about returning home, to family, to a place of familiarity and comfort.  The tone of the song is comforting as well, warm and filled by the rich, smooth voice of the Concord native.
For 21-years old, DeMuth has a voice that is comparable to that of the veterans Norah Jones or Ingrid Michaelson.  She writes songs that aren't easy to sing; "Fenway" and "Hurricane," for example—two songs that appear side-by-side further on down the list—feature beautiful harmonization and once again exemplify the thoughtfulness of DeMuth's writing.  Of all the slower songs on Albuquerque, "Hurricane" is the strongest.  I really like DeMuth in her lower register like she is here, and Mallet peels away everything minus a simple acoustic which does so much for this sad albeit beautiful love story song.
"Beat" appears second on the album.  It's a slow tango of sorts that is fun and feels like a song that needs to be played on a warm, summer night.  With plenty of quirky sounds and bits of clapping, "Beat" will undoubtedly get you swaying to the, well, beat.  It's one of my favorites on the album because of it's funky brass section and electric keyboard, lending to a big band feel and even bigger sound.
"Hollow Feeling" slows it down quite a bit from "Beat," in a somber arrangement.  The tempo on Albuquerque is constantly in flux, hopping from slow to upbeat to slow again.  It's a little dizzying at times, making the album feel longer than it is.  "Hollow Feeling," for example, has some wonderful bits in DeMuth's higher register, but truthfully, the song lags a bit too much for my taste.
"Act Like A Stranger" is a highlight off the track list, bursting onto the album and reminding me again how much this fresh-faced artist sounds like the lovely singer-songwriter, Ingrid Michaelson.  This song is edgy and sensual; a likely favorite for listeners.
Wrapping up the album is "Leave Me Alone."  I think it was an interesting decision to end with this track; "Act Like A Stranger," for example, might have been a better alternative.  That isn't to say I don't thoroughly enjoy this one.  There is something sinister about this song, made plain when DeMuth sings about creepers "in the middle of the night."  There is a cool electric guitar riff about halfway through that reappears and also some subtle distortion of vocals which you can pick up on with a careful ear.
For her first crack at a full LP, Albuquerque is a hefty offering.  At times it feels like DeMuth is doing so much for us; there is a mixture of pop and folk and bluegrass, and each track is heavily laden with really good lyrical work.  What is for certain by the end of the ten-track album is that Diana DeMuth is a masterful vocalist.  She will warm listeners with her rich, full tone and favorites like "Act Like A Stranger" and "Albuquerque" will keep me tuning in.  Albuquerque is available for download on iTunes today!
Rating: 2.5/5
Recommendation:
Act Like A Stranger
Hurricane
Beat
Filed under: Reviews Tagged: album review, Albuquerque, diana demuth