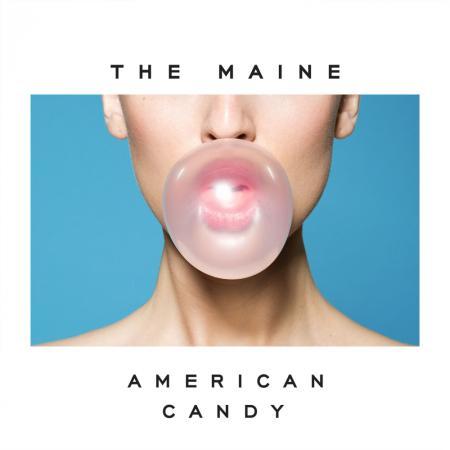 The Maine has released another new album—their fifth—entitled American Candy. With every new album the band releases, it seems they grow more and more, away from their pop beginnings and into a mature and steady rock sound. Black & White offered the first hint of an adult The Maine, and that talent has only continued to grow through Pioneer, Forever Halloween, and now with American Candy. The Maine pulls it off well, highlighting a success that so many of their former contemporaries like A Rocket to the Moon and We the Kings have failed to achieve. The Maine continues to record the music they want, and they are fortunate enough that that music is actually good.
What's also unique about American Candy is that there are very few romantic songs on the album. Most tracks focus on friendship or the trials of life and being true to yourself. It's a direction The Maine has moved toward in recent years and they embody such messages completely in their music.
"Miles Away" has a softer, acoustic feel that brings out singer John O'Callaghan's solemn side. It feels so much more laid back than The Maine of old, a true testament to their growth and maturity.
"Same Suit, Different Tie" has a slightly more poppy feel. The beat is constant as the lyrics preach against our world's need for fancy things to feel good and important.
"My Hair" is The Maine's anthem for being yourself on American Candy. It's a nice message, and the staccato shout of "hair" is attractive, but the lyrics border on a goofiness that I have a hard time taking seriously.
"English Girls" is the first truly fast-paced song on the album, with a great rock undertone. The beat is catchy and the overall sound borders on older The Maine, the lyrics a little closer to the band's teen audience.
"24 Floors" is slower and more mechanical, captured by a unique guitar melody. O'Callaghan's voice softens with emotion and mirrors the lyrics beautifully. It's not as moving as the classic "Into Your Arms," but again it represents the mature side The Maine has been able to successfully grow into, unlike many of their pop and alternative rock counterparts.
"Diet Soda Society" comes off as a wash of a song, with no real standout musical elements. Lyrics that center on something as odd as the "hair" metaphor also don't seem to bring me any glowing insight.
"Am I Pretty" is a bit more empowering, in the blunt way that The Maine has come to adopt in recent years. It's another poppy song, keeping your head bobbing, making it a go-to party song.
"(Un)Lost" is slower and darker, but in a way that works. With the beat and emotion in O'Callaghan's voice, it is a success. I can see it as a good break in a live show, the kind of jam The Maine can take charge of and own.
The title track, "American Candy," is not as upbeat as it would seem. In fact, it's a bit morbid, discussing dead friends and using the detriments of sugar in candy as a mirror to the trials of the world today. It's another example of The Maine taking an untraditional lyrical path, which I applaud, though perhaps without such dark undertones.
The album finishes with "Another Night on Mars," with an opening that sounds very much like the end of a night with friends. It reflects other songs like "We'll All Be" and "While Listening to Rock & Roll," other songs that serve as odes to friendship and often close out The Maine albums. It's a unique element to the band, and the acapella endings make for powerful music and excellent crowd participation at shows, which is always a plus in my book.
On the whole, American Candy is a more slowed down album, accentuating the musicality and calm, feel-good essence The Maine seems strives for in their advancing career. Nearly each song has something to offer, whether it's an uplifting message or just an uplifting beat. O'Callaghan's voice keeps it unique and the talents of the band never wane, another feat The Maine should be proud of.
Rating: 3/5
Recommended Songs:
"English Girls"
"Am I Pretty"
Filed under: Reviews Tagged: album review, american candy, john o'callaghan, music creates us, new album, new music, the maine