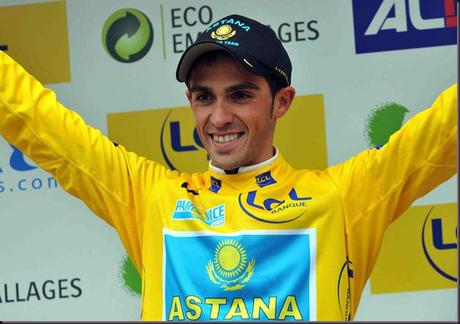 Alberto Contador, the world's top cyclist is back in the news again. After having been acquitted of drug offences after testing for admittedly low levels of the drug clenbuterol in a urine sample after a stage in the Tour de France, the International Cycling Federation (the UCI) has decided to appeal the Spanish Cycling federation decision to acquit Contador. The has been a suspicion of drug usage hanging over Contador since 2006, so this latest set of allegations, are not new. The real question is – "Is Contador currently by far the best cyclist in the world or is he a serial drug cheat?". I look at the astrology to see if there is any pattern.
Alberto is Spanish and was born in Pinto, a suburb of Madrid on 6th December 1982 (no birth-time known). He has his Sun in expansive Sagittarius and his Moon is either in showy Leo or conservative careful Virgo, the change of signs came just after 14.30 on that day. I always think that a top sportsmen would require technical excellence (Virgo) rather than a showy personality (Leo) so I would hazard a guess that Alberto has a Virgo Moon. If anyone reading this article knows his birth-time, please let me know.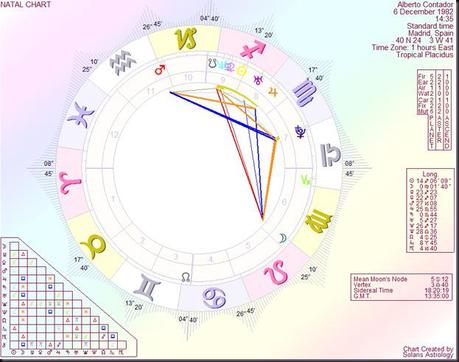 Alberto's sun is widely conjunct to Uranus, here is the wanderer who wants to be special, he is individualistic and rebellious. Uranus is also conjunct Jupiter in Scorpio. Jupiter in this sign is unafraid to experiencing extremes and exploring the depths, the unknown, it provides a fascination for him. Uranus/Jupiter is enthusiastic, high spirited and loving of competition & the major tour cycling races pushes the body to the absolute limit; I dare say that this is a challenge Contador thoroughly enjoys and thrives on and drives him forward. To be a top cyclist, you need huge amounts of energy and self belief. Mars trine to Jupiter gives him this and more and encourages Alberto have good judgement and timing in when to make the correct decisions, plus it motivates him to keep improving and driving himself to the absolute limit.
Mars is also square a heavyweight Pluto/Saturn conjunction straddling across Libra and Scorpio. The overall function of this square is to provide incredible stores of energy and focus, able to push you to the edge of exhaustion. More specifically, Saturn in Scorpio installs a fear of showing weakness and emotion. In cycle racing over huge distances and over mountains this is crucial to success; not letting your opponents know when you are feeling worn out and vulnerable. It also instils a fear of trusting others, thus reinforcing the Uranus/Sun conjunction of individuality. Alberto is at peace with himself out on the open road testing himself against his peers. Pluto conjunct Saturn makes Alberto suspicious of crowds and groups, he will want to avoid the limelight as much as possible, he is stubborn, inflexible, to the point and will not want to give away his innermost thoughts. He is a deeply insular, ultra competitive, hugely motivated man.
The Saturn/Pluto conjunction is at the point of a mini grand trine with Moon trine Neptune/Mercury feeding into it. Neptune/Mercury is very expansive, his mind is not logical will drift off into fantasy land, an openness to new experiences and "potentially" an openness to unusual substances like drugs. With Neptune trine the Moon, Alberto is very sensitive and will not like to upset and discord those around him, he may accede  to those requests from those around him and sacrifice his principles just to keep the peace and harmony that he craves. Would this extend itself to keeping the team principles happy by doping at their request to increase his chances of winning? Cycling is a big money sport and sponsors have to be kept content by constant success. Mercury in Sagittarius gives Alberto's mind big ambitions and he is always looking forward, he has a gambler's instinct. Combine this with a cool critical calculating Moon (if it is in Virgo) and it would give him the mentality of a poker player. Would he take a calculated gamble in using enhancing products to keep himself at the top?
Looking at the Solar Arcs and transits for Alberto, Solar Arc Pluto is sextile Mars this year so there may be a bit of a blockage for his ambitions this year, albeit temporary, and Neptune is sextile Jupiter so this blockage may be due to the alleged excesses (Jupiter) of taking drugs (Neptune).
One thing is definite. Alberto Contador is an athlete who can give every last drop of energy, somebody who pushes the limits because he enjoys it, somebody who is cold, calculating, individual, a gambler, determined to succeed. Could he be a drug cheat too? From the astrology quite possibly.  An incredible cyclist? Absolutely.