Day 3 proved to be England's day self-evidently as the runs galore. Run machines Alastair Cook and Jonathan Trott carried their winter form into the summer. It was a privilege to watch them pile runs with ease. The Sri Lankan bowlers not only struggled, but had no options, no plans left. Sri Lanka's opening bowler, Lakmal wasn't effective, in fact, he was probably practising his bowling. This is his third Test by the way.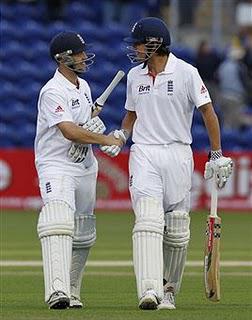 Cook and Trott were unstoppable. Let me remind you, Cook was the highest run scorer (with a whopping average of 127.66!) in England's Ashes victory down under. But, Trott wasn't too far behind, as only Hussey & Cook preceded him. These two just won't give their wicket away. They don't just stay on the field and wait for the runs. They are no Kevin Pietersen, but the stylish Cook knows how to maneuver the field and make the opposition surrender. He may not play attacking shots as often as he can, but announces his supremacy by dictating the terms. There were some shots which no one ran after - as they were out of reach the moment they left his blade.
You might be interested in knowing that the 26-year-old 'Chef' has now scored 17 hundreds for England. He is possibly on his way to scoring most hundreds for England, as he is at No.10 on the list. Cowdrey, Hammond and Boycott are all at the top, with 22 centuries. From the current lot, Andrew Strauss has scored 19 tons, while Kevin Pietersen has exactly as many as Cook.
The play has just begun on Day 4, three and a half hours after the scheduled start, England are 292/2. I hope you are enjoying it as much as me. Bye for now!