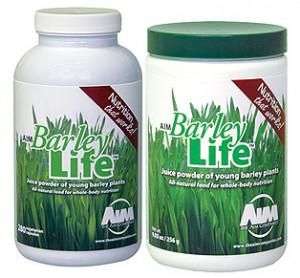 Maximum nutrition and live enzymes is the AIM difference!
AIM Barley grass juice — a wide spectrum of potent nutrients.  Research in the late 20th century revealed that young barley grass is the most nutritious of the green grasses. While barley has been used as a grain since ancient times, the value of barley as a grass was overlooked. Japanese researchers discovered that the young, green barley grass was an incredibly complete source of nutrition, containing a wide spectrum of vitamins, minerals, amino acids, proteins, enzymes, chlorophyll, and phytonutrients.
Researchers also discovered that young barley is at its nutritional best before the beginning of the reproductive cycle, when the plant channels nutrition to the seed heads.
In fact, when harvested at this early stage, young barley leaves have a different nutritional makeup from their adult counterparts. A dilemma arises when we, as humans, attempt to derive nourishment from this nutrient-rich barley grass. The human body is not equipped with the enzymes to break down the fiber in the barley grass. Thus, without intervention, this nutrition remains insoluble and is, therefore, not bioavailable to the human body. As research progressed on young barley grass, it was discovered that, when grass was juiced and fiber removed, the vast nutritional profile of barley was unlocked for human consumption. Barley grass became bioavailable.  However, the nutrients in the liquid state were quite fragile and had to be consumed within a very short time to retain their nutritive value. To provide a realistic shelf life, one more step was needed to make this barley juice readily available to humans.
A unique processing method. How can the nutrients in barley grass be kept from oxidizing and losing their potency? AIM uses an advanced processing technology in which the barley leaves are harvested with stateof-the-art equipment when their nutrients are most potent and alive. Within minutes, the leaves are juiced (not milled, as in many other barley grass products) and processed using the most advanced, innovative, and efficient cool processing method for maximum nutrition and fresh-tasting juice powder.
Checkout my other blogs at www.aimforbalance.com and MyFathersWellness.com for additional information on AIM BarleyLife and other AIM products.
To purchase AIM BarleyLife, go to www.aimforbalance.com
Reference:  AIM BarleyLife data sheet 2011