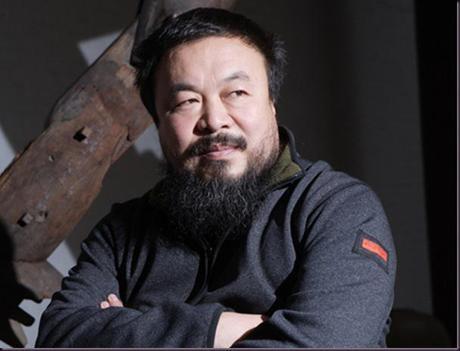 The brilliant Chinese artist Ai Weiwei has just been sent a 2 million dollar tax and fines bill by the Beijing authorities, just after he was released from detention in a Chinese jail. It seems somebody in the government doesn't like him, but as ever Ai Weiwei turned the whole episode to his advantage greeting the massed ranks of the world press camped outside his front door. The internationally known artist is using his notoriety to highlight the increasingly authoritarian attitude of the Chinese authorities.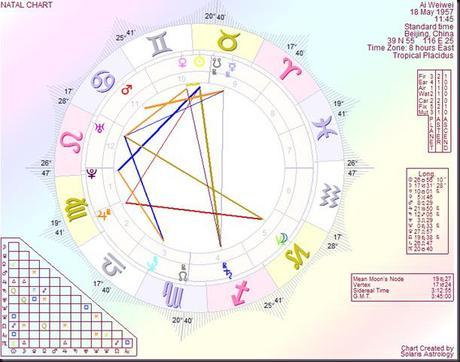 Ai Weiwei was born on 16th May 1957 in Beijing, China. I have no recorded birth time although I believe that he may have been born just before midday. I base that premise on two things. Firstly at age just one, Ai's parents were incarcerated in a Chinese labour camp for protesting in an Anti-Rights Movement protest. They stayed there for 16 years. With a birth time of 11.45, this brings Pluto one degree from his ascendant into his first house and by Solar Arc progression, you could see the event that was to shape Ai's whole life. Pluto transforms, is dark, repressive, traumatic at times. This would have been a most upsetting time for the young boy, having his parents taken from him. This 11.45 time brings Saturn into the 4th house, showing a lack of love received in his growing up process. Saturn is retrograde, highlighting that his father was not around as he grew up and being quindecile to the Sun, he would have been a complete inspiration to him. Ai Qing was a poet and in his father's footsteps, Ai Weiwei has continued the family tradition of creation and of activism. Finally, it is known that Ai Weiwei is a superb poker player. This highlights the 5th house of speculation and creation. With an assumed birth time of 11.45, on the cusp of the fifth we find Sagittarius, Jupiter's sign associated with international creation and big risk taking as well as finding the Moon stationed here too in constructive Capricorn. Here is a love of games and speculation, an emotional need to create physical art (Capricorn here brings structure to the artistic process) and a openness of the emotions, very much unlike the staid, stern Chinese stereotype we all know. Ok, Ai can show his emotions, but he can remain cold and aloof too, just like the poker player. The Moon in the playful 5th house is quindecile Uranus. Uranus is cold and calculating, extremely focused, unpredictable. Combined with his Taurean patience and love of financial accumulation, this is the man who can smile at you inanely, while robbing you of all your worldly possessions.
Taureans are very easy going souls, working at their own pace to achieve their life goals. They are the builders of the zodiac and Ai Weiwei in this respect is an archetypal Taurean, having been responsible for the creation of not only physical art and exhibitions around the world but of buildings too, including the fabulous Bird's Nest stadium that hosted the Beijing Olympics in 2008. Venus in Gemini is widely conjunct to the Sun so not only must these creations have physical beauty, but they also must be socially usable and interactive. A classic example is the Sunflower Seeds piece in London's Tate Modern – 100 million individually made porcelain sunflower seeds on the great hall's floor that the public can walk on, touch and feel. – Gemini is the truly tactile sign of them all.  The Sun is trine to Jupiter in Virgo, these pieces must be grand in scale but have included in them incredible detail. Ai can focus on the small things while keeping in touch with the grand sweep of any project, the mark of a true genius. The Sun/Venus conjunction sit in the 10th house if my assumptions are right, a position where the native will want to make his mark on society and the world in general, bringing love beauty and art to the masses.
All these artistic creations would never come to fruition without an inventive mind, and with Uranus square to Mercury, Ai Weiwei will be constantly blessed with new ideas and concepts to work on. Ai's mind may not work rapidly, but he will have tremendous concentration and steadfastness to see each task out to it's completion. Here is also the inspiration for him to speak out as a radical in opposition to those in power. That Mercury makes an inconjunct aspect to authoritarian Saturn, a nasty irritable aspect that will carp and agitate. He will upset those in charge as much as they will try to upset him. Uranus squares to Neptune in the third house of communication. This is another highly creative outlet for Ai, he will think in a non-linear fashion (cold hard facts have no logic to him) and his overriding message will be of the dream of rebellion, and of trying to outwit and confuse the establishment. Neptune is in Scorpio and sextile to Pluto, this generation was the voice of the underground rebellion movement.  
Transiting Pluto and Saturn have been opposite and square to Ai's natal Mars recently. Aries ruled by Mars sits on the cusp of the 9th house and it was on a trip to Hong Kong (9th house rules long distance travel) that Ai was arrested before he boarded his plane and the Chinese authorities swooped on his studios. Transiting Neptune at that time was opposite natal Pluto and his Ascendant and trine to it's own natal position. Pisces sits on the cusp of the 8th house of tax and other people's money. By Solar Arc progression  Solar Arc Neptune is square to natal Jupiter that sits in the 2nd house of personal finance, another link to the Chinese tax demands. Solar Arc Saturn is square to natal Uranus, those in power cracking down on his activist ways and Solar Arc Sun is trine to Ai's Natal North Node, so despite all the actions and to the annoyance of the Chinese, Ai's star is still shining brightly in the World's public perceptions and his story is firmly in the media spotlight, and so it will continue to be as Solar Arc North node will trine natal Mercury next year. I hope that one day the Chinese will finally begin to appreciate and grow tolerant of the genius in their midst.