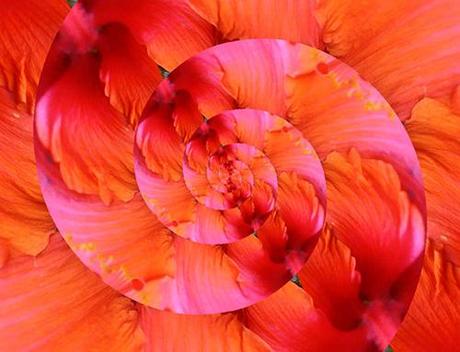 Flower Spiral © lynette sheppard
Aging is weird sometimes. It takes a bit of getting used to. Like when you suddenly become invisible in shops or restaurants while waiters pant over younger patrons. Or as Whoopi Goldberg noticed, "when you are never again going to be the hottest thing in the room". Except thermally speaking. And those days when you pass a mirror or window and wonder who is that middle aged woman looking back before recognizing yourself.
And yet. And yet, there is so much that is wondrous and illuminating about the aging journey. Twenty some odd years ago, when aging was just an abstraction in my world, I chanced to see aging in a new and lovely way. Dear friend Bronwyn Cooke took her husband Rik's slides of old cars and with musician Ron Lloyd created this poignant look at the beauty of aging, at metamorphosis. Thanks to YouTube, I can now share it with all of you. Enjoy.