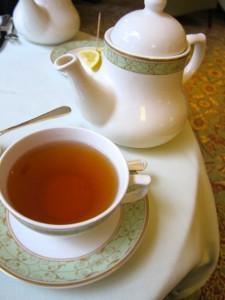 Afternoon Tea
Grosvenor House Hotel
Park LaneI confess I am not a huge cake-lover; my idea of a tea-time snack is a nice bit of Marmite on toast – or that is what I tell myself.
I do enjoy a tea party however, and myself and good friend Ms P traditionally have a posh tea in London as a birthday treat.
So when I was invited* by the Grosvenor House Hotel, Park Lane to sample their afternoon tea I gladly accepted.
On arrival at the Park Rooms, we were warmly greeted and shown to a table by a picture window, overlooking Park Lane (especially enjoyable towards evening when people were getting out of limos in finery and frocks).
The Park Room and Library has elegant old school charm befitting the long history of the Grosvenor Hotel, where apparently the queen learned ice-skating.
The afternoon tea consists of traditional tiered plates of sandwiches and fancies. Somehow they disappeared before I had a chance to take notes of what they all were (Ms P had decided to break her diet – the poor thing hadn't eaten for three days); but my raspberry shortcake was particularly memorable as was the miniature lemon meringue – tangy, with a perfect short pastry bottom.
Ms P has a very good way with words, so over to her to confirm what a very excellent afternoon we had:
"Dear Ms B: thank you for a most delightful tea taken in salubrious surroundings. I would commend GH for its attentive service, its generous portions, its dainty and delightful array of morsels, and the fact it kept coming. So once one has invested in the experience, it can titillate and stimulate the taste buds for as long as one requires. A v. fun afternoon… Ms P x"
We also had delicious warm scones, and were offered yet more cake from the trolley (we were caked-out by then so had to decline).
From now until 31st December Grosvenor House are offering afternoon tea with a Christmas theme. It sounds as though it would be wonderful after a bit of xmas shopping.
*Just so you know, we received our afternoon tea on a complimentary basis, so feel free to take our opinion with a pinch (or cube) of sugar; but, we've eaten it now, so if I hadn't enjoyed it so much I wouldn't bother writing this.
---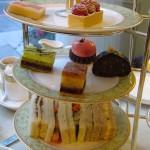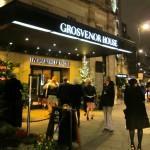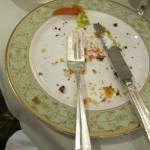 ---
Speaking of Christmas, I took a stroll up Piccadilly to walk off the last scone. The lights of St James were looking lovely, and I discovered that Eros has been encased in a large snow-dome.
---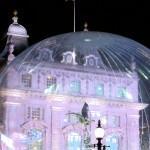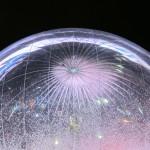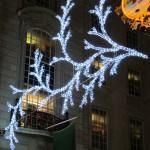 ---


Price of a Cuppa : Anna's Afternoon Tea £35 per person

Leaf or Bag : Leaf with silver strainer

Crockery : Pretty gold and pale green china

Music : Live pianist

Service : Very professional; friendly and helpful

Food : Afternoon tea menu here. They also offer a la carte dining in the Park Room

Kitty says: We had a fantastic time. The atmosphere was good old-fashioned, relaxed and charming
Address: Park Room
Grosvenor House Hotel,
Park Lane London
W1K 7TN
Website: Park Rooms (for afternoon tea): here
Grosvenor House Hotel website: here
---
More Places for Tea in Mayfair:

HR Higgins

Postcard Teas

East India Company
Tea

---
Find a Nice Cuppa on my Tea Map of London:

Tea Map of London
---
Invite your Friends for Afternoon Tea at Grosvenor House, Park Lane: