Surely everyone knows the story of Alice in Wonderland, at least vaguely. The first sight of a rabbit in a top hat you know its the Mad Hatter, who's probably hosting a tea party, and the queen of hearts is the badass of the story, drink me potions make you small and eat me cakes make you big – ta da! 
Ask my boyfriend (Alex) if he can give you one fact about the story, and he's stumped. I was shocked. So when I went for an Alice in Wonderland themed afternoon tea recently with
Kim
, I had to talk him through what was linked to what in the story as I showed him all my pics from my afternoon out. It was hilarious. The afternoon itself was lovely. We arrived at the
Raj hotel
, St. James' court, where we had to wander through the courtyard at the back of the first bar to get to where we needed to be for our tea. It was so pretty!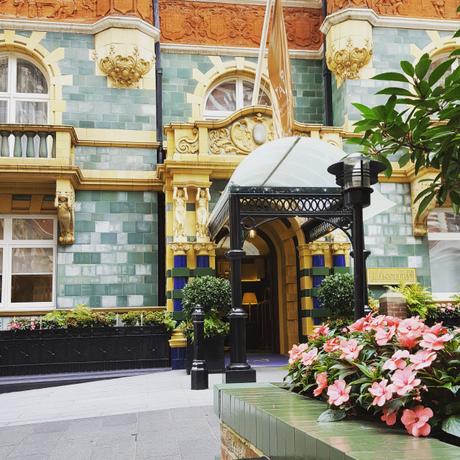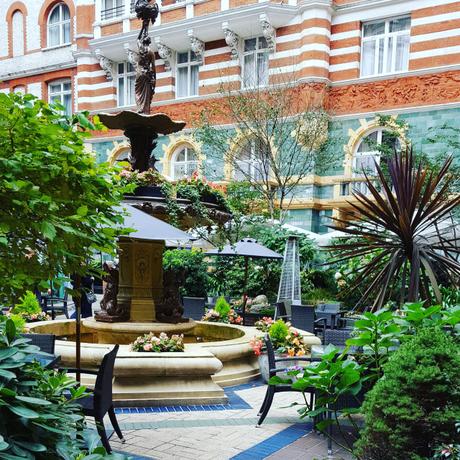 We were seated at this incredibly cute table for two in the window, dressed with flowers, playing cards, really cute crockery, and there was a hat in the window as well as a broken clock. They really had made such an effort with design!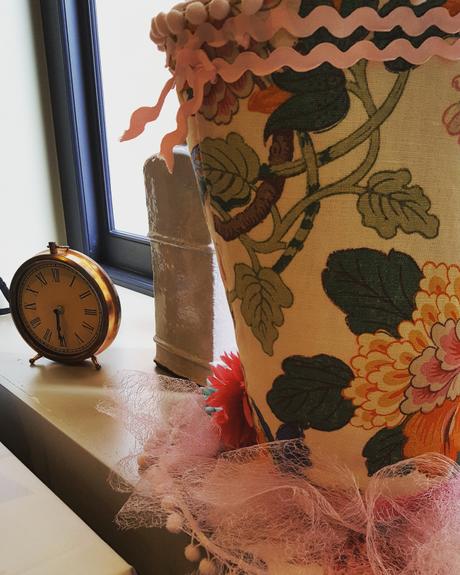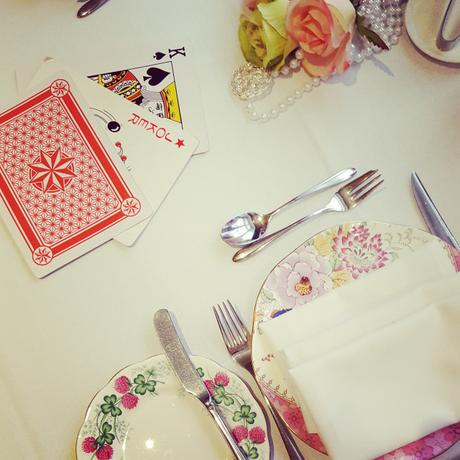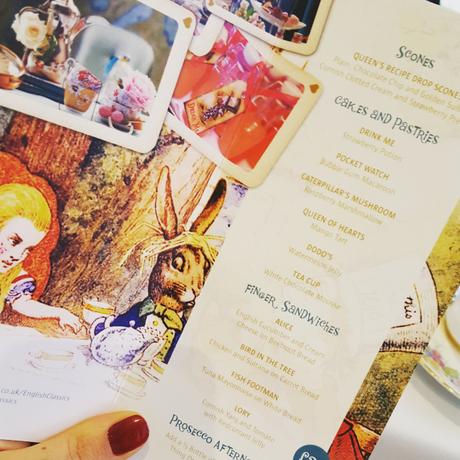 We shortly received a whole menu full of different tea options, and were notified that they would start bringing out our afternoon tea soon. A little overwhelmed by the options I opted for a chai tea, to make sure I went for something different to those I would normally choose. Our teas arrived in adorable tea pots – They actually reminded me of some of my Grandma's crockery as she has some beautiful sets! Once sat for a little, I poured myself a cup of chai tea, added a drop of milk, and took a sip – it was delicious. I normally take sugar in my tea but you don't really need it with chai, which I think is down to the spices and cinnamon flavor – I would say healthier but we were just about to eat lots of sugar in the form of cakes and treats!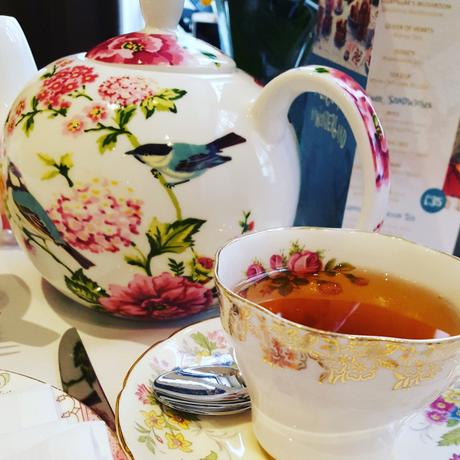 Sandwiches arrived, little crust-less finger size portions, in 4 different flavours all with their own names – cucumber and cream cheese on beetroot bread (named
Alice
), chicken and sultana on carrot bread (named
Bird in the Tree
), tuna mayo (named F
ish Footman
) and yarg (cheese) and tomato with red currant jelly (named
Lory
).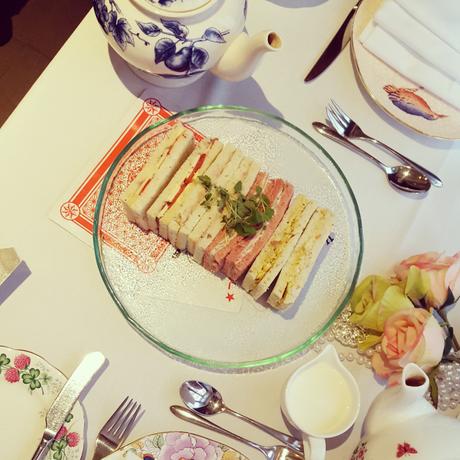 They were all yummy but my favorite had to be the cucumber and cream cheese on beetroot bread. It was just so different (I'd never had beetroot bread before), soft and flavoursome, it really added something new to an afternoon tea. Soon after our sandwich plate was cleared, and we'd had another couple of cups of tea, our cakes and treats started arriving. Believe me when I say, there were lots….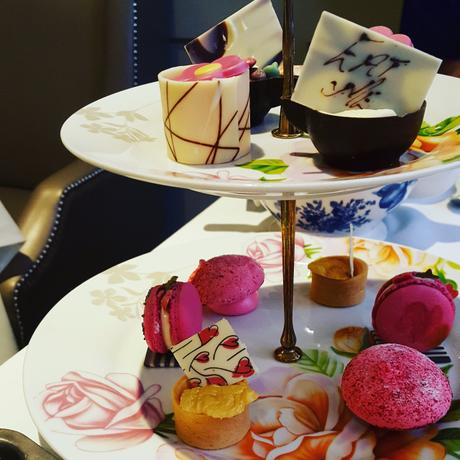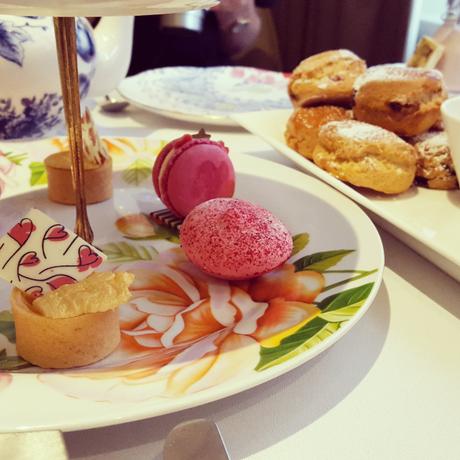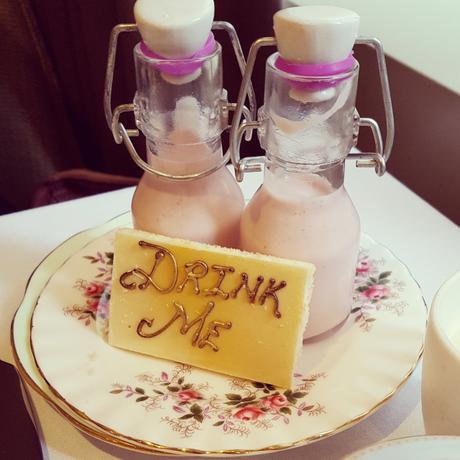 Our selection included (each):
Drink Me: Strawberry Potion (strawberry yoghurt)
Pocket Watch: Bubble Gum Macaron
Caterpillar's Mushroom: Raspberry Marshmallow
Queen of Hearts: Mango Tart
Dodo's: Watermelon Jelly
Tea Cup: White Chocolate Mousse
Scones – one plain, one chocolate chip and one sultana, with jam and clotted cream
We also had an iced victoria sponge to share too!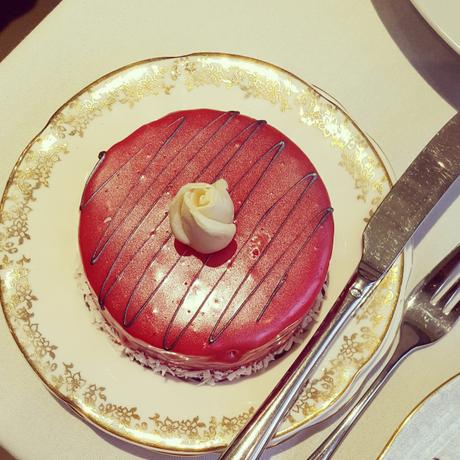 They looked amazing. So much thought into the design and creativity in each and every one.
I tactfully tried to choose my way through, to make sure that I got to try all the treats I wanted – All of the little treats were just the right size, tiny portions so you could try them all, although I knew deep down that I wouldn't manage it all! I mean look how much there is!
Although I do LOVE marshmallows (I really really do!), I think my favorite had to be the mango tart. The pastry wasn't quite crisp which was perfect and the mango filling was thick, juicy and sweet. The little crown on top was flavoured marzipan, and it also had a  little white chocolate plaque, which had hearts on to finish off the design – I mean how cute? It was absolutely delicious.
The macaron (Pocket Watch) I think was my second favorite. Once again, I loved the design! The bubblegum flavor was quite prominent, and the macaron was slightly crisp on the outside, with a softer, light middle and a creamy filling – it was on par with my faves from Paris!
The scones were yummy too, especially when topped with the Cornish clotted cream and jam. The chocolate chip ones were a nice change – I'd never had them at an afternoon tea before – and really went down well.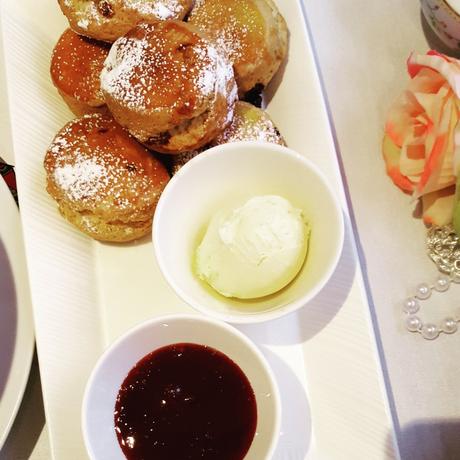 I was so full but really wanted to try the strawberry potion (I'm sure you all know I love yoghurt), so just managed to fit it in. It was really creamy, yet slightly refreshing after all the sweet treats and sugar. A great choice to leave until the end.
We continued to drink our tea – I lost count as to how many cups I drank – before heading off for the rest of our afternoon.
Overall, I had a fab time – our Alice in Wonderland afternoon tea at The Raj was incredible. There was so much food, all really thought out and detailed yet super yummy, the service was fab and friendly and the choice of tea was exquisite.
I have spotted that there are a few places in London now offering an Alice in Wonderland themed afternoon tea, but I highly recommend this one! Trust me, you won't be disappointed.
Where's your favorite place for afternoon tea?
Chloe xx