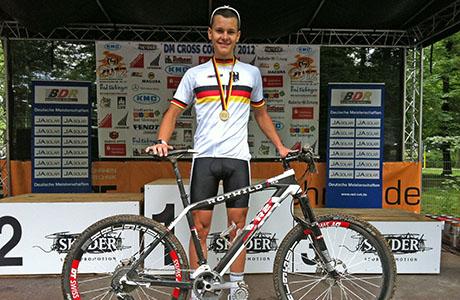 Gold medal for the German Lukas Baum with a contest of strength, leading from start to finish. The only one who could fight for the win was Rapahel Gay who, however, has had some technical problems while he was leading with him, then finishing 4th after a great comeback. Silver medal for the Canadian Disera and bronze medal for the Italian Bertolini.
(google translate)As usual in racing XC part to the whole with Lukas Baum (Germany) which increases the pace passing the 1st lap with a few seconds ahead of the favorite Raphael Gay (French) and Samuel Gaze (New Zealand) , which, however, will retire in during the 2nd lap.
During the 2nd lap positions remain almost unchanged with Lukas Baum continues to give a high pace in the race but the Frenchman Raphael Gay always keeps a few seconds. Baum continues to push Presumably, while Gay was forced to pit with a puncture and lost valuable positions sharing in 9th position. Really unfortunate the trans since it was given as a favorite and an opportunity like this happens once in a lifetime .
At this point, halfway through the race , the German Baum is alone in the lead with 40 "ahead of 4 runners : Vastl Jan (Czechoslovakia) , Gioele Bertolini ( Italy ), George Egger (Germany) and Peter Disera (Canada). But just after the first half that ignites the race : in fact in command Baum keeps a regular rhythm while behind increasing the pace with Jan Vastla who loses contact from the chasing group , but Baum seems to be able to keep them at a safe distance.
During the 4th lap the German Egger collapses and falls off Disera and Bertolini and is reached by an unfortunate Vastl and Raphael Gay (France). Lukas Baum deservedly went on to win the world title in the Junior race with a head start to finish today proving to be the strongest. Behind him fight for silver with the Canadian Peter Disera above 20" the Italian Gioele Bertolini, bronze medal, with a strong comeback Raphael Gay in a few seconds off the podium . Without that glitch after 2 rounds would be the only one who could worry Baum .
Results, MEN JUNIOR:
1. Lukas Baum (Germany) 1h20'06"
2. Peter Disera (Canada) +42"
3. Gioele Bertolini (Italy) +1'02"
4. Raphael Gay (France) +1'07"
5. Jan Vastla (Czech Republic) +1'13"
6. Erik Augdal (Norway) +1'46"
7. Georg Egger (Germany) +1'54"
8. Hugo Pigeon (France) +3'14"
9. Philipp Bertsch (Germany) +2'50"
10. Andri Beeli (Switzerland) +3'50"
---
PROGRAMS:
FRIDAY 30 AUGUST:
13.00 - U23 Women
15.15 - U23 Men
SATURDAY 31 AUGUST:
12.30 - ELITE Women
15.00 - ELITE Men
SUNDAY 1 SEPTEMBER:
9.45 - XCE Qualifying Round
11.00 - XCE Finals