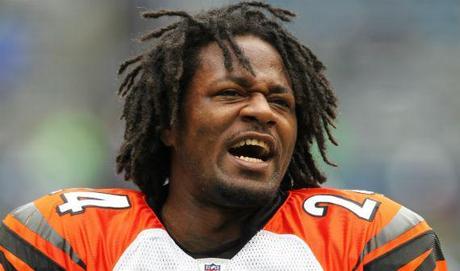 Photo: Getty Images
- Adam Parker
Well, count me as one of many who are surprised by this odd choice.
The Cincinnati Bengals cornerback told the team's website that the league has asked him to partake in a panel discussion at the upcoming rookie symposium, which will be held June 24-30 in Ohio, and that he has agreed to participate.
Why would the NFL ask Adam "Pacman" Jones, the player who has arguably become the poster child for
what not to do
off the field to speak to the impressionable minded rookies?
I'm completely bewildered.
Maybe the NFL knows something we don't? Actually, rephrase that; because I'm sure the league knows multiple things about any number of topics that we don't.
But why do this? Why not bring in someone like a Ray Lewis or even the recently retired Hines Ward to come speak to this year's new crop of rookies? Wouldn't that make more sense?
After all, Lewis and Ward are model citizens off the field and are (were in Ward's case) extremely hard workers on it.
I'm having a hard time believing that the league handpicked "Pacman" Jones for the job. Do they want someone who will actually help guide the rookies or someone who's just going to teach them how to "Make It Rain"?
But like I said earlier, the league obviously knows something we don't.
Maybe they believe having Jones speak to the rookies will be mutually beneficial? I suppose I could see how that could make sense.
By agreeing to do this, Jones has taken that next step, if you will, on his own personal road to redemption. Couple that with the fact that Jones, as the poster child for infamous off the field behavior, could be the perfect mouthpiece for the league instructing young players on what not to do and it's hard not to see the appeal of it all.
After all, if anyone can tell you what to avoid, it makes sense that it would be the guy who's essentially done it all.
Jones' laundry list of offenses and run-ins with law enforcement throughout his career thus far are too numerous to fit into this article.
In five seasons in the NFL, Jones has been arrested seven times, has had at least a dozen run-ins and has been suspended by the league for 22 games including the entire 2007 season and part of 2008.
To make a long story short, he's been involved in multiple arrests for alleged involvement in multiple nightclub shootings as well as being a misdemeanor magnet.
Another fun fact: Jones has been arrested more times than he's intercepted NFL quarterbacks (four) at this point in his career.
Can Jones really put his "Pac-Man" days behind him for good? That's difficult to say and I imagine the majority of outside observers are skeptical at best, though it is worth noting that, since joining the Bengals (he's entering what will be his third season with the team) Jones has not made headlines for his infamous off-field exploits.
The mantra of, 'Do as I say, not as I do' has never been more prevalent. At 28, I think something finally clicked in Jones' head and finally got him to realize that playing in the NFL is a privilege, not a right and should be treated as such.
"The message is, this is not a joke. At the end of the day you have to treat it like a business," he told the team's website. "And you're a business owner and every decision you make is a reflection of you."
The former sixth overall pick in 2005 has learned a lot in the past seven years. Now let's just hope that Mr. Jones or Adam Jones (as he prefers to be called now) can get the right message across and help this new batch of rookies avoid the troublesome road that he took in the earlier years of his career.
If so, it will be a win-win for all parties involved.
Good luck, Adam. Just remember, if you're nervous, just imagine the audience in their underwear. That always works.
Be sure to follow Beard And Stache on Twitter 
@BeardAndStache
, 
and also Adam 
@Adam_Parker43
, Like our Facebook page 
HERE
!