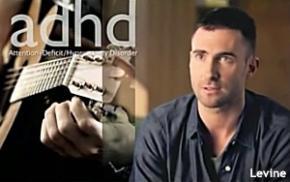 Singer Adam Levine is helping to kick off an initiative to help motivate other adults with Attention-Deficit/Hyperactivity Disorder by sharing his own personal story.
The campaign, called "Own It," is funded by Shire, an international pharmaceutical company whose products include Adderall XR, a commonly prescribed drug for ADHD.
Levine, who is the lead singer of Maroon 5 and one of four coaches on NBC's The Voice, talks about his ADHD in a video on the OwnYourADHD.com Web site. Levine was also featured in a TV spot that broke in May 2013 created by Everyday Health Media.
The initiative aims to motivate adults who were previously diagnosed with ADHD who may still have symptoms of the disorder to take an ADHD quiz at OwnYourADHD.com, and encourage them to discuss the results with their physician.
The quiz was developed by Psych Central and was adapted from the Adult ADHD Self-Report Scale Symptom Checklist. It was developed in conjunction with the World Health Organization (WHO), and the Workgroup on Adult ADHD. Shire did not have any influence on the questions, algorithm or diagnostic outcome of the quiz.
The "Own It" campaign launched in June 2011 and is supported by the Attention Deficit Disorder Association (ADDA) and Children and Adults with Attention Deficit/Hyperactivity Disorder (CHADD), with funding from Shire. Professional baseball player Shane Victorino is also a spokesman for the initiative.
Attention-Deficit/Hyperactivity Disorder is a neurobehavioral disorder that manifests as a persistent pattern of inattention and/or hyperactivity-impulsivity that interferes with functioning or development and is inconsistent with developmental level, according to a statement from Shire.
ADHD is estimated to affect 4.4% of U.S. adults ages 18 to 44, based on results from the National Comorbidity Survey Replication. When this percentage is extrapolated to the full U.S. population age 18 and over, approximately 10 million adults are estimated to have ADHD. http://www.mediapost.com/publications/article/220116/adam-levine-shares-adhd-insights.html