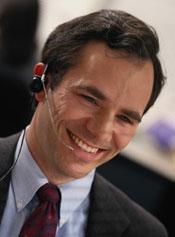 Well, it's 4:10 am here in Jerusalem, I am doing a dry run for tomorrow when I'll be training in Tel Aviv, and will need to leave the house at 5:30 to get to the Central Bus Station to catch a 6:30 am bus to the latter.
I am training for a brand new, and very exciting job, working for an undisclosed company there.
As I have stated in earlier posts, I enjoy having a little time to myself in the mornings before the my "official" day begins.
Prior to the last couple of days, my schedule was, wake up at 5:00 am, coffee, blogging, writing a bit, showering, generally walking with my wife to take our son to day care, and then returning home to settle in for a day of freelance article writing.
But, as you will remember, I have spent a LONG time looking for a secure job, and now that I have found one, I intend to take it seriously.
If waking up at 4:00 am, doing my thing until 4:45 and then hopping into the shower, and getting ready to leave the house by 5:30 to be able to catch a 6:30 bus to Tel Aviv, and begin my 8:00 am job, is what it takes to help make my family independent, then that is what it takes, no  questions asked.
You see, my wife has been working incredibly hard (mind you at a job that she loves) but INCREDIBLY hard nonetheless, for the past couple of months to help support this family, and that is taking care of business, that is being responsible.
My parents have been helping us out, for which we are incredibly grateful, but our goal, especially now that I have this new job, is to be independent in our own right.
You see this is responsibility. And I do not want a merit badge, or a cookie; it's what people all over the world do every day.
However, after sending out CV after CV for nearly a year, (B"H I have a very good CV) and still hearing back nothing, this new job is TRULY a G-d send, and I will pour myself heart and soul into it in order to help enable my family to stand on its own six feet

.
This is responsibility.
Thanks,
M