What is your guilty pleasure?Mine is lots of accessories, cuffs, bangles, necklaces! Anything that has to do with style is my guilty pleasure. Even the color and font of this article has style. Style, for me is an expression of an inner self; a manifestation of freedom, and most of all, an iconography of extension of one's creative facet and multi-disciplinary context of life. Huh? Sounds very philosophical right? Anyway, I will not be dealing on this. What I am about to show you is what style is and how accessories can make or break any outfit. You know as a professional stylist, I know whether an outfit works well on a person or otherwise. However, even if the outfit is outlandish or a stand-out, the person can not just simply rock it because of its style. 

That's the reason why we have accessories and spend countless hours looking for the perfect piece:
(1) To make any outfit look great, (2) To show the color and texture of the outfit, and (3) To adorn the wearer with luxury, color, style and glamour. Now, you may wonder where I get these accessories. I have found the perfect supplier at the recently concluded Mega Brands Bazaar of the World Trade Center, in the name of Dianne Rebancos Senires of Blings & Jewel.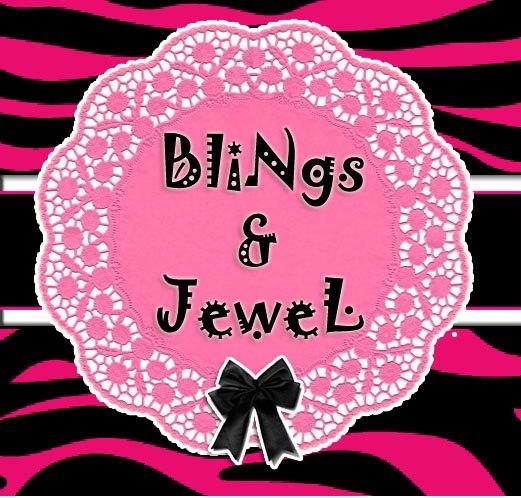 The hot pink and salmon colors of Blings & Jewel logo defy all hues of fashion because aside from setting pink as the feminine color, Blings & Jewel is named as such due to the demand of our young ladies and women professionals to stand out in the crowd. Blings, because we have many accessories to beautify women's outfits even the simplest ones. At times, it's the right accessory that defines the style not the dress or attire itself. Jewel, because, let's face it, women love to have wear lots of bling 
blings, but they only want to have a perfectly carved, precious jewelry on their possession. Thus, the name of this store.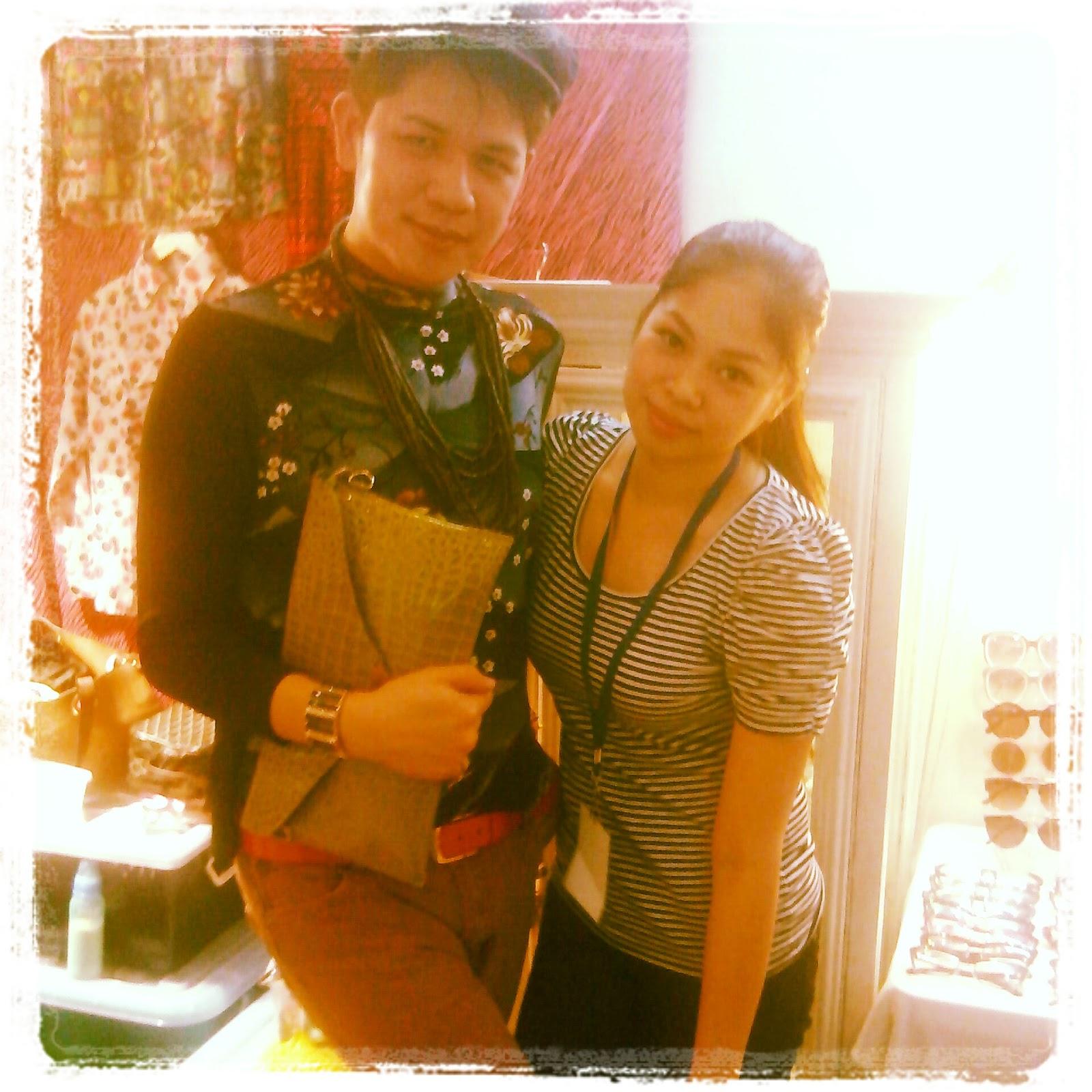 Blings & Jewel as you may know, was founded by Dianne Senires as a hobby then while participating in fashion bazaars, she found it enjoyable talking to women and styling them up with her accessories. 
Her passion for women's style along with her love for business and helping women redefine their own sense of fashion is truly remarkable. She can be a model in her own right too having the height, face and skin.
Blings & Jewel does not only aim to catch the attention of shoppers in every bazaar she participates but also has become a venue for building friendship, meeting new people, trying on different consumer markets and most of all, setting a name for the brand in this competitive fashion industry.
Now, with that being said, do you want to know, why I LOVE Blings & Jewel? Here are some of the best finds which are within your budget: (Take note that the price ranges from P 100 to P 300 bucks and you get these quality, gorgeous, and fabulous pieces already. What's more, you can never find these anywhere else. It is only here at Blings & Jewel).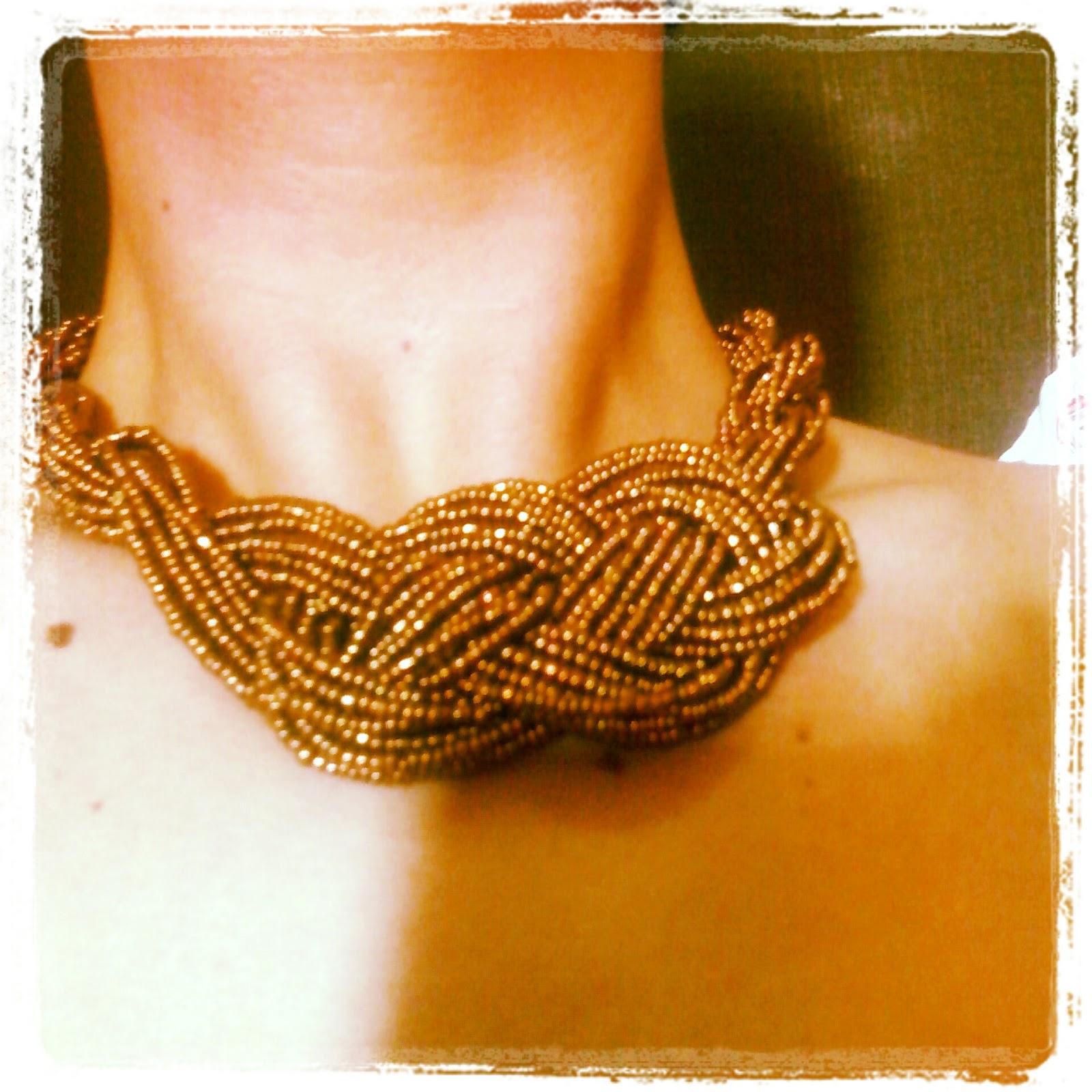 This beaded twisted necklace I am wearing is super indulgent as I can wear this over a black sheer top or even a V-neck polo or plain shirt. What is stunning about this necklace is that it can fit right perfectly into anyone's neck. I can say this is truly a  work of art. Anyone can wear this and look confidently. This piece is not irritating on your neck nor will it fall just easily. With a durable lock at the back, this necklace can fit right into your hanging closet.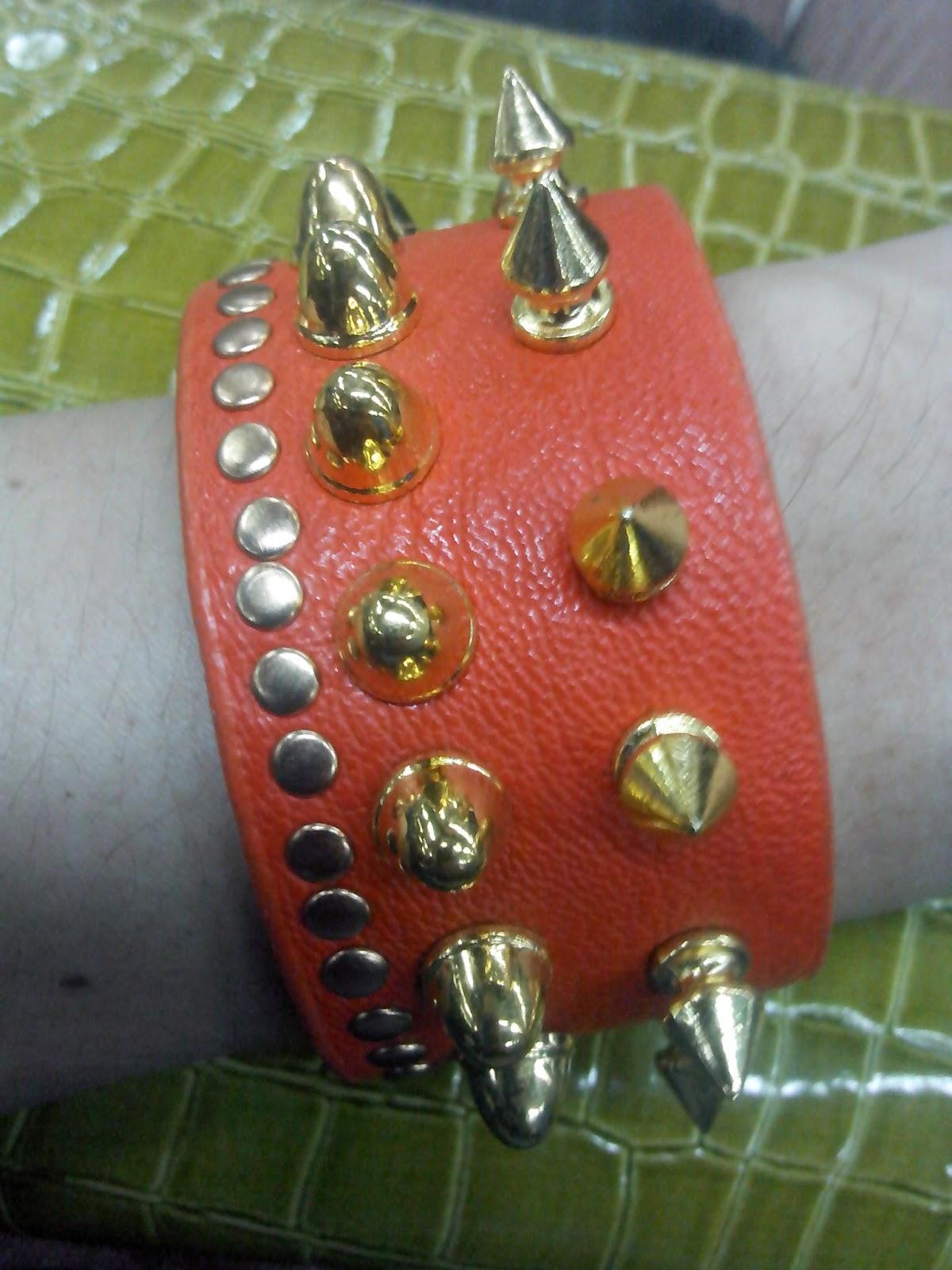 The punk rock fashion is back with thIS gold spikes and beads interwoven in this soft leather strap cuff. Where to use? Well, this is indeed perfect for summer,  shopping, or just simply hanging out with friends on the beach. Style Tip: Just match this with any outfit that is colored orange, tangerine, and tan so that it will get the resemblance. Just look at how I wear it over my snakeskin lime green clutch, good color combination right?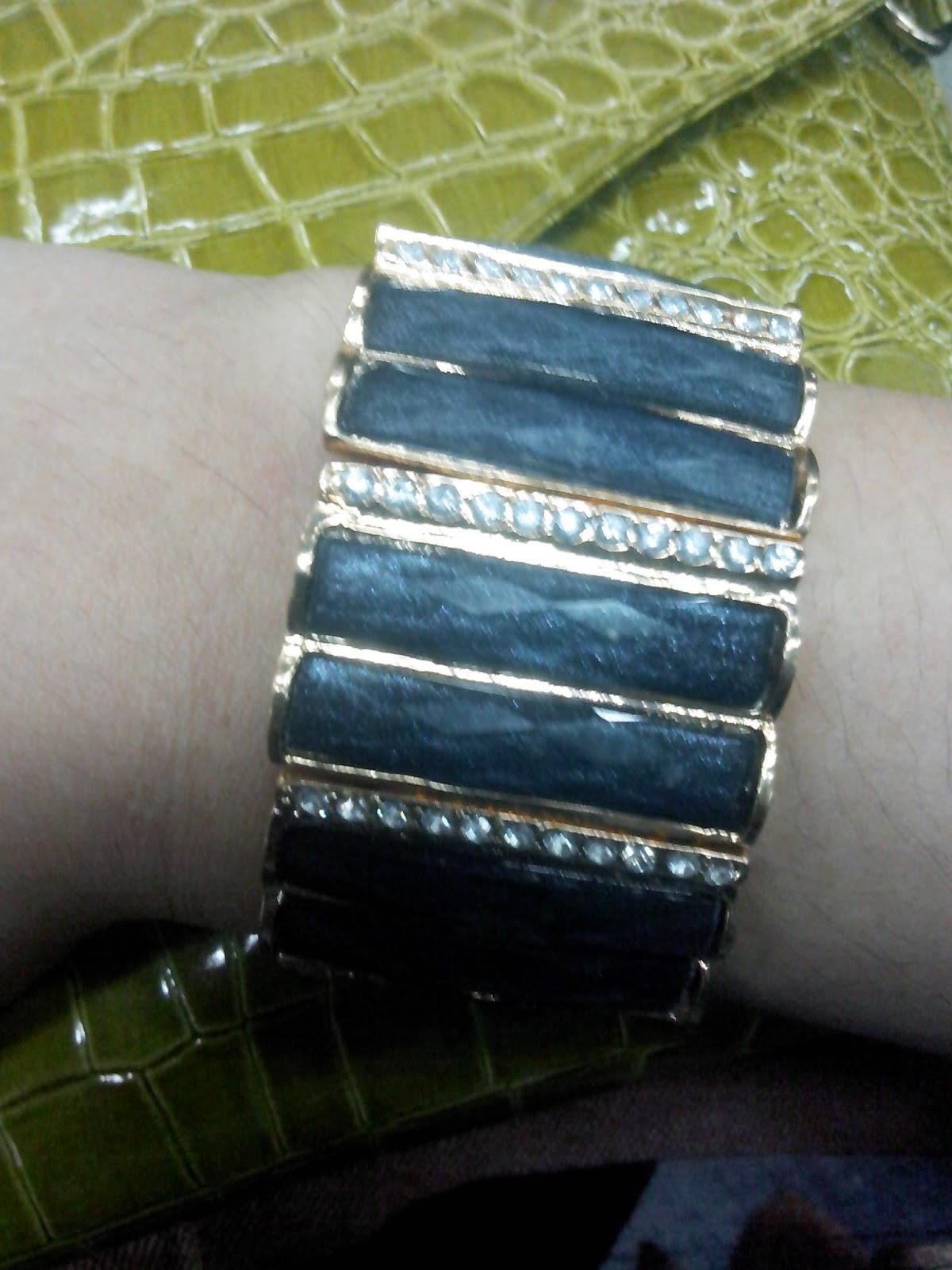 The bracelet integrating black, gold and silver linings is one accessory I can not live without. It can match in any of my outfits from preppy, casual, shopping outfit to dinner and meeting attire. This is not just any bracelet. It is one classic piece every woman out there should have. Incorporate this into your wardrobe and definitely, any attire or look you want to portray or any event you want to go to will have a simple yet stylish impact. It fits right perfectly into your arm. Any skin tone would look flawless with this piece.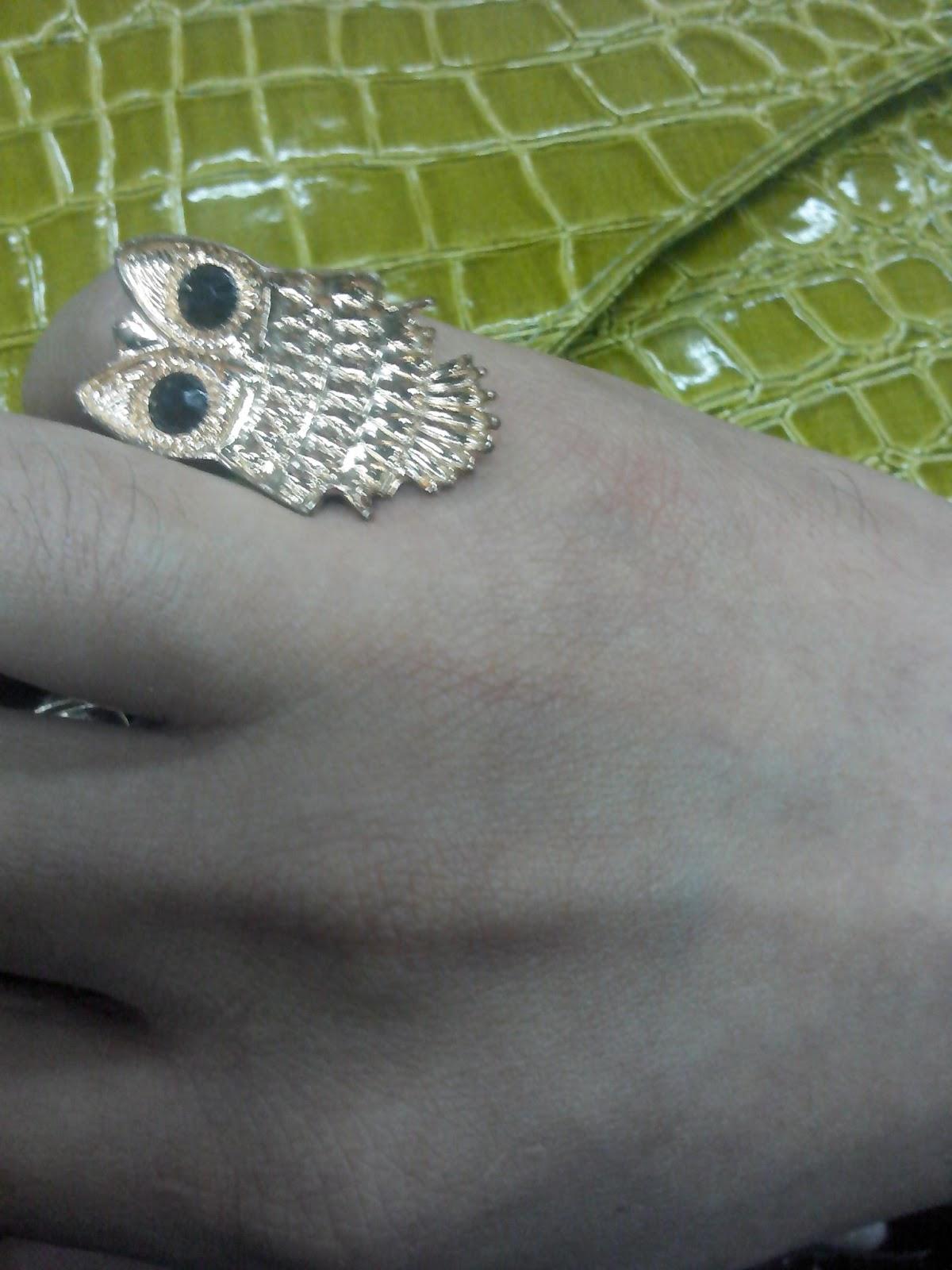 Who does not love animal accents on their finger? Blings & Jewel also offers this elegantly crafted owl brass ring that is uniquely designed  to fit anyone's finger. In my case, I opted to place it in the smallest finger for an edgier look. Any lady who is single would want to have this on her finger to give men the impression that she wants a ring.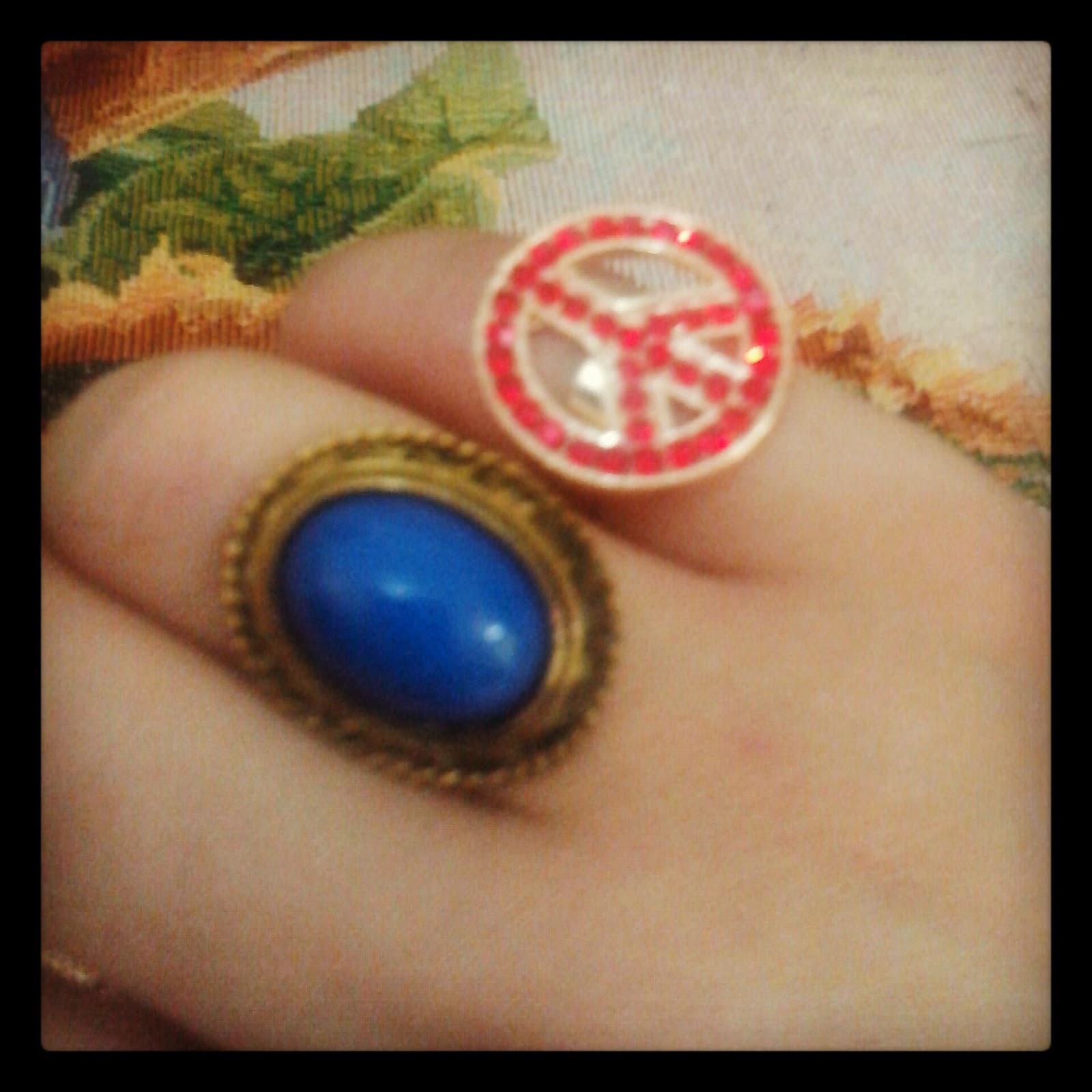 If you want peace and hope, just let them see your statement rings. They are also available at Blings & Jewel. The outfit that is perfect for these rings can be: casual chic, urban glam, rockafella and even boho and vintage. Just make sure you have blue and red pieces on your attire to make it more realistic yet still retain your fresh take on style.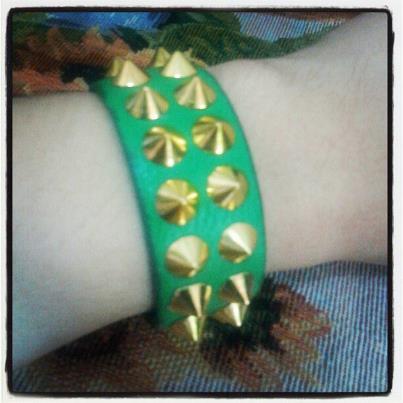 Finally, Blings & Jewel brings you this effortless piece that speaks funk and freedom. Gold spike studded with soft green leather strap bracelet is a good accessory to go for any sheer top and shorts or a round neck shirt and denim long pants. You can even match this with a gold earring or necklace. Plain black skirt or even a green top is also a great choice in how to rock this bracelet. Nervous about how you look with this? Don't be. You can always find a simple yet "rockista" outfit in your closet then, you are good to go!
Got anything you like from any of these accessories? Let Blings & Jewel handle your accessory needs. Should you want to order any of these pieces, contact Ms. Dianne Senires at 0917-819-5095.Like Blings & Jewel on Facebook.