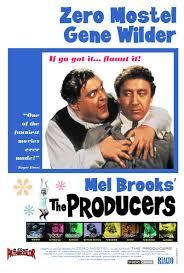 Years ago, a real estate salesman met me at a party and asked me this; what does it take to be a movie producer? Turns out he had always wanted to be a producer but didn't quite know how to go about it as he lived in a small eastern city. My answer was simple. It's easy.
Find me $2 million dollars and you automatically become a producer.
He laughed and said it couldn't be that easy. But I wasn't joking. All you really need to know to become a producer, is how to find money. Everything else you need to know you'll find out soon enough as the money comes in... or it doesn't.
There's contracts, and budgets and schedules and casting sessions, but all of that can be learned as you go, really. A producer's prime talent is the ability to raise money and that means someone who could sell swampland to anyone. You need to be able to convince people to give you money.

Does that sound too much like a used car salesman? Or a new car salesman?
Sure does. And yes, there are a lot of those kinds of producers around. Not as much as there used to be, but enough. Because you have to sell a product that hasn't been made yet. It's like you paying for a house that hasn't been built or a car that has only been designed on paper. And the worst part of a movie is that it might turn out bad. And you lose all your money. At least a house being built will still be a house when it's done, flaws and all. But a bad movie goes to bad movie heaven and is never seen again.

I've had my share of those kind of producers, some raised money for me, some didn't. One quality many of them had was that they were charmers.  But that doesn't necessarily mean they're the only ones.
There's another kind of producer, someone like me. We aren't especially charmers and we hate asking for money because we're way too honest to say that our movie will be the greatest ever. These are the passionate ones. That's a word I don't always like to use because it's become a common term for producers to use. And it has become a cliche you hear on late-night talk shows. 
What it really means is that we care. We care about our story, about our cast, our crew, and especially about our investors. And that gives us a slight disadvantage over the used car salesmen. We are brutally honest. And in spite of that we still get movies made.

Some years ago, an accountant approached me and proudly stated he had taken a career test that determined what kind of job he should have. It cost $300 for him to find out that he was qualified to be a movie producer. Now he was waiting for someone to hire him.
Hire him?
I told him he's hired. Now go find me $2 million. 
He didn't understand, where was his huge salary and the girls and the private jet? I suggested if he find me the $2 million, I would give him a rental car for 6 months. Subcompact. Needless to say, I explained what a producer's job is, that he finds the money, not me.  He wasn't so sure about that, he'd never asked anyone for money, he assumed it just came from somewhere.

He then asked me if I'd ever taken a career test to find out what I was qualified for. I replied that the last thing I wanted to know was the job I was qualified for.
  Most likely a Walmart greeter.

So you see, it's not really hard to be a producer. Sure, I joke about it, but it really is that simple. If you can sell a newspaper subscription to a mall shopper then you can find money for a movie. You can start with your own bank account, then go to your friends, your neighbors and then strangers and in a few weeks have enough to make a movie. Granted, it'll probably be a small movie.
Like Paranormal Activities. Made for $15,000 and it has now grossed over $100 million. After watching it, I wondered where he spend the money on; it's essentially 2 actors in the director's house for nearly 2 hours. Must have had great catering.
And one more thing you need if you're the used car salesman type or the passionate type.
Determination.
You never give up. Never.