aamkhand-amrakhand Recipe- How To Make Mango Shrikhand Recipe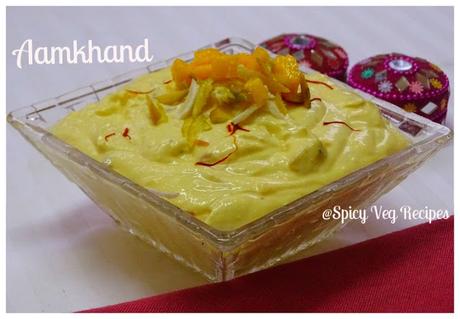 aamkhand Recipe-Mango Shrikhand 
Mango Aamkhand is a famous Maharashtrian dessert. This is the simplest dessert to make and taste delicious.
Aamkhand
is a variation of the plain shrikhand just need to add
 Mango pulp in 
Hung Yogurt 
More mango recipes from this blog:
Mango Puree(Aamras) 
Mango Sandesh
Mango Phirni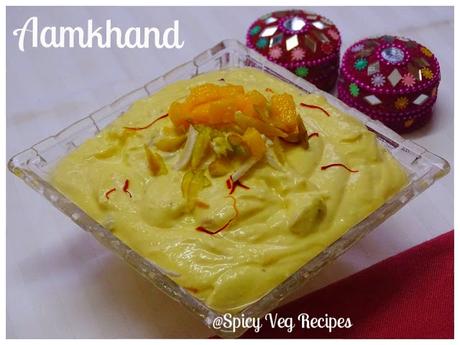 aamkhand Recipe-Mango Shrikhand 
Prep Time:      15 min        Cooking Time : 15 min                 Serves: 2
Main Ingredients:
Mango and Hung Yogurt
Cuisine:
Maharastrrian, Indian
Recipe Type:
s
weet 
Level of cooking: 
Easy
Ingredients:
2 tablespoon or to taste powdered Sugar

few Saffron strands(crushed in mortar and pestle)

2 teaspoon Milk 

¼ teaspoon cardamom powder 

1/4 cup Mango pulp

2-3 tablespoon slivers almonds & Pistachio, optional
How To Make Mango Shrikhand Recipe 

(step by step with Photos)
Preparation:
For Mango Puree:
Take chopp

ed mango into the blender. 

Blend it till you get a 

smooth puree
For Saffron: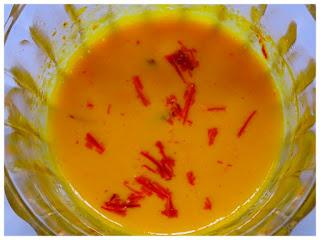 Crush the saffron in mortar and pestle.

Add crushed saffron into the warm milk mix very well and keep aside.
For garnish: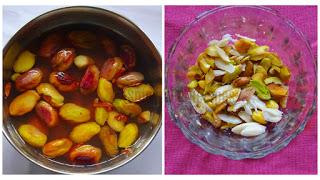 Soak pistachio and almonds in hot water for 10 minutes.Remove the skin and chop it into small pieces.
Method: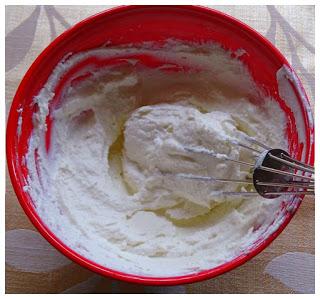 Place the hung curds in a deep bowl and whisk well.

Add the mango pulp and powdered sugar and whisk well.

Add the cardamom powder, saffron-milk mixture, almonds, pistachios

into the thick yogurt 

and mix well.

Refrigerate for at least 1 hour.

Serve chilled.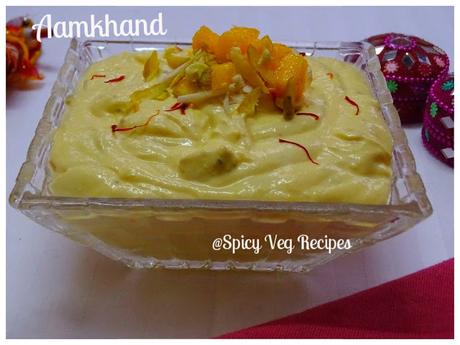 aamkhand Recipe-Mango Shrikhand 
Notes:
Stir it well using spoon till everything is 

incorporated well. 

Make sure there are no lumps. 

Do not whisk forcefully otherwise, you will end up with very thin consistency. 

If you are in short of time, you can use greek yogurt.

Always use fresh Mango puree. 

Use good quality, non-fibrous, ripe and sweet mango. 

Taste your mango and adjust the sugar accordingly.