Wedding cakes are the centerpiece of the reception after the vows have been said and the new couple have been announced as man and wife. No longer a bride and groom, the cake serves to celebrate the union and to start the new couple out in their new life together.
It is a symbol shared with guests, family, and friends as this is usually the first food shared with others in their newly formed marriage.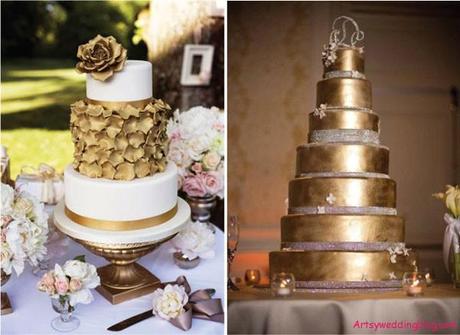 Gold is a perfect color for wedding cakes as the color lends itself to prosperity and elegance. The combination of meanings symbolizes the couple's future happiness and gives the impression to guests that the elegance at the wedding and reception will continue throughout the new couple's life.
The beauty of golden cakes, when combined with intricate scroll and bead work, is unmistakable. A touch of ribbon or a floral adornment seems to resonate elegance and sophistication.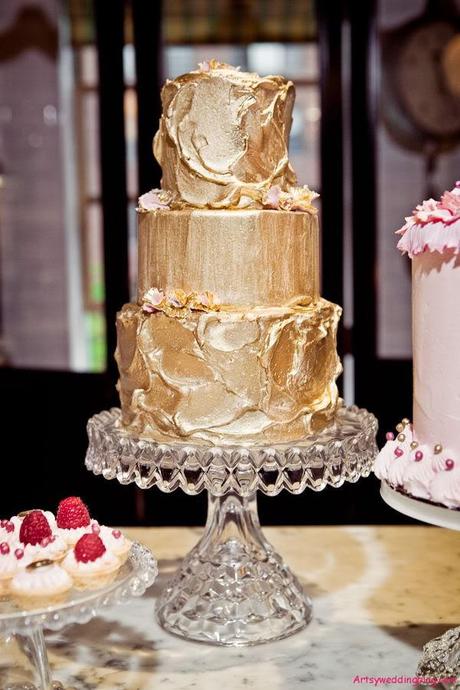 The cakes included in this blog show how tiny touches of color, when set out upon a golden background, can add more depth and warmth to a reception and wedding. Since the wedding cake is the most prominent of centerpieces present at a wedding and reception, guest will carry the image of the cake with them for a very long time.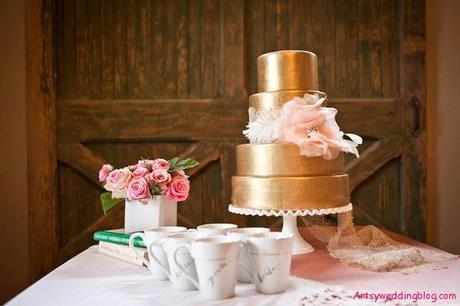 This gorgeous cake features a beautiful quilting pattern coupled with golden beading and full, red roses. The layered rounds give the cake a majestic towering appearance while the roses add charm and romance. The quilted pattern lends itself to being representational of warmth, love, and protection. It is one of those cakes that speaks volumes with its rich, golden tones to everyone who sees it.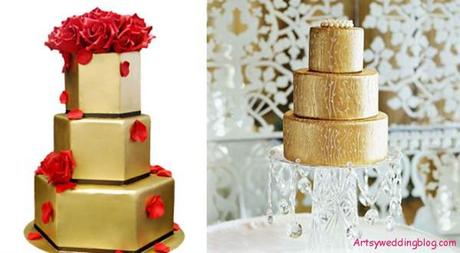 With a touch of olive and ivory, this golden cake becomes a showpiece in itself. Intricate scroll work combines with smooth golden layers and roses to amaze its viewers. The adornment of  a flower topper adds to its charm.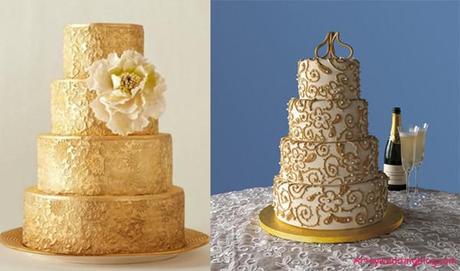 Golden wedding cakes in the fall can take on a special allure as gold mixes very well with the colors of harvest time. The intricate beading offers a beautiful backdrop to the artistically applied branches.
Gorgeous floral toppers, bead work, and intricately applied ribbons of icing set this golden cake apart. Gold accents look wonderful on an ivory background.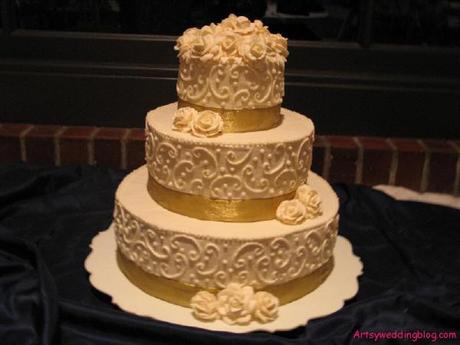 Very detailed wedding cakes such as this one truly show off gold's ability to bring the elegant into the wedding decor. Golden, shimmering ribbon arranged in an intricate pattern serve as a topper that glides over the cake in a gentle motion. Detailed scrolling and beading touched with gentle blooms really make this cake special.