Acclaimed through the ages as being the color of royalty by excellence, purple is definitely the type of hue which will add quite a bit of flair and panache to your special day. Sensual, yet tasteful and elegant, this hue is often favored during both formal and informal gatherings. So, whether you want to dress your bridesmaids up in silvery lavender dresses or don a rich purple gown yourself, there's definitely not a lack of ideas which you can adopt to integrate this delightful color into your special day. So, read on to learn how you can very easily transform a typical white ceremony into a sophisticated purple-themed wedding.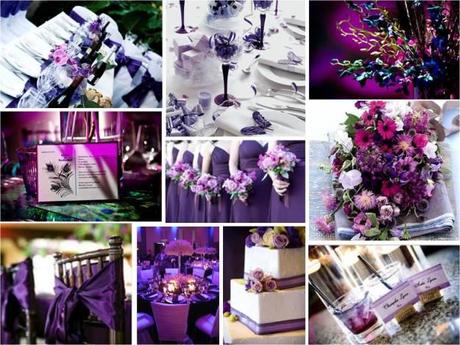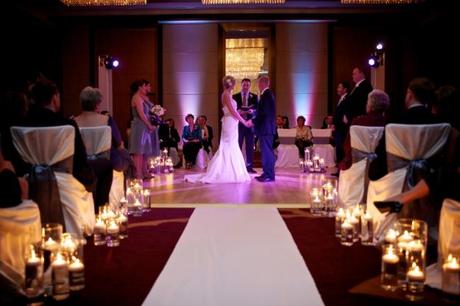 Play with lights
If you want a traditionalist, yet purple-themed wedding, don't hesitate to hire a reputed light technician to add a touch of purple to your grand day. This way, you can walk down the aisle in a silver-purple glow of soft, radiant lights that will bathe you from head to toe. Lights are actually a fantastic way to subtly add a bit of color to your wedding day. So, don't hesitate to use this handy trick, both during the actual ceremony as well as the reception. Indeed, if you can't hire a purple marquee, there's no reason why you can't use purple probe lights or a purple disco ball to throw a wonderful glow over the party. Best of all, if you're wearing a white or ivory wedding dress, you can use the purple lights to cast wonderful highlights over your ensemble.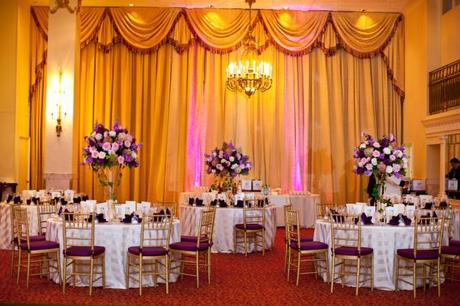 Decorations and accessories
Don't be afraid to think outside the box. A purple-themed wedding doesn't only mean purple everywhere. Bear in mind that this color can very easily be enhanced by the proper decoration and accessories. A white, pink and purple wedding cake, gold and purple chairs for the reception and even a long purple carpet for the aisle are the type of small, discreet touches that will leave quite an impact on your guests.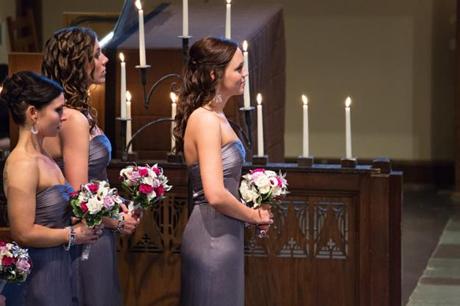 Dress up your bridesmaids
Of course, adventurous brides won't think twice before slipping into a dark purple wedding dress. Still, the less daring ladies can very easily select purple gowns for their bridesmaids. Bear in mind that there are quite a few existing shades of purples and the shade that you will go for will certainly set off the ceremony's mood and feel. For instance, if your bridesmaids are wearing dark, vivid purple, this will certainly give off a fun and rather informal vibe. If you're going for a more formal setting, it's recommended to go for pale lavender dresses with a hint of silver. Idem for the bridesmaids' flowers: there's no need to go for an all-purple bouquet. Just a few hints of purple flowers will certainly bring this particular color in the forefront.