Disclaimer:  I received a free copy of this ebook from the author for review purposes.
Summer's Journey: Volume Three - Bondage Ballet
The third volume of this continuing True Romance / Erotica series follows Summer's journey as she continues to explore an erotic alphabetical education with Mark. 
Come continue my journey of sexual self-discovery with me. See through my eyes and feel through my touch.

Approximately 5,600 words – this third volume continues the explicit erotic education of Summer and is meant for mature audiences only.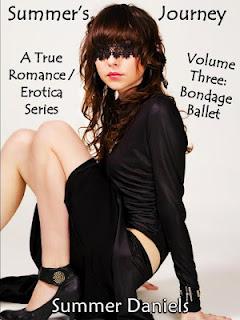 REVIEW:
Summer's Journey Volume Three, leaves me breathless. It give me that sense of anticipation, that tingling, gasping, short of breath feeling I get right before and orgasm.   Summer Daniels delivers once again in her third installment of her journey.  In nineteen short pages she tells a complete story of trust, exploration and pure eroticism.  Ms. Daniels pulled me into the story, and I became Summer.  I felt her sense of anticipation as she placed the blindfold on to the end (nope-no spoilers)  I was right there in the scene. 
This installment gets 5 of 5 shooting stars from the Mom Cat!  I plan on reading this one again and again, or until Volume IV comes out. I hope it's soon!
Thank you Ms Daniels for this wonderful romp.  And in case you are just joining Summers Journey;
My review of Volume I  http://momcatsnaughtyreview.blogspot.com/2011/08/summers-journey-volume-one-losing.html
My review of Volume II  http://alexxmomcatgatewaybookblog.blogspot.com/2011/11/summers-journey-volume-ii-by-summer.html
EXCERPT:
Over the next few days, my thoughts turned occasionally to what Mark might have in mind for our coming meeting. Naïve as I was about sex up until this point in my life, I did have unlimited internet access and an inquisitive nature. I was aroused by a lot of what I found and appalled by some as well. 

I thought I had a fairly good idea of what Mark had planned in terms of the letter "B" for our next evening together, but I had already been surprised several times in the short time I knew him.
A small envelope delivered to work two days before our next date once again pointed me in the direction of our website. Whatever else you wanted to say about Mark, the man had style. 
~*********~
Follow Summer at:  https://www.facebook.com/summersjourney
and on twitter   @sexysassysummer
or email her at:  

[email protected]
Buy Links 
Volume III  http://www.amazon.com/Summers-Journey-Bondage-Ballet-ebook/dp/B0074NCJWI/ref=sr_1_1?ie=UTF8&qid=1328987659&sr=8-1  
And don't forget: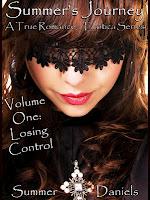 Volume I  http://www.amazon.com/Summers-Journey-Losing-Control-ebook/dp/B005FG17T2/ref=sr_1_1?ie=UTF8&qid=1328987766&sr=8-1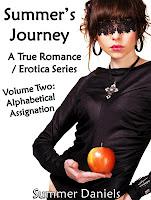 Volume II  http://www.amazon.com/Summers-Journey-Alphabetical-Assignation-ebook/dp/B005WE0X2E/ref=sr_1_2?ie=UTF8&qid=1328987766&sr=8-2