Currently, yes I have started editing my vlog on my first full facial, stay alert for that one. I know I won't produce a proper edit if I force finish it before midnight so I must as well just...talk to you guys. When was blogging anything more than sending your own shiny thought bubble out into the world? Or perhaps, a place to let out some emo steam. I remember vaguely when I last felt the way I feel now which is utterly pressured and just a tad bit discouraged about somethings but not entirely, this is not related to blogging but more on some real life things I need to get done other than the blogging, hence this short hiatus (short only because of delays).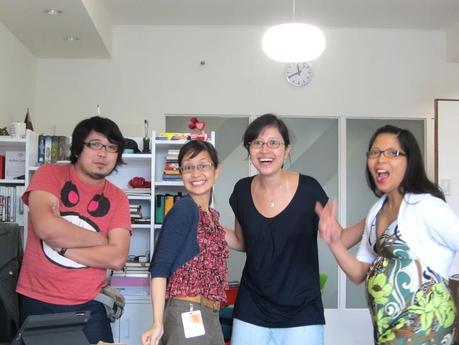 UP FINE ARTS BLOCK BATCHMATES AND BEYOND: Dan Matutina (Twisted Fork), Me (Bless My Bag) Marielle Nadal (Craft MNL), Bernice De Leon Yumul (Plus63)
Back then I was a senior in university (blockmates above reunited about 4 years ago), I was on the university wide student council, and in the running for honors (but barely). It didn't help either that year that my general ed subjects sometimes felt just as taxing as my majors and that I contracted dengue fever in the first semester of thesis. There were certain days that felt like things were going to tumble down on me the next morning (sheer number of things to do and classes etc) and at a wee hour in the morning I'd glance at the clock while being not yet done and sometimes I felt sort of in a bind. The things I needed to get done were in venues so far away from each other I had to plan my life around that. Anyway today I need to stop looking at all these to dos as a web and need to focus on snapping each tiny strand. I'll get through this, I'll get every single thing done. Oh, April, I'm so not ready for you with all these tickboxes still not ticked, but will endeavor to be and I shall overcome. Oh, and you're welcome for the emo steam.