Obviously, every woman in the world wishes to be more beautiful, more perfect and attractive in other people's eyes especially celebrities. The appearance of plastic surgery has brought a new hope to them, thanks to the innovation in technology. Although, it costs them a lot time, patience, effort, pain, money as well, there are some females who are still willing to try it once in the hope of having better life. Unfortunately, it's so risky when surgery ops are not always successful. Most notably, several women, who overuse plastic surgery to improve their body's defects, have to pay dearly for their decision.
Let's take an English glamour model- Alicia Douvall before and after surgery as a typical example. She not only is a top model but also has usually starred on many reality shows in England. Moreover, she is well-known for her kiss-and-tell affairs with famous people including music mogul Simon Cowell, actor Mickey Rourke and former Simply Red singer Mick Hucknall. Unfortunately, this pity woman is never satisfied with her beauty and always tries her best to change it by cutlery. As a result, she is seriously addicted to cosmetic surgery. She did not realized that Alicia Douvall before surgery is really good-looking and attractive. In reality, the more surgeries she undergoes, the uglier and older she becomes.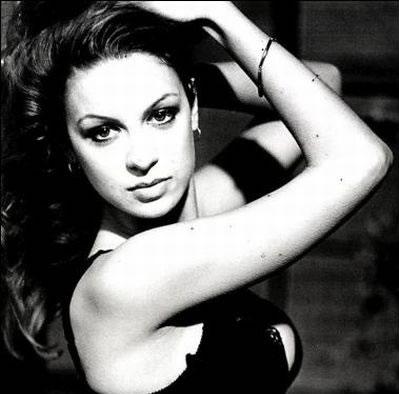 Alicia Douvall at the age of 17
Ms.Douvall was under the knife as a teenager. Despite the fact that her obsession with plastic surgery brought physical and mental pains to her, it's so terrible when kiss-and-tell queen Alicia had 15 breast augmentation surgeries, several cheek implants, 7 nose jobs , brow lifts, face lifts, cosmetic dentistry, liposuction, lip augmentation, butt implants, etc. She wasted well over $1 million on these cosmetic ops without hesitation. Perhaps, she found it happy and satisfied with her new beauty, thanks to the initial result of cosmetic surgeries. However, she abused it too much, which has turned her appearance more awful. As a consequence, the former glamour model had to pay a heavy price for her addiction. Particularly, the beautiful face of Alicia Douvall after surgery became distorted and livid with a rough facial skin, because of botched surgeries. She traveled all over the world to look for plastic surgeons that could operate on her and lie about her medical history in order to have her botched face fixed.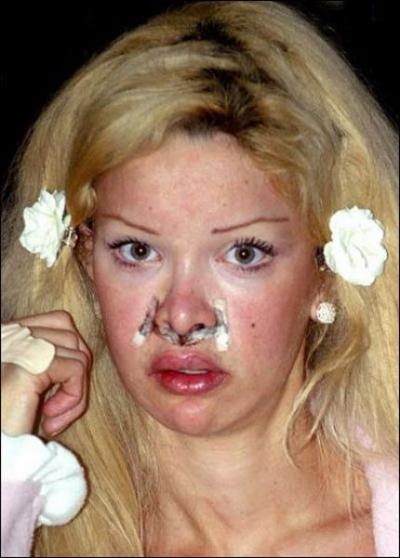 Now, her biggest hope was that she could get back the former face of Alicia Douvall before surgery. She promised to herself that she would give up the surgery addiction.
Although cosmetic surgery enables you to be more perfect, beautiful and charming, it is a double-edged sword. If you misuse it, it can have a terrible impact on you and you must pay dearly for it. The typical example of an English famous model – Alicia Douvall before and after surgery is a highly valuable lesson for some women who want to become prettier due to surgery.