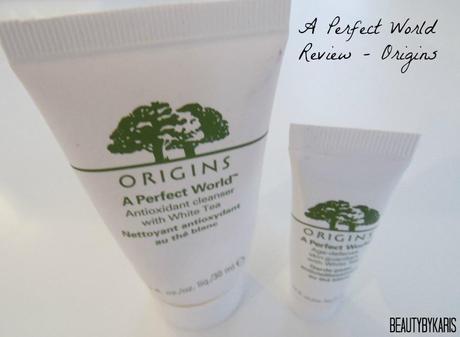 Hey There,
Now I don't quite think I express my love for Origins skincare quite enough, (Yes, I'm being sarcastic). Their products seem to love my skin, and my skin seems to love their products, a pretty good matchmaker, don't you think?
Over the past few weeks I have introduced *Origins 'Perfect World'  cleanser and serum in to my skincare routine, a range aimed at protecting the skin from harmful environmental factors, (Like pollution), Origins defenders against skin damage, and of course ageing.
This range is absolutely ideal for someone like me, verging on a quarter century old and worried about the damage I am doing to my skin. The perfect world skincare range are best known for their age fighting protection, so I would suggest these to those mid twenties-mid thirties wrinkle worriers. Once again the ingredients are very natural and gentle to the skin, something I always look for in my skincare, (No harsh chemicals here thank you very much), the white tea really detoxifies the skin, while the pearlised, (If that is even a word) creamy *cleanser leaves my skin feeling fresh, clean and protected. One which I would actually recommend for all skin types, especially combination and sensitive.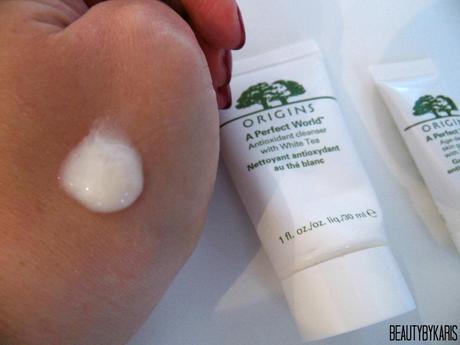 The *serum is filled with some absolutely gorgeous ingredients, and also has that lovely pearlised appearance to it. I just wish the sample size was bigger, as I could imagine myself getting quite fond of this one. With white tea, mimosa, orange and bergamot you can already guess what I think of the smell, so earthy, natural and just so indulgent. The serum is a beautiful consistency, and feels luxurious on application, warming and melting to the skin. I've always emphasized how much I love rich creams, and products. For me the richer the better. I love serums, oils, lotions and potions. I can't put enough on my face. But for those who prefer a more lightweight feeling, you may not want to use this under a moisturiser, and just alone.
With the cleanser only retailing at £20.00, and the serum at £35.00, I would happily buy both again. Even though the serum sample is quite small, it has lasted me a good couple of weeks, so I am definitely adding this one to Santas list, that's if I don't have any spare pennies this month.
Have you tried any Origins products? Would you wear a face serum?
Don't forget to enter my Origins face mask giveaway…
Lots of love,
KBxx