As a travel writer, I'm always falling in love with beautiful places to stay and visit – quite often, unfortunately, being there in person doesn't quite live up to the anticipation and idea of a place, but at others the actual experience blows all of my expectations out of the water and leaves me hankering to go back as soon as possible. Back in May, while I was in the Dordogne researching the new edition of the Rough Guide to France, I was fortunate enough to be put up by HomeAway.co.uk for two weeks in a fabulous house called Le Plassial.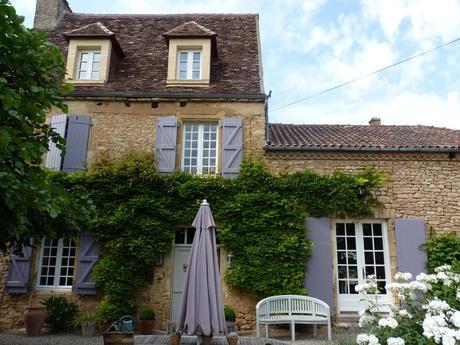 Le Plassial
It's no exaggeration to say that this was hands-down the nicest self-catering property I have ever stayed in (and as a big fan of self-catering on holiday, I've stayed in a lot of different places). The house is in a fabulous location, just outside of the small village of Coux-et-Bigaroque (handy for picking up bread and wine), and close to many of the most beautiful towns and villages along the Dordogne, including Limeuil, Beynac-et-Cazenac, La Roque Gageac and Sarlat, making it a perfect base from which to explore this glorious region.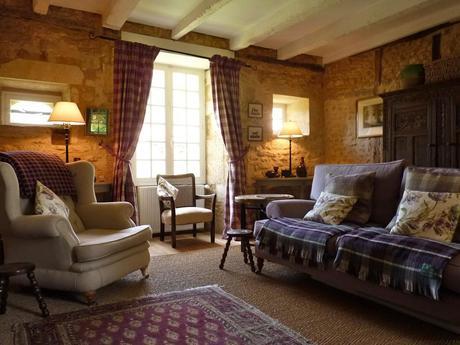 The living room
The traditional stone house, with wisteria climbing around the front door, is just everything you could want in a French country house. It has been beautifully renovated by its owner, and is decorated by what I would call a French country chic – but without seeming fussy or too traditional or old-fashioned. My favorite room was undoubtedly the lounge, with its stone fireplace making a great centrepiece, and a very cosy sofa that was perfect for curling up on at the end of a tiring day. That said, the whole house was a delight – there was a large dining room (perfect for more formal meals or planning what to do the next day) and a great-sized kitchen which had everything you could need to cook with (which I did, regularly), plus a small table by the window that overlooked the garden. The real treat was being able to sit out in the garden – while I was there, the roses and lavender were in full bloom, and blue tits were nesting in the letter box by the front door – especially at the end of the day with a cold glass of local wine and some fresh produce from one of the fabulous local markets. My only complaint as that I couldn't spend as much time here as I wanted to – what with having to actually go out and work – but the garden was just such a pleasure, with ample space to soak up the beautiful sunshine, to the sound of swallows swooping overhead.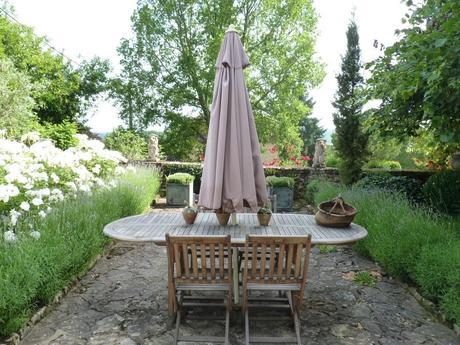 The garden
The master bedroom is on the first floor and is very spacious and comfortable – and, if you keep the shutters closed during the day, remains blissfully cool even in the summer sun. From the en-suite bathroom there's wonderful views over the neighbouring fields, a sight that I especially loved just as the sun was dipping out of sight in the evenings. Despite the beautiful traditional-style furnishings, the bathroom boasts a fabulous, modern rainshower – always a bonus in my book. There's actually two bedrooms here – the second is also a great size and tucked up in the old attic, also with its own bathroom – but it really is the perfect-sized house for two.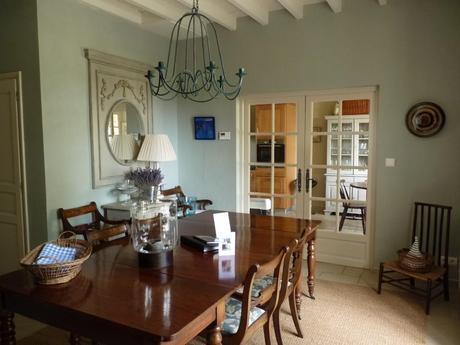 The dining room, looking towards the kitchen
Though it would be a shame to come to this part of France and not explore further – it's great walking and biking country for a start – this is such a beautiful place to stay that it would undeniably make a great spot just to absolutely chill out and wind down after your wedding. You do really need  a car to do it justice – the lively town of Le Bugue is just a short drive away and has everything you need including a decent supermarket, a fabulous bread shop (with cakes to die for) and a great wine shop (also worth a stop at for a bit of stocking up before you head home) – and the roads are blissfully quiet (though will be a little less so in certain more touristy areas during the height of summer), and just such a pleasure to explore.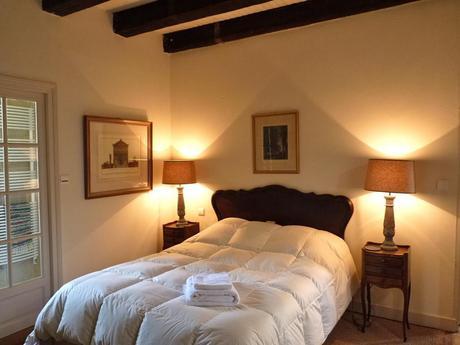 The master bedroom
It's rare that I can be so unequivocally positive about somewhere I've stayed, which is all the more indicative of how much I loved Le Plassial. When I came to leave on my last morning I felt ridiculously sad – the house had really become my home over the two weeks and saying goodbye to it all was a real wrench. (Unsurprisingly, I'm already planning a proper holiday there next year.) This is a glorious part of France, and if you're looking for somewhere really special to stay on honeymoon then I really don't think you could do any better than this gorgeous house.
Need to know
Le Plassial, France
£685 per week (available May to September only)
Nearest airport: Bergerac (25 miles away)
Car hire: I hired my car through Rhinocarhire.com
I was a guest of HomeAway.co.uk, but all opinions are my own – if I didn't like it, I wouldn't hesitate to say.